RBI Baseball 4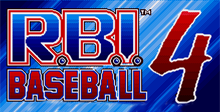 Tengen trots out its fourth edition of the popular RBI Baseball just in time for the divisional play-offs and the World Series. It couldn't have come at a better time, and Tengen couldn't have done a better job! RBI Baseball 4 packs better baseball, more features, and more options than its three predecessors combined.
Welcome to the Bigs
This game's a video Big Leaguer's dream come true. Since the game is licensed by the Major League Ball Players' Association (MLBPA), you get all 26 Major League teams and their players, whose abilities are based on the 1991 season's stats. But that's not all. You also get both the American League and the National League All-Star teams from '91 and all the divisional winners from 1983 to 1990!
ProTip: Use the bunt. Even at the hardest level, the infielders never play up and the pitcher is usually too slow off the mound to make the play. For an almost sure run every time, bunt with a man on third.
RBI 4 is no one-dimensional game. In addition to the routine single-game mode, you can play a seven-game series against an entire division or face each team in the game. Beat all the teams, and you get a shot at a "secret" super team.
Strength in the Number Four Spot
RBI 4 is the class of the RBI Baseball teams. The graphics are cool. The motion of the pitchers and the hitters is more life-like than in RBI 2 and 3. Each of the 26 Major league stadiums is represented in vivid detail. The soundtrack still belongs in the minors, but thankfully it can be turned off. RBI Baseball 4 has also added a Home Run Derby contest and a Game Breakers mode. In the Derby, you can pick the top sluggers in the league and go head-to-head against a friend. Game Breakers is situational baseball with 15 pressure-cooker scenarios.
Hey, Batter, Batter, Batter
This game isn't a typical arcade baseball game. Pitchers tire, so as a manager you've got to earn your pay.
Any Big Leaguer knows that baseball is 90 percent pitching and this game doesn't disappoint. In addition to the regular fastball, curve ball, and change-up, RBI 4 has two new pitches. There's a mean Spitball, which would make Gaylord Perry proud, and a Pitch Out to catch the Ricky Hendersons of the world. However, the men in blue will catch on to the spitter after awhile, and then your pitcher's sent to the showers early.
In the field, your players can dive for grounders or leap for high flys. Unfortunately, your defense is set. You can't adjust field alignments.
Stay back in the batter's box. If you crowd the plate, the computer loves to throw heat inside. Not even Cecil Fielder can get around on these pitches.
When men are on first and third, send the runner on third towards home plate. When the defense throws home, send the runner on first to second. Just before the runner going home reaches the plate, send him back to third. Everyone's safe and you've advanced a runner into scoring position.
Outta the Park
This is a NC-er, baby! No contest! If you like fast Major League baseball action, let RBI Baseball 4 take you out to the ball game.
Download RBI Baseball 4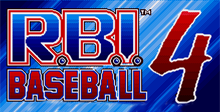 System requirements:
PC compatible
Operating systems: Windows 10/Windows 8/Windows 7/2000/Vista/WinXP
Game modes: Single game mode
Player controls:
Up, Down, Left, Right - Arrow keys
Start - Enter (Pause, Menu select, Skip intro, Inventory)
"A" Gamepad button - Ctrl (usually Jump or Change weapon)
"B" button - Space (Jump, Fire, Menu select)
"C" button - Left Shift (Item select)
Use the F12 key to toggle mouse capture / release when using the mouse as a controller.
Game Reviews
This latest version of R.B.I. Baseball is loaded with realism and options. Start with 1991 stats for each player and past division champs. Add relief pitchers, unique stadium features, and a Home Run Derby mode and we're talking bases loaded! In addition, you act as a real manager and choose your line-up and substitutions. With a high level of detail, graphics and control, this is sure to be a home run!
People say:
7.0
I've always like the RBI series ot games, and this update to the carts does indeed re-work the familiar formula in a new and exciting way. The graphics have been rendered very well here, and despite the use of traditional video baseball controls, the game is none the worse for wear. A good all-around baseball game.
6.0
R.B.I. seems to keep getting better. There are plenty of new features that make the game play fun. Graphics shine through with a high level of detail, as does the sound. The control is very responsive and provides a good feel to the game. Detail and options make this baseball game stand out above of the crowd.
7.0
This is probably one of the better baseball games for the Genesis. The graphics are very good, with lots of details in all the right places. The game play is great and controls really well. You don't get any lag time while throwing from base to base which is nice. This cart is a good addition to anyone's b-ball library of games.
8.0
Now this is the way baseball should be played! RBI 4 has excellent control and more importantly, rhythm! You can just feel the control as you whip the ball around the bases for a double-play! Even the outfield responds kindly to the wayward couch potato for crowd pleasing fun everytime! Play ball!
Manufacturer: Tengen
Machine: Genesis
Difficulty: Moderate
Available: 1992
Theme: Sports
Bash It Out In The Big Leagues!
Do baseball games usually leave you lost and looking for your center fielder? Well you will not have to worry about that in this game! The team at Tengen has given you a map in the corner of your screen that not only shows your player's positions, but also the ball's path. The added control is just incredible!
All of the big league names are here with their stats and great gloves. You can choose any team, including the All-Star squads and past division champions! You pick the lineup at the start of the game and can make substitutions off the bench as well.
Wondering about the graphics? This game has the some of the best ever seen in a baseball game! The stadium is absolutely humongous! The detail is incredible; you will not believe the time and effort Tengen put into this pixel masterpiece!
This summer, get ready for the hot dogs and peanuts because Tengen is bringing you a baseball extravaganza not to be missed! Strike!!
Welcome, sports fans, to Tengen's new RBI Baseball IV!
The differences over the previous game really show here! Hear the roar of the crowd when home runs are scored, and the boos when you really mess up!
Select from various stadiums with both day or night games. Choose from your favorite team and step to the plate for one of the hottest baseball games you'll ever play!
A popular series of arcade baseball sims that was ported to just about every computer and gaming platform during their existence.
R.B.I. Baseball 4 updates 1991's R.B.I. Baseball 3 with new graphics, animation and the addition of cinema scenes, which now appear within the windows showing first and third bases. The game also features 26 different stadiums based on real ballparks from the 1991 season.
Two new game modes also make their debut: Home Run Derby and Game Breakers. Game Breakers is a series of 17 increasingly difficult scenarios to complete, ranging from Silver Platter (top of the ninth, no outs, bases loaded and you're up at the plate) to Lost Cause (top of the eighth, no outs and you're down by nine runs)!
Players can choose from all 26 teams from the 1991 season, division winners from 1983-90, and All-Star teams from 1989-91. While the game still does not offer a season mode or Major League Baseball license for authentic team names or logos, there are now four different ways to play: Single Game, Play Division, Best of Seven, and Play All Teams. No matter which mode you choose, you'll be able to continue your progress via password. Other features include three levels of difficulty, substitutions and two-player support.
RBI Baseball 4 features:
26 MLB teams and rosters
A Home Run Derby
Complete stats
Excellent graphics
Two-player action
Sega Genesis/Mega Drive Screenshots