Sea Dogs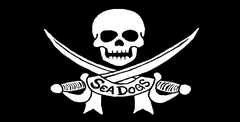 Click the "Install Game" button to initiate the free file download and get compact download launcher. Locate the executable file in your local folder and begin the launcher to install your desired game.
Considered by many to be the first worthy successor to Sid Meier's Pirates, Sea Dogs is an enjoyable swashbuckler with many different gameplay elements. While the emphasis is most definitely on high seas piratical 3D combat, other distractions such as crew management, land exploration and trading all play a part in producing a well-rounded action-strategy title.
If anything, it's developer Akella's over-ambitious approach which ultimately holds Sea Dogs back from standing out from the crowd. While there's undoubtedly great variety in the gameplay, it often feels as though the simplicity of the trading and resource management elements betray their purpose as a means to an end for the inevitable combat, which is the driving force behind Sea Dogs.
Nonetheless, it's definitely worth a look if you're interested in an action-strategy title that's a little off the beaten track. Plus, while it certainly won't hold its own against recent titles in terms of graphics and presentation, it's by no means past its sell-by date. It's also a cheap alternative to its own sequel, since the game mechanics are no different (with the exception of the sequel's consolebased interface and tacked-on Pirates of the Caribbean licence).
If you can put up with the inferior graphics, this is better value for money if you're thinking of buying one or the other.
Download Sea Dogs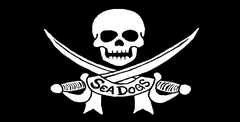 System requirements:
PC compatible
Operating systems: Windows 10/Windows 8/Windows 7/2000/Vista/WinXP
Game Reviews
As the saying goes, you're only as good as your last game, which makes Russian coders Akella something of an unknown quantity, what with Sea Dogs being their first entertainment offering. They are no strangers to the binary language of moisture evaporators, however, having practically flooded the Russian market with interactive encyclopedias, one of which - World Of Beer - could do with a full UK release for obvious reasons.
Knowing all about lager is all well and good, but unless your first game happens to chronicle the sexual antics of Giorgi And His Magic Beer Glasses, you're going to have great difficulty in creating a game all about peg-legged pirates shouldering brightly-plumed parrots. Thankfully, the bods at Akella have done the necessary research: not only do they live in a country where software piracy is rife, but they've also done one of those hateful 'edutainment' titles, on, you guessed it, pirates.
Choosing to captain a ship from either the English, Spanish or French navy, the aim in Sea Dogs is simply to claim a newly discovered group of Atlantic islands for your king or queen. Fall foul of your monarch or vice versa, and far from walking the plank, you can go all Adam Ant and take the islands for your own and govern each as you see fit. Much of the fighting of course takes place at sea and far from being a straightforward affair as it was in the recent Cutthroats, cap'ns will have to take many factors into consideration: from wind direction and the type of sails you have, to the skill of your crew and the calibre of cannons and the type of shot used. Did we mention the weather? Or magic? Well, they'll be important too.
Once your foe's vessel is immobile, boarding can commence, again in full 3D. Depending on your 'infamy' score - which rises with each successful capture or attack - the enemy may surrender even if their number is greater. The ship then joins your fleet.
To keep your ship in tip-top condition money will become increasingly important and, if you don't want to go the way of piracy, trading will be central to success. There will be 12 types of vessel in the game, as well as forts, with over 200 ships at sea at any one time.
Sea Dogs is as much an RPG as it is an action game. While the ship-to-ship combat and boarding parties may be the icing on the cake, what we'll most be looking forward to is the crew management, trading and the non-linear missions. Sea Dogs is an ambitious game, especially bearing in mind that it's the developers' first title. Whether it'll be an unholy mess of genres, or an update of that long-admired and much-missed classic, Sid Meier's Pirates, we shall have to wait and see. If Akella does pull it off though, you can bet its next project, Sea Dogs Online (out in early 2001), will be worth shivering your timber at.
Similar Games
Viewing games 1 to 8