Spyro: A Hero's Tail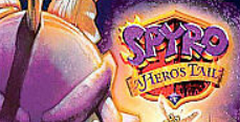 Download Spyro: A Hero's Tail and help the lovable dragon save the Dragon Realms! Explore vibrant worlds, overcome challenging obstacles, and battle fierce enemies in this enchanting platformer. Join Spyro's adventure and play now!
Over the years, many games have released within the Spyro universe. Although there have been a lot of attempts, not many have been able to recreate the magic of the original trilogy. Luckily, one of those games came very close. It was the fifth major game in the series: Spyro: A Hero's Tail. Released in 2004 for the GameCube, PlayStation 2, and Xbox, this game would do its best to return to its roots, while also not forgetting to try something new.
The Dragon You Remember
There's a lot to like about our hero Spyro. He's a little purple dragon that is not only cute, but has a slight edge to him. In A Hero's Tail, his personality and original move set are about what you would remember from the original trilogy. While playing as Spyro, you'll run, charge, glide, and fly your way through the world. The platforming feels familiar and works great for the most part. Added to the list of usual moves is the ability to climb and jump on walls, as well as flip on poles. These additional platforming mechanics help spice up your gameplay as you progress.
To attack, you can use your elemental breath or a dropdown attack. As you defeat more bosses, you'll earn different kinds of breath. For instance, you'll earn ice breath, which can freeze enemies in their tracks. You can also learn electricity and water breath as well. These are factored into the platforming design eventually, so it's not just combat where you'll be using your breath.
You'll come across a couple of gameplay flips while playing Spyro. The first is the turret sections, which are a bit clunky and overall, very boring. You'll shoot at waves of enemies that seem to pop out of nowhere. I dreaded having to play these, which was not what I had expected considering how I love tower defense games. The second gameplay flip is when Spyro is placed in a Super Monkey Ball-esque ball and sent down a path. It's about what you'd expect, but a bit odd to be found in a Spyro game to be honest. Why not just fly?
One big change to A Hero's Tail compared to Sypro games is how the gems are used. In this game, gems you find while playing are used as a currency, rather than a collectible you must collect to finish the level, as it was in previous Spyro games. You'll then be able to use them at Moneybags' store on items that can be used in your adventure, such as keys to unlock secrets. You'll also notice that the level design is more open world, although it's still quite linear. Levels seamlessly transition into one another rather than needing to go through portals opened via your gem collection. This works just as well and allows for a more narrative experience.
The Gangs All Here
What's neat about A Hero's Tail is that it allows you to not only play as the main protagonist, but as some of the side characters as well. Each of the characters has their own twist on the gameplay, giving you a break from playing as Spyro. Hunter the Cheetah allows you to scale the side of walls during his platforming parts. You'll also have access to his bow, which means you won't ever need to get close to the enemies. It's enjoyable as it's a different take on the platforming and combat. Sgt James Byrd's levels are also a lot of fun as you're equipped with a jetpack and rockets. You'll need to fly through rings, smash buttons, all while shooting down enemies with your rockets. It's a lot of a fun and one of the more exiting parts of the game.
Spyro's old pal Sparx is back and playable as well. In his levels, you control him in a rail-shooter experience. It felt very reminiscent of Star Fox. These levels were all about trial and error. After I remembered the pattern, they ended up being quite easy. Last and certainly least, you can play as the new character Blink the Mole. Quite possibly the most boring part of the entire game (it is), you're tasked with slowly running around mines, locating dark gems to blow up with your explosives. Along with the turret side missions, I dreaded having to play as Blink. We all could have done without this part of the game.
A Gem-loving Dragon's Paradise
The world of Spyro is recreated beautifully on the sixth-generation consoles. There are various landscapes to fly through as your journey onwards. These levels consist of a volcano, high in the clouds, and in the icy wilderness. You seamlessly transition through most of these stages, which is a nice touch. Some of the environments could have used more scenery, but it doesn't take away from the experience.
What really surprised me was how great the voice acting was. Since the animations are well done as well, the voices and the lips are synced near perfectly. If you combine this with how funny the expressions can be in some scenes, it makes for a really enjoyable experience.
7
While it may not be the original trilogy Spyro experience, A Hero's Tail still fits nicely into Spyro series. It's considered the best game outside of the trilogy, and for good reason. It has a lot of variety in its gameplay and is partnered with excellent animation and voice acting. If you like Spyro or just platformers in general, I'd recommend giving A Hero's Tail a try.
Pros:
The same Spyro gameplay you know and love
Great animation
Voice acting is above average
Ability to play as different characters
Cons:
Some of the side missions can be clunky and tedious
The new character Blink's levels are boring and unnecessary
Download Spyro: A Hero's Tail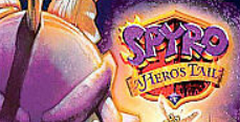 System requirements:
PC compatible
Operating systems: Windows 10/Windows 8/Windows 7/2000/Vista/WinXP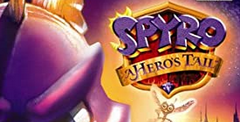 System requirements:
PC compatible
Operating systems: Windows 10/Windows 8/Windows 7/2000/Vista/WinXP
Playstation 2 Screenshots
See Also
Viewing games 1 to 9