Super Battleship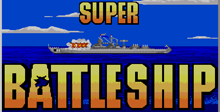 Ahoy, gamers, Mindscape's sailin' the high seas this Christmas with a fine SNES version of the classic board game.
ProTip: Lead enemy ships when you fire on them in Super Mode.
Super Battleship's actually two games in one. In Super Mode, you command various modern naval vessels in 16 missions. Ambushes, rescues, and Total War await, with an overhead view to plot position and a side view for blasting across the water at the enemy. Classic Mode is the traditional board game, jazzed up with explosions.
Spread out your ships In Classic Mode or they'll be easy targets.
Crisp, colorful graphics, detailed sound effects, and responsive controls in Super Mode compensate for music that'll give you that sinking feeling. The Classic Mode gets redundant after awhile, requiring more luck than strategy. The choice of modes, though, keeps this game afloat.
Download Super Battleship
Sega Genesis/Mega Drive Screenshots
SNES/Super Nintendo/Super Famicom Screenshots