Tender Loving Care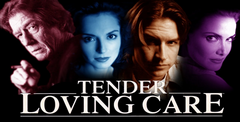 Click the "Install Game" button to initiate the file download and get compact download launcher. Locate the executable file in your local folder and begin the launcher to install your desired game.
It's got a crap Mills & Boon-style name. It's from the people behind The 7th Guest and The 11th Hour. It stars John Hurt and a bunch of Americans you've never heard of. It's an - eek! - interactive movie. Er... I'm not selling this very well, am I? But just hang on. It is very interesting nonetheless.
Tender Loving Cards plot centres around a young American couple and a not entirely unattractive live-in nurse, hired on the advice of their psychiatrist (Hurt) following a car accident involving their daughter. The husband soon begins to question the nurse's ability to treat his depressed, dysfunctional and not entirely unattractive wife but, confusingly, he also finds himself sexually attracted to her. Oh, and his wife likes her too. In fact she likes the nurse a lot. And the nurse likes the wife a lot too.
You know what I'm saying: it gets messy.
And You Are?
The thing is, you don't play any of these characters (you're effectively just a fly on the wall), and there's no puzzle-solving to be done either. The closest you get to proper adventuring is walking around a house reading letters, books, diaries and messages on conveniently placed computer screens.
So what do you do? Well, having watched a movie sequence, you're asked to interpret what you think is going on via a series of multiple-choice questions. You're also given a number of Thematic Apperception Tests covering sexuality and morality, religion, your childhood and beyond. You might, for instance, be shown a dog licking its balls and then you're asked: "Would you lick yourself if you could?" No, really. Another example: "Four-foot long penises are... Funny, Offensive, Too Big or Just My Size." We're not kidding.
Your answers form a personalised psychological profile - apparently I have "healthy communication skills" (which is pretty handy for a writer), I'm "probably comfortable around vulgar people" (you have to be in the PC), and have a "lack of desire to work" (no comment). (Spot-on - Ed.)
More importantly, from a game perspective, your responses to the questions shape the path of the story (there are five different endings) and, from what we can make out, determine how explicit and warped it all gets. Now there's a line for the posters: " Tender Loving Care. It's as f**ked up as you are!"
Short Thrill
But is it any good? Well, actually it's hugely entertaining while it lasts. The plot has so many twists and turns that you wouldn't be surprised if an alien leapt out of John Hurt's belly (That's been done - Ed), the psychoanalysis part is good fun, and the production quality Is first-class throughout.
The problem? That 'while it lasts' bit. It took us something like five or six hours to get through the game, but, as much as we enjoyed it, we feel no great desire to see the alternative endings. It goes without saying that $40 for six hours entertainment is not a particularly good deal. But if you see it for $20 or so, it might well be worth a look. It's not a gamer's game, true, but definitely one for pervies, amateur psychologists and - let's cover ourselves here -those who are looking for something a little different.
Download Tender Loving Care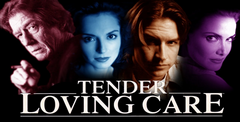 System requirements:
PC compatible
Operating systems: Windows 10/Windows 8/Windows 7/2000/Vista/WinXP
Similar Games
Viewing games 1 to 6