The New Tetris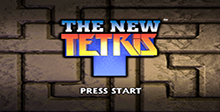 Download The New Tetris and experience the timeless puzzle game with a fresh twist! Master new modes, conquer challenges, and stack your way to victory. Ready to reignite your love for Tetris? Play now!
a game by
H2O Entertainment
Genre:
Puzzles & Words
Platform:
Nintendo 64
Editor Rating:

7.5

/

10

, based on

1

review,

2

reviews are shown
User Rating:

8.0

/

10

-

2

votes
Rate this game:
See also:
Tetris Games
People say:
7.0
Every once in a while, someone attempts to circumvent the hard work involved in thinking up something original and decides to add a new idea to an old and proven formula instead. This happened with The Next Tetris and Magical Tetris Challenge, and now it's The New Tetris' turn. This game has one of the cooler angles I've seen-the ability to swap out a falling piece with another one saved on the side. Since you can only do this once per block (so you can't keep swapping back and forth between two pieces--once you switch, you're stuck with it), it keeps you on your twinkle toes. New Tetris has other nice things going for it, like a brief delay after an "instant" drop so you can make a last split-second adjustment (just like "quick" drops let you do) and art galleries to unlock (It's no big deal . but it gives you something to work toward...a first for Tetris). A few things bother me, however, and make me wonder why a Tetris game this far along the evolutionary timeline isn't perfect yet. First, you can't turn off the preview shadow (like Magical Tetris Challenge's temporary landing system). Second, the modes are all old, traditional Tetris material. Marathon, Ultra, Sprint? Been there, done that. Man, I wish someone would just combine all the various gimmicks and features of all these Tetris titles into one kick-ass game.
7.0
I don't know how many more versions of Tetris I can take, but for the time being this newest N64 incarnation reigns as my second-fave, after Tetris DX. What's new here is subtle but welcome. Your ability to hold one piece in reserve adds more to the game than you might think, and it can turn your fortunes around in multiplayer. You get all the perks of recent versions, including quick drop and the Tetris Landing System. I wish there were more play modes pricnin.
8.0
Don't let the word "new" fool you, TNT is old-school Tetris through and through. Added into the mix are an excellent soundtrack, a good multiplayer mode and an educational way of building up historic monuments. But keeping this from being the definitive Tetris is that you can't customize it to your style (assigning a button to the quick drop instead of up, turning silhouettes on/off, etc.). It's a great game without that, but would've been a classic with it.
8.0
Besides a silly block accumulation feature that allows you to create monuments from around the world, and then "learn" about them through a Turok-esque animation sequence, there isn't much about The New Tetris that's innovative. But that's just fine. It incorporates a number of features from other Tetris games without losing its classic Tetris identity, and presents the whole thing in a snappy-looking package. This keeps things interesting.
Download The New Tetris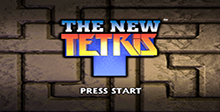 System requirements:
PC compatible
Operating systems: Windows 10/Windows 8/Windows 7/2000/Vista/WinXP
Game Reviews
The most revered puzzle game of all has been further refined in its latest Nintendo incarnation. The New Tetris has been shaped to near perfection, omitting Magical Tetris Challenge s goofiness and Tetrisphere's awkward gameplay.
Building Blacks of Success
The coolest feature of any Tetris game is the addicting gameplay. Building lines with the variously shaped blocks to defeat your opponent is easy to learn and fun to watch. What makes The New Tetris even more addictive is the challenge of erecting seven new wonders of the world, from an ancient Mayan temple to legendary sites in Japan and Russia. Simply put. the more lines completed, the faster the seven wonders are built. And once one is finished, you're rewarded with a short history lesson on the structure's significance.
Graphically, whether you're watching blocks fall or looking at a "wonder" that you've built, the game is full of sharp and vivid sprites. TNT also boasts a bumpin' soundtrack that mixes old Tetris tunes with modern techno and driving dance beats. Unfortunately. some of the tracks become annoying, but at least you can choose your tunes. Another annoyance is the sensitive control. With one slip of the directional pad. your perfect tetris can be ruined.
Hip To Be Squared
While not all the pieces fit in place perfectly. The New Tetris is undoubtedly a puzzle that beckons to be constructed. With up to four players able to play at a time, this Tetris is also perfect for parties.
ProTips:
To quickly build Tetris's seven wonders of the world, play your friends with garbage "off" so you can get the maximum amount of lines.
You receive more points by making gold or silver boxes with your tetris pieces and then completing lines with them.
Watch the shadow of each piece to determine if segments will fit.
Use the new piece-swapping feature to set up major moves-and to get out of jams.
Nintendo 64/N64 Screenshots
See Also
Viewing games 1 to 5