U.N. Squadron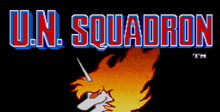 Click the "Install Game" button to initiate the free file download and get compact download launcher. Locate the executable file in your local folder and begin the launcher to install your desired game.
Based on the sleeper Capcom arcade title, U.N. Squadron mixes intense shooting action with just a drop of strategy against a battlefield setting. As a pilot from Area 88, you must repel an enemy invasion advancing by land, sea and air with your fleet of special aircraft. In addition to the main contest, you must also collect the bounty for destroying each opposing vehicle and use that money to upgrade your craft.
People say:
7
U.N. Squadron is a pretty cool Super NES title, with a smooth setup and hard delivery. But overall I really didn't get blown away by anything in the game. The weapons upgrades were nifty and the bounty-hunter aspect of play was original, but the action never totally clicked.
8
A shooter for the Super NES that isn't plagued with the annoying "slow motion" found in Super R-Type and Gradius 3. Spectacular graphics and sounds as well as a huge arsenal of weaponry make this the most impressive shooter available yet. I wish it was a little more intense.
8
Capcom is really looking to be one of the best SNES producers yet! UN boasts some very impressive features that most shooters loose out on, like a choice of planes, weapons, and levels. The backgrounds are great, but the cart is a little on the hard side. Still a winner!
8
I totally enjoyed this horizontal shooter. From the style-of-play that lets you select your targets (as well as pick the difficulty, of the opponents) to the mulipole plane and weapon upgrades to the sterling graphics and sound support, U.N. Squadron was a blast to play! Just a little too easy.
Download U.N. Squadron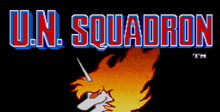 System requirements:
PC compatible
Operating systems: Windows 10/Windows 8/Windows 7/2000/Vista/WinXP
Pentium II (or equivalent) 266MHz (500MHz recommended), RAM: 64MB (128MB recommended), DirectX v8.0a or later must be installed
Game Reviews
All that's missing in this great new game is a flight suit. Hop in your plane and fly through harrowing dogfight and attack-bomber scenes
A wild and ruthless crew of mercenaries has devastated mercenaries has devastated the kingdom of Asian. The dastardly perpetrators of destruction are the arms dealers of the sinister Project 4. Their mercs now control every area of the country except one... Area 88. Fortunately, that's the hangout of some of the finest pilots in the world: the UN Squadron.
The Squadron has been waiting for the right moment to put an end to the evil forces of Project 4. Now the time has come.
Mission Briefing
Capcom's UN Squadron is a hard-hitting, horizontally scrolling, aerial combat shooter. To complete your mission, you must conquer 10 Areas, ranging over air, forest, desert, and sea.
You begin the game by choosing to play one of the UN Squadron's three finest pilots. They are: Shin Kazama, the squadron's top gun and the fastest character to power up; Mickey Scymore, special weapons expert; and Greg Gates, who has the most flying time under his belt.
ProTip: Use Greg Gates. He's your best shot because he can recover from a hit faster than any other pilot.
Before the battle UN Squadron leader Commander Saki greets you in the briefing room where you choose your field of battle. Saki provides information and strategies about your target. Next, it's off to the hangar where Crew Chief McCoy eagerly awaits you. He inspects your aircraft and later he sells you special weapons -- if you can afford them.
Use these three aircraft to win the game. First, the F8E Crusader, second, the A-10A Thunderbolt, and third, the F200 Effect.
Supersonic Strategies
UN Squadron isn't just a mindless shooter, it's also a game of strategy. For instance, some special weapons only work with certain aircraft, and you'll discover all too quickly that out of the six aircraft only certain planes can get you through a given area.
Save your money. You'll need it later. Also, save your special weapons until you reach the Boss. With the right jet you can make it through an Area without using special weapons.
More importantly, you must rack up points by blasting bad guys. Points convert into money, which you use to upgrade your aircraft as well as purchase special weapons. As you fight in an area, you can power up your Vulcan cannon and pick up tasty treats such as shields, fuel tanks, and special weapon ammo.
Just before you fight the Stealth Boss, fire your Vulcan Cannon at the upper right corner of the screen. A blue pod will appear. Grab it to partially refill your fuel tanks.
To defeat the Sub boss in the submarine level, wait until it submerges, then drop bombs on it while it's underwater. The bombs still cause damage.
A Dog-Eat-Dogfight
UN Squadron first blazed through the arcade skies of Japan, where it was released as a coin op called Area 88. As usual, Capcom did a great job converting the game to the SNES.
Inside sources tell us that this game has three different endings. Good luck trying to find this out. UN Squadron is one tough customer!
If you don't believe the hype about SNES games, UN Squadron will open your eyes. If you're an aerial shooter ace, you can't let this one fly past you.
SNES/Super Nintendo/Super Famicom Screenshots