Virtual Pool 64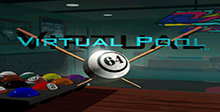 Click the "Install Game" button to initiate the free file download and get compact download launcher. Locate the executable file in your local folder and begin the launcher to install your desired game.
a game by
Celeris Inc.
Genre:
Board Games
Platform:
Nintendo 64
Editor Rating:

6

/

10

, based on

2

reviews,

4

reviews are shown
User Rating:

8.0

/

10

-

2

votes
Rate this game:
See also:
Pool Games, Championship Games
Those of you out there who fancy yourself a hustler should get ready for Virtual Pool 64 from Crave Entertainment, developed by Celeris. This 3D pool sim features several different modes of play which allow you to play a quick game against the computer or a friend, against a series of computer opponents in a tourney setting or try your skill (or luck in some cases) at trick shots. There is also a Practice Mode so you can fine-tune your skills and get used to the sweet (but different) analog control.
In most of the play modes, there are nine types of pool to stroke your cue to, including 8 Ball, 9 Ball, Bank Pool and Rotation, among others. In addition, American bar, English pub or rules can be selected so each of the modes can have a different style of play (or so Johnny England can feel at home).
The physics in the version we previewed is quite accurate, realistically representing what pool truly feels like. The analog control adds to this realism: When you pull back on the analog stick and then push it forward, you hit the cue like you would in real pool. And since it's analog, you can hit it as hard or soft as you like. Virtual Pool 64 also supports the Controller Pak and the Rumble Pak.
MANUFACTURER - Celeris
THEME - Simulation
NUMBER OF PLAYERS - 1-4
Download Virtual Pool 64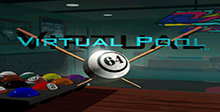 System requirements:
PC compatible
Operating systems: Windows 10/Windows 8/Windows 7/2000/Vista/WinXP
Game Reviews
Someone once said being good at pool was a sign of a misspent childhood. Arse!
Pool and snooker games in general have always posed the question 'why?' The real life involvement is hardly there and the smell of working men's clubs has to accompany a game for that authentic beer 'n' fags atmosphere. Virtual Pool 64 offers a fresh perspective on the age-old cloth-ripping, sop-guzzling game that is pool and it does it a decent amount of justice. You need never be a passive smoker again!
Pot Black
Virtual Pool 64 has got over the first hurdle of the control system in a way that would have Sally Gunnell tripping over her shoelaces. Unlike other pool and snooker games that require a degree in mathematics to get your head around, the VP64 controls are as simple as... well, picking up a pool cue.
Everything is based around the analogue stick. Press any other button in conjunction with the analogue stick and a command is executed. This also makes the use of a power gauge to judge the strength of your shots, redundant. We were worried about the absence of a gauge, but once you feel the true power of a shot come directly from the tip of your finger you gaze in awe at its genius. Every move can been made when playing and you can even buzz around the table watching your opponent from between their legs if you really want. We did. So, with complete freedom of movement around the table and complete control over every delicate cue action you make... how did it play?
It's Only A Game, Mate!
Very well, actually! The ball dynamics are tremendously accurate, gliding effortlessly across the cloth and hopefully plonking into a pocket. The in-game physics have really been worked on to such a rate that you could be convinced that you are watching an early animation from Pixar.
VP64 also packs in enough options to keep Big Break on air for another ten years. (Arghh!) There are dozens, if not a hundred or more, trick shots that can be performed. Each one will help you become a better player, so you can take on one of the hundreds of CPU opponents. To add another pile of longevity to an already swelling choice, you can tackle any character in any form of pool, with a plethora of rules for your delectation. Whopper? You got it!
Yes, there's more. If you're so good you consider yourself a pool shark, or you're so bad you wonder where the shallow end is, you can adjust almost every setting to suit your own needs; the cloth speed, pocket size, cues, table markings, and so many more that they'd probably fill the entire page. Everything you could possibly wish for in a pool game is at the touch of your fingertips.
Pot Luck
It is a far cry from picking up a real cue, chalking its tip and knocking back a few 'fizzy-pops' with friends down the local, and for any pool game to do that would be nigh on impossible. VP64 does its damnedest to translate the game to the comforts of your own home though, and it succeeds. In fact, not only does it succeed in bringing a pool table on to the humble home television, it does it with bells on. A triumph!
2nd rating opinion
Until recently, as far as I knew there were only two types of pool - traditional British pool and easy American pool (well... they simplify everything). However, Virtual Pool 64 has enlightened me - and it's bloody brilliant! A must-have post-pub game!
People say:
6
Once you get used to the general inaccuracy of the aiming and physics systems in Virtual Pool 64, the game actually gets pretty good. But that's the problem. If this title is truly a simulation of pool--one that creates a "virtual" environment--then nothing should be compromised...you shouldn't have to get used to anything. When I line up a shot that would do the job in real-life pool, I expect the ball I'm aiming at in the game to do the same thing--not almost make it into the pocket and then bounce off of the cushion. And I've played a lot of pool--enough to know when a ball should go in. Now don't get me wrong...l didn't miss every shot I took because of the game's aiming system and ball physics--there's just a certain amount of error that occurs. But I think you get my point. Now, the game's overall feel is pretty good other than the physics/aiming problem. There are plenty of game types and play modes to choose from as well, so it'll definitely last you a long time. Another good point is the impressive graphics in the game. Of course, it's obvious more time was spent on them than the music, because I've heard better sound and variety in the demos on my Casio keyboard. Overall, I recommend renting this one first to see if you can get used to the problems I've mentioned.
6
From a features standpoint, Virtual Pool 64 is impressive. It gives you plenty of pool games (you can even make up your own rule variations). The control is awesome--it uses the analog stick in a way that feels perfect for pool. Everything seems to indicate this is the ideal pool sim, but the lack of any type of story mode makes this a dry gaming experience. The poor camera zooming also hurts; you'll miss some table action because of it.
6
For the most part I like this title. The selection of games plus the overall physics are both well-done. I'm not crazy about the analog control though. Trying to manipulate the stick for a soft shot can be tricky while full power is not always automatic. To me the generic shot meter used in most other pool games is more comfortable. Considering the N64 has no other pool titles, VR Pool 64 can provide enough action for pool freaks.
6
VR Pool 64 is definitely the most in-depth, feature-heavy pool sim I've ever played. It's got everything a serious pool fan could ask for, and it's actually comprehensive enough that newbies could easily improve their real game just by playing and practicing with it. The only thing the game lacks is a bit of personality (the presentation is rather bland) and a better camera. Minor gripes aside, I really think pool fans will dig this.
If playing real pool just isn't enough for you, Crave is bringing Virtual Pool to the N64.
VP64's realistic graphics convey pool in all its visual glory, and the game's catchy music and realistic sound effects combine for a decent audio rack. With a plethora of options and games, as well as support for up to four players, VP64 manages to eke out some replayability from what is otherwise a very static, banal video game.
Unfortunately, a basic understanding of geometry is all that's needed here, whereas other billiard-top games actually have a learning curve and depth of challenge. If your blood pressure is dangerously high or virtual checkers gives you a buzz, consider Virtual Pool 64 a perfect relaxant.
ProTips:
Nine Ball is a whole different game with the training mode on. Line up the one ball with the nine ball for a ricochet shot and a quick win.
Use the indicators to study the intricacies of the break; you might improve both your virtual and real-life games.
Nintendo 64/N64 Screenshots
See Also
Viewing games 1 to 4