World Series Baseball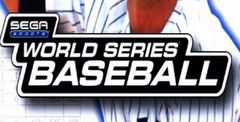 Click the "Install Game" button to initiate the free file download and get compact download launcher. Locate the executable file in your local folder and begin the launcher to install your desired game.
Baseball in winter? You bet, with Sega's solid World Series Baseball for the Game Gear. It's loaded with enough options to keep fans happy until Opening Day.
Play Ball
Realism is the key to World Series Baseball. You get real teams, real players, and real stats to play with. Unfortunately, the transitory nature of the sport means that some of the data is already outdated - a Dodger outfield with Davis in left and Strawberry in right is more nostalgic than realistic. At least you can make substitutions during the course of a long season. Good controls, such as the ability to pitch vicious screwgies. and strong details (pitchers who tire and start to get wild) intensify the realistic strategy.
A clear behind-the-catchers view enables you to gauge balls and strikes, even though those opposing pitchers can really throw some heat! Once the ball is hit, you switch to the standard overhead view to make your defenders throw to a base. Onscreen prompters provide a wealth of pitcher and batter data, pitch speeds, and other game info.
Good news for stat freaks.
The sounds are decent by hand-held standards. Continuous music energizes the proceedings, while the crack of the bat and an announcer's enthusiastic playcalling add flair.
Among the many options are a choice of stadiums, variations in season length, and the chance for two players to face-off (using a Gear-to-Gear Cable). If you like options, follow box scores carefully, and can't wait for spring, step to the plate with World Series Baseball. Though not a homer, it's as satisfying as a clean double into the gap.
PROTIP: For a brush-back pitch against free swingers like Jose Canseco, position your catcher inside.
Download World Series Baseball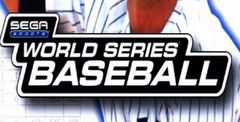 System requirements:
PC compatible
Operating systems: Windows 10/Windows 8/Windows 7/2000/Vista/WinXP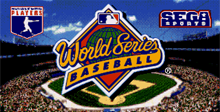 System requirements:
PC compatible
Operating systems: Windows 10/Windows 8/Windows 7/2000/Vista/WinXP
Game modes: Single game mode
Player controls:
Up, Down, Left, Right - Arrow keys
Start - Enter (Pause, Menu select, Skip intro, Inventory)
"A" Gamepad button - Ctrl (usually Jump or Change weapon)
"B" button - Space (Jump, Fire, Menu select)
"C" button - Left Shift (Item select)
Use the F12 key to toggle mouse capture / release when using the mouse as a controller.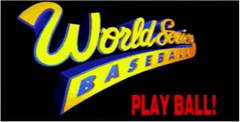 System requirements:
PC compatible
Operating systems: Windows 10/Windows 8/Windows 7/2000/Vista/WinXP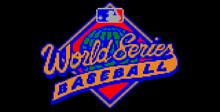 System requirements:
PC compatible
Operating systems: Windows 10/Windows 8/Windows 7/2000/Vista/WinXP
Game Reviews
World Series Baseball is without a doubt one of the best Sega Sports titles to date, and it's arguably the best baseball game ever. Those are some big words, but this is a heavy- hitting game. Sure, baseball is baseball, but playing this game is like playing in the Majors, while most other baseball games are like playing Pee Wee League. Which would you wanna play?
This game is full of hot graphics, big-league sounds, hard-hitting action, all your favorite teams and players, and enough stats to excite even the most jaded fanatic.
Batter Up
In some ways, World Series Baseball is like any other baseball game: You hit the ball, you catch it, and you throw it. In addition, you can steal bases, bunt, pitch out, align your defense, adjust your lineup, and so on. Like other baseball games, World Series gives you exhibition games, a home run derby, batting practice, and league play with variable season lengths up to 162 games.
Unlike many other games, however, World Series Baseball has actual teams, players, and stadiums, with stats from '93 and performances based on those numbers. This game is loaded with enough authentic features to make any baseball fan delirious.
Hitting, catching, and throwing the ball are easy in this game. As the pitcher, you have a choice of three pitches (Splitter, Curveball, and Fastball) that you can throw at three velocities. You can also select precise targets in or out of the strike zone. The batter, meanwhile, has a normal swing, a just-make- contact swing, and a go-for-the- fences swing. If you like bashing those monster home runs, a tape measurement shows just how far that ball went. You can even get a replay of those awesome smacks.
ProTip: While batting, you have a choice of three swings. If you have a home run hitter, swing for power. If you have an average batter, swing normally or just make contact. Use a contact swing when you're trying to execute a hit-and-run play or when you're trying to knock in a run from third base.
It's Outta Here
World Series Baseball has some of the most awesome digitized and non-digitized graphics out there. The true-to-life ballparks are so impressive in their detail and accuracy that you can actually tell you're in Fenway (with that Green Monster) each time you go to Boston. Best of all, the large pitcher and batter sprites move fluidly and are well-detailed.
If you need to move a runner, sacrifice bunts work well. Just remember, if you bunt the ball foul with two strikes against you, you're out!
Throwing a Splitter for a strike can be difficult. If you pitch the ball high and out of the strike zone, it may drop in for a strike.
The game gives you a dramatic catcher's-eye view as the pitch is thrown. The view completely immerses you in the action. You can even feel that menacing stare from Dave Stewart of the Toronto Blue Jays! Once you connect with the ball, you switch to a standard aerial view of the field. Although the infield and outfield players' sprites are small, they're more than adequate and have very fluid movement, even when making awe-inspiring plays.
If your opponent looks like he's gonna steal a base, throw over to the base he's on when his lead gets too big. An occasional pitchout also might help you catch a base burglar.
Be sure you move the ball around the plate while pitching. If you pitch constantly to one part of the plate, the CPU will catch on, especially in later innings.
Likewise, the sounds in World Series Baseball are virtually above reproach. Digitized commentary adds excitement to this game, as do the umpires calling strikes and outs. The play-by-play is fairly accurate, but it lags at times.
Strategy is an important part of this game. Adjust your defense to each opposing batter, especially when you're playing at more difficult levels. For example, when the opposing team has a runner on first with no one out, set your infield for the double play.
The music is limited to non- game-playing sections of the game. It's upbeat and perfectly suited for baseball (no techno rhythm beats here). Even though sounds and graphics can't make a bad game great, they certainly add an extra level of realism to this already wonderful game.
Home Run Champion
If you're looking for a hot baseball game that's fairly easy to play, World Series Baseball is your best bet. It delivers impressive graphics, outstanding sounds, real names, and tons of options. Get plenty of batting practice, and then start swingin' for them fences.
Tired of hearing this: "It's OK, but it's no World Series Baseball '95"? Well, it looks as though you won't have to worry for too much longer. World Series Baseball from Sega Sports (called Greatest Nine in Japan) is by far the smoothest, most beautiful looking baseball video game ever! To top it off, it has the MLB teams and the most fluid playability of any baseball title currently out. The Sega Saturn is set to have some of the greatest sports games ever and World Series Baseball is an amazing start.
There is one area in sports games that Sega Sports has over EA: Baseball. The WSB series has been nothing short of brilliant. WSB '95 for the Genesis represents the best that 16-bit baseball will ever get. WSB for the Saturn, although not as much of a simulator, is so much fun to play, fat video game geeks can feel like part of the action now too. Well then, you don't need me to tell you that the 32X version is also a homerun. What you do need me to do is give you a reason to cough up the 60 bucks to buy this version when you should already own the Genesis version.
I can't give you a single good reason. Sure, I can tell you that WSB for the 32X has better graphics--but not that much better. The Genesis version already looks smart as is; why upgrade? You aren't going to find any earth-shattering playability tweaks, the stats are still just stats, and no new teams are in there. Last time I checked, there was no expansion in '95.
Not to detract from the game--it's still a marvellous title--but I can't recommend this game because not enough has been changed to warrant its purchase. Sorry.
Sega Sports July 2002--This year's field of baseball titles struck out worse than a blind pitcher, so here's hoping that Sega can jumpstart things. The rebuilt Franchise mode is a great start, but purists can get fired up over the game's tip of the hat to history: You can play with 25 of the all-time great players in addition to dressing up in the old-school team unis. Finally, a chance to don those Astros' oh-so-mirthful jerseys.
ONE, TWO, THREE-YOU'RE OUT!
The Genesis version was great. Now that Sega has made it for the Game Gear, I feel that I have to see it in action.
First of all, this is an excellent translation to the portable. Pick from all 28 teams from the National, American, and Central divisions. Because it is sponsored by MLBPA, you get to see the current baseball greats and their stats. It doesn't stop there, either. You can play in a preseason game or go all the way and participate in the full season bonanza.
There will be four stadiums you will be able to pick from, both indoor and outdoor. The stadiums are different, and each stadium varies in size. The bigger they are, the harder you'll have to hit in order to send one out of here. What else can you ask from a baseball game with a portable's capability? Ok, there's more. The action is incredible, watch the batters hit one out of here. Following the home run hits, Sega has awarded you with some cool cinemas.
Looking for someone to play against? Why not find a friend who has the same game and plug two Game Gear units together. You'll be able to play against your buddy and see who's the best gamer on the block.
As long as Sega keeps making great games like this for the Game Gear, this system will be around for a while and will keep consumers coming back for more. If you're looking for a baseball game for your Game Gear, this is the one to get. You can never turn down America's pastime.
Machine: Game Gear
Manufacturer: Sega of America/by Sega of Japan
Celebrate the return of the Boys of Summer by stepping up to the plate in World Series Baseball. Although this Game Gear version is entirely different from the Genesis game of the same name, it still provides a lot of hand-held fun.
All the real players and logos are included in World Series Baseball, which - unlike the sport itself - is incredibly fast. The hits, throws, and runners all move very rapidly and bring an excitement to game play that's often missing from baseball sims. But quick reactions are a must if you hope to grab the pennant for your team.
Although the controls respond better than average, they're still the game's weakest point. Computer fielders automatically catch fly balls, but chasing down liners in the outfield takes some work. It can also be a challenge to throw to the correct base, and the buttons often don't respond quickly enough to allow you to turn a double play.
Game modes include exhibition games, 32-, 84-, 123-, 162-game pennant races (seasons), and two-player competitive games (by linking two Game Gears). You can also create two "dream teams" by picking players from the rosters of all 28 MLB teams. You can substitute batters and pitchers at will during the action, basing your decisions on a thorough list of stats. And don't worry about entering lengthy passwords - your progress is automatically saved.
World Series Baseball won't please the realist in you, but you'd be hard-pressed to find a portable arcade-style sports game that's more fun. So if you're looking for a nine-inning fix to go, pick it up!
Manufacturer: Sega
Machine: Genesis
World Series Baseball is one of the better baseball games out there with great control, excellent voices, and plenty of teams to choose from! With two players, it is even better! The scoreboard has excellent cinemas.
World Series Baseball is just a joy to play. Sega did a great job balancing both fun and realism. The pitching interface is easy to use, although it can be very difficult to judge where your pitch is going when the pitching cursor is turned off, which was a tad frustrating. Also, the batting system uses a cursor that you line up with the pitch which really adds to the challenge of hitting. They also did a great job of making the ball react appropriately in relation to how it was hit. For example, hit on top of the ball and it's driven straight into the ground. Hit under it and you'll pop it up. Most of the games I played were close, competitive, and a fairly accurate representation of the real sport. Great stuff overall.
Since the game was developed exclusively for XBOX, the graphical detail is downright scary. I have never seen player faces that looked so much like the real-life player, and the bodies are proportioned perfectly. Not only do the players look great, but the animations are absolutely amazing.
Dive for a ball and watch the second baseman throw to first from his knees. Screen shots will never do justice for the graphical detail packed into this game; there are so many examples of the detail that has been put into this game that I could go on for pages. On the downside, the lame 2D cutouts in the crowd were a bit of a bummer since everything else looked so beautiful, which just magnified how bad they looked. Come on, this is the XBOX, it can handle a 3D crowd.
This game also has the deepest franchise mode I have ever seen. You can hire batting coaches, pitching coaches and scouts to develop your minor league players. You can get reports from your minor league scouts on the development of your prospects and they'll even make recommendations on who's ready for the big leagues.
You could literally spend hours playing general manager before you even step on to the field. Don't worry though, it's all very intuitive and you're not required to make any changes, but for those of you that love to tinker, you should be quite satisfied.
Sega Genesis/Mega Drive Screenshots