X-Tension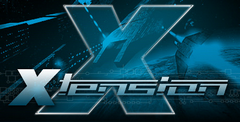 Click the "Install Game" button to initiate the free file download and get compact download launcher. Locate the executable file in your local folder and begin the launcher to install your desired game.
The great thing about reviewing expansion packs is that it's only ever the people who acquired and enjoyed the original game that buy them - obvious really. X-Tension, by default, need only be bought by those who enjoyed X-Beyond The Frontier. For them, it is nothing short of essential.
In essence, X-Tension is more of a sequel than a simple add-on. The story kicks off from the end of the original game, the evil Xenon vanquished and you still stranded light years from home. With time to kill and your X-perimental ship being stripped apart and rebuilt, you are given an Argon Buster with a few bits of kit bolted on to help you on your way and, from there, it is up to you where you want to go, what to trade in and who to pick on.
Having only one ship to fly in X-BTF was limiting, but here, 30 are available, from small fighters to medium-sized traders and freighters. You can even slip into a space suit and go floating into space - useful for when you want to take over other ships.
Although there is more freedom to roam in X-Tension, with countless missions compared to X-BTFs meager handful, there is little continuity between them. So, in this respect, developer Egosoft seems to have gone from one extreme to the other. New missions are being created as we speak and will be released on a regular basis. Hopefully, we can expect some complex quests fairly soon. Again, there is an emphasis on building up your own network of factories and space fleets, but there is more freedom to engage in mindless combat and go exploring.
Graphically, X-Tension is prettier, the interface is improved and the soundtrack -an acquired taste - has been extended. Aside from the odd bug, X-Tension is a fantastic addition to a superb game. Half the price of most add-ons and with twice as much content, it's refreshing to experience a change of pace and see the series edge in a new direction. If Egosoft can see their way to injecting more aspects away from the economic side of things, we should be on for a cracking sequel, whenever - or if ever - it appears.
Download X-Tension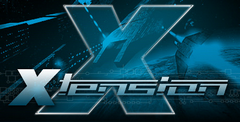 System requirements:
PC compatible
Operating systems: Windows 10/Windows 8/Windows 7/2000/Vista/WinXP
Game Reviews
Space may well be bigger than a very big thing after an eating binge, but it certainly isn't empty. While work continues apace on David Braben's Elite follow-up, and as space shoot 'em up after space shoot 'em up continue to flood the market, one title in particular is set to stand out from the crowd, following a promising, if short-lived, initial outing.
X-Beyond The Frontier has returned to the space trading genre with X-Tension, a semi-sequel that's done away with its linear plotline and limited expansion in favour of an open-ended universe. "The linear story we implemented in X-BTF was actually added rather late in the development," admits Bernd Lehahn, X-Tension's lead designer. "We weren't too happy with diis part of the game, and that's the reason we removed it completely from X-Tension. Our plan was, and still is, to make the most open and free game possible."
X's chief problem was that once the initial thrill of exploration and factoryowning died away, there really wasn't all that much left in the game. Obtaining large quantities of cash was too easily achieved, rendering the long-term appeal of the game virtually non-existent. X-Tension is attempting to rectify that, while retaining most of the initial game's engine and much-acclaimed playability.
In a bold move, the German developer, Egosoft, has not only listened to these criticisms, but allowed the fans to take an active role in solving them. As well as hundreds of miniquests being handled in-house, fans are being invited to design and code their own missions for inclusion in the final release, with further missions being added with each subsequent patch. "We want to get as many good quests as possible," explains Lehahn. 'The web-based development is a new concept, and it probably causes more work for us than writing the missions ourselves, but we want to extend the idea and think it has great potential." The X universe has been expanded in just about every way possible. "We are always listening closely to the feedback from our fans," reveals Lehahn, "and many of the ideas we read from our message board again and again are on our to-do list already."
These include the chance to buy and fly different ships, a bigger universe to explore, better factory controls that allow you to set specific cargo routes, remote piloting of any ship in the fleet, more diverse career options and better navigation controls. "We want to supply a universe for the player to live in," says Lehahn. Feedback and suggestions are still being encouraged. Egosoft firmly believes in the idea that patches can offer more than just bug fixes. "This program will not end with the release of X-Tension," promises Lehahn.
Just as well, as it means Braben and co might finally have some real competition on their hands.
See Also
Viewing games 1 to 10