Mass Effect 2: Kasumi – Stolen Memory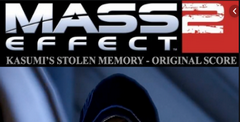 Click the "Install Game" button to initiate the free file download and get compact download launcher. Locate the executable file in your local folder and begin the launcher to install your desired game.
Mass Effect 2: Kasumi – Stolen Memory is a DLC to the second game in series that fits neatly within its rich, narrative-driven structure and gives fans of the game and series more of their favourite things: cool companions and extra gear. With an average playtime of about an hour however, this DLC is not very long and can leave quite a bit to be desired. It gives off the overall impression of greater potential, especially when considering how it applies to and interacts with the wider game.
The Gameplay
Even accounting for its short length, Kasumi – Stolen Memory is a tightly packed adventure providing players with a taste of everything that makes Mass Effect 2 what it is. The storyline is divided into two neat sections, with the first half an hour focusing on social roleplaying and investigation, while the second focuses on combat.
There are no new mechanics to learn or strikingly different enemies to fight but given the format of the DLC, this is not a downside at all. Instead, the subtle application of skills the players have already learned to a new and unique scenario, allows Stolen Memory to be played seamlessly at any time during an ordinary Mass Effect 2 playthrough.
Additionally, the DLC provides Kasumi as a new companion, a new weapon in the form of a M-12 Locust, a new location, the Boltzmann system on the Serpent Nebula (which can be visited even after the DLC is completed), and a new casual outfit for Shepard. Unlike with DLCs for other cover shooters such as the Gears of War series the Uncharted series, players are provided with more than just a few cool gear addons or an unrelated short campaign; they are instead treated to missions that not only flesh out the game world but also help develop the protagonist the players are invested in, which is something I really enjoyed.
The Look
A significant attention to detail was involved when creating this DLC which means that, like the story, it is indistinguishable from the wider game, allowing for a seamless transition into and out of the missions. The backdrop for the action is the mansion and vault owned by ruthless inter-planetary criminal Donovan Hock, and it is gorgeous to look at the whole way through.
The Story
The narrative flow and direction are, as in all Mass Effect games, not only very well executed but also the primary selling point. Over the course of two in-game missions, Shepard, the protagonist, meets up with a master thief contracted by Cerberus and helps her with a personal mission before she joins the crew.
The initial approach is cleverly crafted with an enjoyable comedic flare as Kasumi hacks an advertisement terminal on the Citadel. She then attempts to draw Shepard's attention by reciting advertisements that include obvious messages about recruiting her. The second mission, and the bulk of the DLC, involve planning and carrying out a heist during a party hosted by Donovan Hock, who owns the neural implant of Kasumi's deceased former partner.
At the end of the DLC, the player is presented with a choice, but the decision does not have wider consequences on the story and does not come up again.
Paired with the fact that Kasumi cannot be engaged in meaningful dialogue after the DLC missions are complete, the wider effect of Stolen Memory on Mass Effect 2 is lacklustre especially in a game that drives home the importance of choice and consequence.
Conclusion
Kasumi – Stolen Memory is a fun and engaging DLC that shows off what's possible when the same love and care that is put into a base game is afforded to its addon content. That said, its overall length and the self-contained nature of its story make it a DLC that doesn't quite live up to its full potential.
8
Nonetheless, if you like the Mass Effect games, it will be a welcome addition to your collection.
Pros:
Engaging and well-written plot
An awesome new companion
Cons:
The events of the DLC do not affect the wider story
It is only about an hour long in total
Download Mass Effect 2: Kasumi – Stolen Memory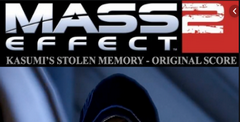 System requirements:
PC compatible
Operating systems: Windows 10/Windows 8/Windows 7/2000/Vista/WinXP
Game Reviews
Buy, Download, And install Kasumi, and you'd be forgiven for thinking it didn't work. The only evidence of your purchase is an email on your terminal and a waypoint on your galaxy map, reading "Recruit The Master Thief'.
So you return to Citadel and Kasumi" tracks you down quickly - in a stupidly conspicuous, but forgivably fun, way that sets the tone of the mission. And it's a strange old task. BioWare have squeezed a heist into the Mass Effect game style with considerable skill, but it's still a difficult to buy into completely. You're at a party of the world's most decadent and criminal billionaires, running around saying "let me into the boss' bedroom please", Kasumi is a good character-a cocky but heartbroken thief who can't let go of her past. She could have been a great character in the main game, but you only get one mission with her for your money (OK, points). She's immediately loyal, so there's no revealing second mission to make it worth buttering her up. Indeed, if you've already completed the game, you're missing out on the pleasure of having her skills with you throughout the story.
So, what do you get for your quids? A new character (briefly) with unique stalking backstab attacks and flashbang grenades; a 60-minute mission (tops); and a submachine gun. Stolen Memories is definitely not big on value, but if you're a Mass Effect fan you'll find it hard to resist Which is, obviously, what EA are counting on.
See Also
Viewing games 1 to 8