You Don't Know Jack 2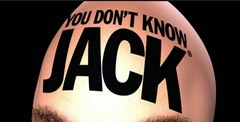 Click the "Install Game" button to initiate the free file download and get compact download launcher. Locate the executable file in your local folder and begin the launcher to install your desired game.
After six discs of snarky trivia, it's time for a You Don't Know Jack paradigm shift You Don't Know Jack: The Ride is that shift and it throws the series into high gear.
Where Do You Want To Go TodaAAAAAAHH!
Instead of a game show, The Ride puts players on a one-way elevator ride (guess which direction). By answering a Moral Dilemma at the game's opening, you inadvertently choose one of 800 topics, which range from War to Fetishes, for your 13-question trip. (Oh, yes this game's definitely aimed at teenagers and up.)
Screwing your opponent is much more lethal now--the more you pound the S key, the more screws fill the screen to obliterate the answer. Dis or Dat and Gibberish Questions return, while new games include the reflex/spelling challenge Jack Bingo and Roadkill, a twisted take on "whats the connection" logic puzzles.
A Smooth Ride
The Ride still adheres to Jacks trademark low-flash high-class graphic philosophy; most of the screen remains black while animated text pokes through the void. There's so much excellent sarcastic chatter from the game's five announcers--even the original host; Nate, has returned--that the game now ships on two discs. Inexplicably, though, there's still no way to reconfigure the buzzer keys.
The Ride plays much faster than earlier Jack volumes; it's more focused and even more mean-spirited. This is Jack: The Second Coming--and fens won't want to miss it.
ProTips:
If you're going to screw, screw early! Fill the screen before the other player even has time to read the options.
Pace yourself during Dis or Dat. Thirty seconds Is plenty of time to finish the round, even If you have to skip a question.
Air Hendrix's favorite cheesy move is to ring in early, then read the answers. Be advised: Use this tactic at your own risk
Download You Don't Know Jack 2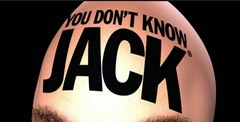 System requirements:
PC compatible
Operating systems: Windows 10/Windows 8/Windows 7/2000/Vista/WinXP
Game Reviews
Overview
If you think you know computer quiz games, well, then YOU DON'T KNOW JACK!
Simply put, Berkeley Systems' You Don't Know Jack (YDKJ) series of games turn your PC into a game show. The experience is beyond just running a game program. We're talking a total Outer Limits "Do Not Adjust Your Set ..." immersive takeover of your machine. From the moment you pop in that CD-ROM disc, you aren't playing a computer game'you're playing interactive television. Or rather, you're playing the type of thing interactive television hopes to become when your TV gets some real computing power.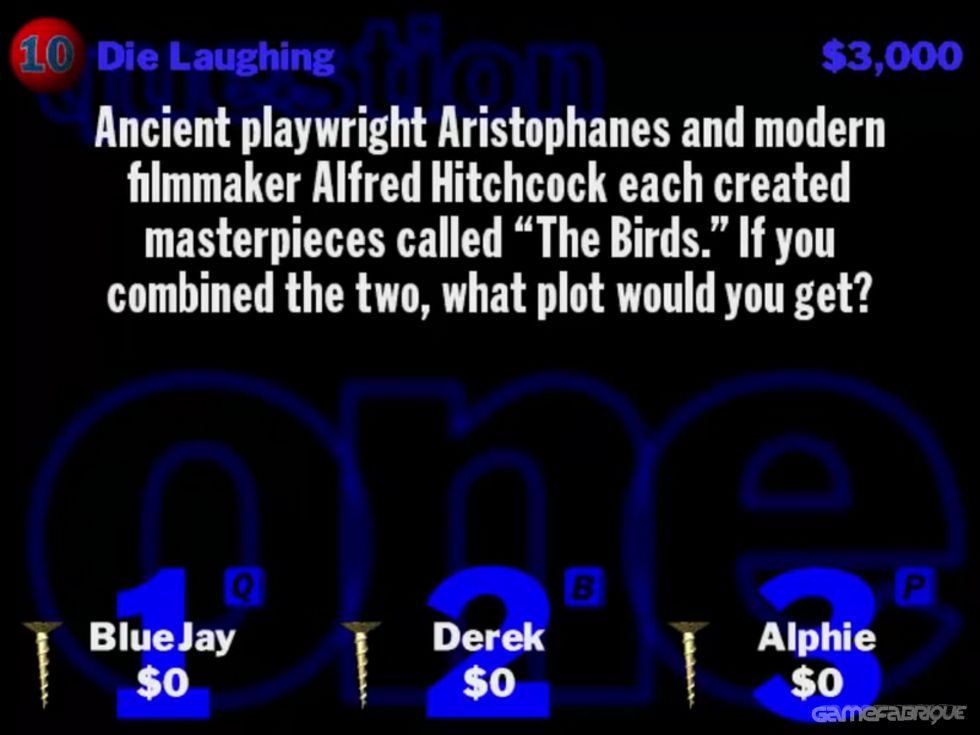 When the program starts, you can hear the general hustle-bustle and background noise of the final minutes of setup before a TV game show begins. If you've had a chance to visit the taping of a real game show in Hollywood, as I have, you'll realize how accurate it all sounds. The host starts asking you some initial questions: How many people will be playing (up to three), what are the players' first names, and would you like a quick seven-question game or the full 21-question tournament? He explains your keyboard assignments, then you're launched into the game proper.
Gameplay
Each player has an assigned key that's analogous to the buzz-in button you've seen on TV game shows. Two players are assigned keys at each end of the keyboard; a third player gets a key in the middle (I played a three-player game on a laptop once, and it was a bit cozy). It's a quiz-show format, with ultra-hip (and sometimes cryptic) questions and categories. Sample category: "Dirty Dancing and Flightless Birds." You get a choice of three categories for each question. The winner of the previous question gets to choose the next category. It takes a bit of experience to be able to even partly decipher the meaning of the categories before you see the resulting question.
Once someone chooses a category, the question pops up'both in text form, and read aloud by our oh-so-hip host. There's a lot of voice in this game. "Player two! You buzzed in before I finished reading the question! Well, let's see if you can just type out the answer for us!" Big mistake: so much for the usual multiple choice! I was surprised when I found out that the actor playing the host changed from YDKJ to YDKJ2, since he sounded nearly the same (there's a bit of chatter in the intro implying that the new host is a cousin of the previous host).
In classic game show tradition, you make money for every question you answer correctly. Some questions are timed, with the payoff growing smaller as time passes. Conversely, you lose money with wrong answers. At the beginning of the game, you're given some Screws (yep, they're actually represented as little floating woodscrews). These allow you to ... you guessed it ... screw your neighbor! If a question pops up that is just impossible, you can buzz in and hit the "S" key (S for Screw) which will force your opponent to take a stab at the question. If they answer wrong, there goes some cash.
One of the nicest aspects of the original game was the music, and that's one area that disappointed me in YDKJ2. The original YDKJ had really fun jingles in between questions: "Question four, forever more ... I love you, my question four (the question that cares)." It may sound hokey in print, but my spouse and I ended up singing along with the jingles. It really made the game for us. YDKJ2 makes two changes to the jingles. First, they're shorter. Most of the time, they barely get a melody going before they're gone. I imagine that Berkeley did this to move the gameplay along a bit faster, but I miss the old jingles. Secondly, now there's more than one jingle per question, selected randomly. I'm sure that this improves the replay value, but I really didn't seem to develop the same familiarity with the new jingles.
There are several new question types in YDKJ2. In addition to the usual multiple-choice and rhyming questions, YDKJ2 adds some variations, with varying success. "DisOrDat" asks "Puccini: Pasta or Opera Composer?" Picture Questions are just that -- you're shown a picture and asked a question about it. Probably the least successful type is "Celebrity Collect Call." This is nothing more than a recording of the host calling some apathetic celebrity and asking them to come up with a question. The call to Home Improvement's Tim Allen was particularly lame. Other celebrities include such luminaries as Erik Estrada and Florence Henderson (both of whom, I assume, would pose questions about chips -- that's a Wheat Thins joke ... or wait, was that Sandy Duncan? ... aw, never mind).
Graphics
YDKJ2 is as colorful and full of animation as the original. Partygoers with active-matrix-display laptops should note that the bright primary colors used in the game look particularly good on such displays. Watch out for spilled drinks!
Audio
This game is probably the best way yet invented to justify buying that new fancy-pants surround speaker system for your PC. The sound has great dynamic range, and literally everything in the game is accompanied by a sound effect. It sounds so good, you'll stop wondering whether the hissing noise in that other game is caused by your sound card. If YDKJ2 sounds so good, why doesn't everything? I guess it's because everything isn't done by Berkeley Systems, creators of the After Dark series of screen savers, and long-time Windows audio/video veterans.
Documentation
The documentation is fine and well-written, but you'll probably never need to refer to it. Gameplay is wonderfully self-explanatory, and the game requires no setup whatsoever. Pop in the CD and let Windows 95's AutoPlay feature take it from there!
System Requirements
Windows: MPC 2 system or better: 486/33 or better microprocessor; Windows 95 or Windows 3.1x; 8 MB RAM; 16 MB free hard disk space; video display capable of at least 640x480 resolution with 256 colors; 2X CD-ROM drive (or better); Sound Blaster 16 or compatible multimedia sound card.
Macintosh: 68040-based Macintosh or any PowerPC; System 7.1 or later; 5 MB free RAM; 15MB free hard disk space; 2X CD-ROM drive (or better); QuickTime 2.1 and Sound Manager 3.1 (both included); Color monitor capable of at least 640x480 resolution with 256 colors.
Bottom Line
The You Don't Know Jack series makes the ultimate party game. It's incredibly friendly to the non-computer-literate members of your environment. Your spouse may actually bug you to play it. It's a heck of a lot of fun.
As is so often the case when something has no real competition, its only competition is itself -- or in this case, its predecessor. That's what makes it hard to review YDKJ2. As a stand-alone title, I gave the original YDKJ a perfect score, and in the same context, YDKJ2 gets a 90. That score would be different if I put the new up against the old. YDKJ2 definitely sits in the shadow of its older brother.
If Berkeley wants to continue to fool around with a perfect thing, and come out with You Don't Know Jack 3, here are some suggestions. Guest hosts might be a nice concept. Stick with consistent jingles'they don't change the Jeopardy theme song every week. Ax the Celebrity Collect Calls. They're too long and boring, and break up the pace of the game. If you want to involve celebrities, how about just having them ask one of the questions? Or even walk up to people on the street with a microphone and have them pose questions? That would inject some variety without spoiling the original concept.
YDKJ2 doesn't spoil the concept, just tarnishes it a tiny bit. If you have a choice, and you've never bought the original, run out and buy You Don't Know Jack. If your local store only carries new titles, You Don't Know Jack 2 is also tons of fun, just a few pounds less than the original.
Other Games by Berkeley Systems