You Don't Know Jack Movies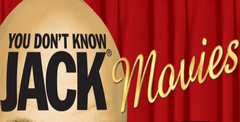 Click the "Install Game" button to initiate the file download and get compact download launcher. Locate the executable file in your local folder and begin the launcher to install your desired game.
a game by
Berkeley Systems
Platform:

PC

Editor Rating:

7

/

10

, based on

1

review
User Rating:

9.0

/

10

-

2

votes
Rate this game:
See also:
Funny Games
Overview
You Don't Know Jack Movies is not your typical Trivial Pursuit-type movie trivia game -- don't expect a lot of highbrow questions about films that were all made before you were born. In fact, while playing the game the other day, I answered a question about the movie Meatballs -- definitely not a movie answer you'll see any time soon on "Jeopardy." The game announces itself as "the place where high culture and pop culture collide," and they're right. The questions in the game combine knowledge of topics like children's TV shows, cereal, and commercials with a knowledge of movie critics, silent-film stars, and filming techniques. And the questions don't seem to center on any certain genre or time-period, which means that if you fail miserably in one category, you might be able to make up for it in another. However, you do have to know your stuff in this game, and you have to be able to think quickly. Berkeley Systems seemed to be aiming purposely for a fast-paced, in-your-face way of presenting movie trivia—a style which is mostly successful.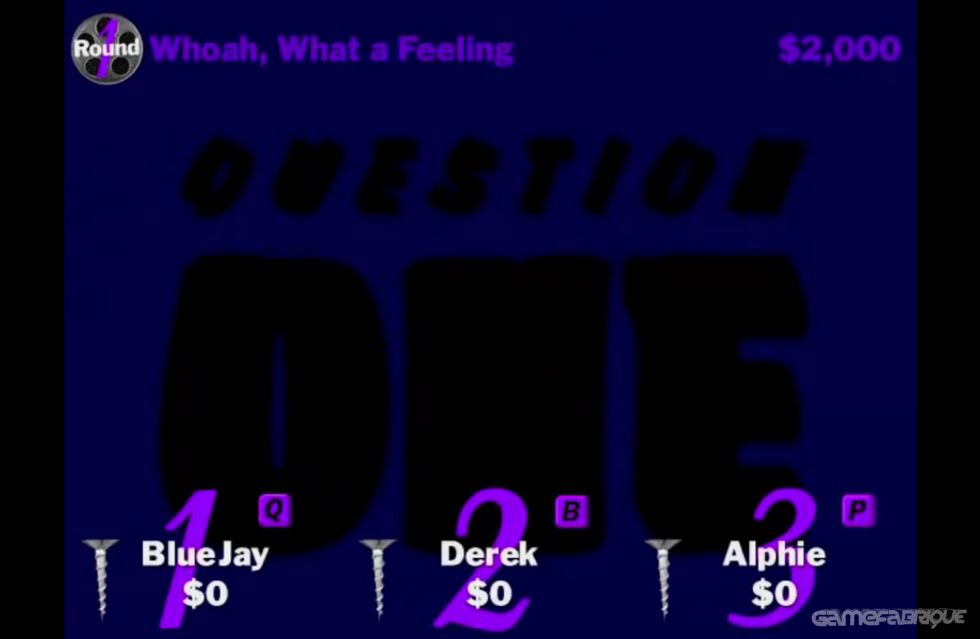 The game begins in a "you're on the set" tone, with voices yelling from all different directions, and directions being shouted hurriedly at you: Are there three players? Two? One? Do you want to answer 7 questions or 21? This hurried pace is kept up all through the product, which made me feel like I needed to move quickly through the game -- even on sections where there was no time limit. If I didn't pick a topic in a few seconds, I was insulted by the emcee -- "Yo, sea biscuit, pick up the pace." And when I didn't pick a name for my player fast enough, I got assigned a name -- Swamp Gas. Hilarious? Annoying? Depends on whether you think the fast-paced feeling adds to the energy and fun of the game.
The entire game is emceed by an invisible host, whom you get to know a bit over the course of playing with him. He's variously funny, taunting and insulting. If you miss a question, your icon is unceremoniously yanked off the screen by his cane. And every game ends with, of course, his reminding you that "you don't know jack."
Gameplay
For each question, players are allowed to choose from one of three topics. The topics rarely directly explain the category -- but that's part of the fun. For example, would you have guessed that the topic "Yet Another Reason to Watch PBS" would lead to a question about movie stars in commercials? Or that "Tender Munchies" would be about actors and their favorite cereals?
One of the really appealing qualities of You Don't Know Jack is that the questions are more complex than the simple recall kind (e.g. "Who won the Best Actor Oscar in 1989?"). The questions ask you to challenge yourself by combining different types of knowledge to come up with one (often irreverent) answer. For instance, which of the following actors would not use a urinal? -- Dil from The Crying Game, Josephine from Some Like It Hot, Dorothy Michaels from Tootsie, or Victoria from Victor/Victoria? (Think fast!) And if Robert Duvall were to eat a cereal that reminded him of his first movie role, would it be Cap'n Crunch, Boo Berry, Lucky Charms, or Muselix? (Boo Berry, for his role as Boo Radley in To Kill a Mockingbird.) I liked these questions that required me to think more creatively than the usual trivia format does; they're a lot more fun than, say, the simple challenge of putting your answer in the form of a question. And even if I did get a question wrong, I learned a little bit more about movies -- for instance, did you know that Rambo was named after a 19th-century French poet? (Oui!)
Questions about movie techniques and behind-the-scenes cinematic knowledge also pop up. For instance, a question about a tracking shot and about the Todd-AO movie format came up. Every game also includes a "Flickerpiss Nosescum" (or various other nonsensical titles) section, which involves a timed matching-quiz in which potential answers fly at you on the screen and you have to buzz in on the right one.
Controls
Pretty easy to use. Just press your buzzer (a designated button, like "B") to ring in on a question. Then select the correct answer -- a, b, or c. (Sometimes you'll be required to type in an answer.)
Graphics and Audio
Each trivia question is preluded by a clever intro -- number seven is accompanied by some groovy '70s music and a psychedelic color scheme; question number six is riddled with bullet holes with a mock-gangster voiceover. It reminded me vaguely of a Sesame Street episode ("Today, we're going to learn about the number five"). These are fun to watch, but unfortunately some of the same intros are repeated over and over again, which soon makes those tiresome. But in the overall game, the music and sound effects enhance the frantic, humorous game show feel.
System Requirements
Required: 486-66 or better, 16 MB RAM, 19 MB hard disk space, 2X CD-ROM drive, graphics card capable of 640x480 at 256 colors, keyboard, 16-bit soundcard, speakers
Parental Warning
As Jack would put it (and does on the box): "This game contains mature themes that may not be appropriate for children. Besides, they wouldn't get it anyway."
Bottom Line
You Don't Know Jack Movies walks the border between clever and annoying, and for the most part, it walks the right side of the line (depending, of course, on how much Jack you can take).
Download You Don't Know Jack Movies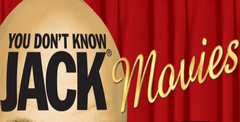 System requirements:
PC compatible
Operating systems: Windows 10/Windows 8/Windows 7/2000/Vista/WinXP
Other Games by Berkeley Systems