18 Wheels of Steel: Across America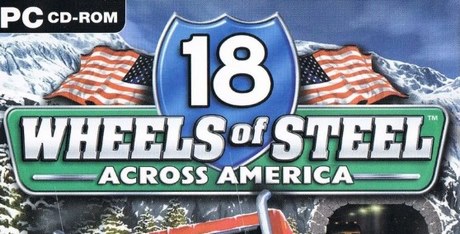 18 Wheels of Steel Across America was released back in 2003 and is the second game in the franchise. It came out in around a year after the original game and despite the quick turnaround, it featured many things that they actually wanted to put in the first game. Trucking games have come along way, but there is something charming about this game so if you like trucking games it is worth taking a closer look at.
I'm A Travelling Man
For years I have had an interest in trucks. I think it dates back to when I was a kid and I would signal for truck drivers to honk their horns. 18 Wheels of Steel Across America is a game that looks like a game from 2003. It would be so easy to say that the game looks bad, but to be fair at the time it was released, these graphics were actually pretty decent. You get to drive through many different parts of the USA and while they are not as detailed or authentic as what you would get in a modern trucking sim, they are diverse and all look different.
So again, do not just look at this game and think it is ugly. It is just an older game and they did the best with what they had. It is a game that is very clearly showing its age. There are plenty of different trucks and other vehicles on the road, but these also look a tad rough by today's standards.
The Joys Of The Open Road
One thing I will say about 18 Wheels of Steel Across America is that the game is still pretty fun to play. It feels far more stripped back than what we have with modern trucking games, but sometimes things being simpler, can make them more fun. You have lots of loads to deliver and you will be going to many different parts of the country. There is a nice amount of diversity here and I like how you can go from having to navigate busy city streets to a more rural area that has smaller and trickier roads. Then you have the large open road sections which are fun and relaxing to drive through.
You do have to watch out for other drivers, going too fast and even problems occurring with your truck. Not to mention, you need to keep an eye on that fuel gauge! The hardest part of the game for me was delivering my loads to a place that has a loading dock. This is way trickier than you would think.
I must admit that when it comes to trucking games, 18 Wheels of Steel Across America is not the best. However, while its sequels are notably better than this. I will say that this game is at the very least better than the one that came before it and that is all you can really ask.
8
Some may think that it looks too old to be fun, but I have to disagree. It is a game that is very rough around the edges, but rather than thinking of it as being old, I like to think it is more old-school!
Pros:
You have lots of parts of the USA to drive through
For a game that is this old, the size of the map is impressive
You have plenty of trucks to drive
The game is more challenging than you would think
I liked how basic the game was in comparison to more in-depth trucking sims
Cons:
The game looks rather rough
Its sequels are much better games
Download 18 Wheels of Steel: Across America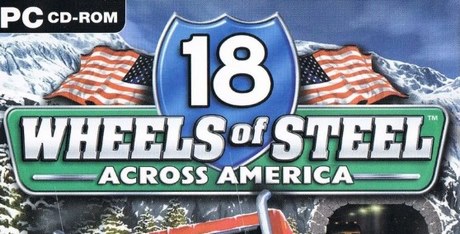 System requirements:
PC compatible
Operating systems: Windows 10/Windows 8/Windows 7/2000/Vista/WinXP
Game Reviews
What we have here with 18 Wheels of Steel: Across America is the second game in this long-running series. Incredibly this was released all the way back in 2003, only a year or so after the first game in the series. I get the impression that this is what they really wanted that first game to be. While it may be rather "old" in comparison to other trucking games even including its sequels, this is still a fun time.
Life On The Road!
Despite never driving a truck myself I have always had an interest in the world of truck driving. Be it any of the TV shows that showcase it or video games like 18 Wheels of Steel: Across America. It is something I have always found fascinating. The "story" of this game is that you are wanting to make a name for yourself in the trucking world so you are going coast to coast proving that you are the best around when it comes to delivering loads no matter how big they are or how tight the delivery deadline is.
Not Quite Like A Fine Wine
The visuals of the game are a tad rough, actually, that is a bit harsh. I would not say that they are rough, more that they are showing their age. To be fair this is a game that is the better part of two decades old as I write this. Still, the different parts of the country you are driving in are different enough and there is a decent selection of different vehicles on the road. It is just very jarring to go back and play a game like this after playing the more modern trucking games that are out there. 18 Wheels of Steel: Across America is a game that is 100 percent showing its age, but that does not make it bad.
I Got A Great Big Convoy
The gameplay sees you need to deliver goods all over the country. You need to pay attention to the road and there are many other things that you have to keep an eye on as well. These range from speed traps, issues with your truck, fuel and actually delivering the goods. On more than one occasion I had one hell of a great run to deliver a load, only to be tripped up by a very awkward loading dock where I crashed multiple times trying to drop off my load. The game is fun to play and when you are on a long stretch of road it has a kind of Zen-like vibe to the whole thing that I like. It is the kind of game that anyone can enjoy and I do like how it is a bit more "stripped back" and basic in comparison to many of the modern trucking games we have these days.
7
I would not say that 18 Wheels of Steel: Across America is one of the best trucking games I have played, but for its time it was a real breath of fresh air. It is most certainly better than the game that came before it and I feel it set the tone for what the series would become over the next few years. If you want a trucking game that has a bit of "old school" to it, you can do a lot worse than this one here.
Pros:
The map is huge
Many different parts of the country to drive through
A nice variety of trucks, trailers and loads
The game has a kind of chill-out vibe to the whole thing
It is easy to get into, but hard to master
Cons:
The game looks rather basic by today's standards
The later games improve on pretty much every aspect
Similar Games
Viewing games 1 to 8