Above Snakes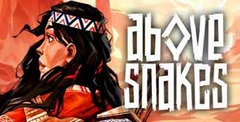 Above Snakes is an upcoming game set in a post-apocalyptic Wild West. Stay tuned for its release to face deadly enemies, explore a desolate world, and fight to survive in this unique action-adventure experience.
Developed by Tobias Schnackenberg and Published by Crytivo, Above Snakes is a role-playing game that mixes base-building features in the Old West. This adventure title draws from simulation games, to place players into a plagued world. In Above Snakes, people, as well as wildlife, turn into zombie-like creatures. Set for release in 2022 the title will be available on Windows, Playstation 5, Xbox One and Nintendo Switch.
An Isometric Western Adventure
Explore Corpse Creak in its most devastating moment, a night when a blinding green light shines upon the town. As fiery stones rain upon Corpse Creak and a pitch-black dark rift hover over the small town, an intriguing story unfolds. Civilians start suffocating upon a disease-filled air, and as they perish, their putrid bodies start rising from the grave.
The game's protagonist is Aiyana, and through role-playing game elements, resource acquisition and city building, you have to become one with nature. Taking care of Aiyana's basic needs such as thirst, and hunger, all the while fending off the tracks of wildlife, bandits, and the dead. Preparation and strategy might be the most important aspects of the game, since little was displayed in actual combat.
Building a Unique Landscape
This game is a marvelous visual treat, it is extremely pretty and it has a very unique ambience. It is a world that progressively unfolds in a single tile and as you gain resources such as rock and logs you can expand the actual map of the game. This is one of the best parts of the game, it offers a unique pathway and experience for each player, while the demo offered twenty five different tiles, in ten distinct biomes, the full game is expected to offer more variety.
In your own world, you are able to invest into building your home, and unlocking outpost trades that reward you with new resources. Even if Above Snakes looks simple, it also has a very unforgiving system. Players have to be very careful with their resources, and how they utilize water, logs, and new tiles as that can be the difference between success and failure.
Summary
Valheim, The Forest, and Terraria are all games that bring similar content as Above Snakes, players who have enjoyed that experience and are eager for a new game set in an re-imagined Old West will certainly like this one. It is noticeable that the game has a certain build-up, and the early game can feel extremely raw, and small, even if later portions of the game open up multiple opportunities for players.
8
While we got a glimpse of what combat will be through the Demo, it needs to show us more to entice us through combat, however the RPG elements, and the world-building versatility, added to the gorgeous world was satisfying enough as is.
PROS
Beautiful Game
Intricately Unfolding World
Strategy and Management are Well Utilized
CONS
Replayability Might Be Low With Only 250 Tiles
Combat Needs to Improve in Order to Be Attractive
Story Could Have Trouble Being Told Through The Game's Format
Download Above Snakes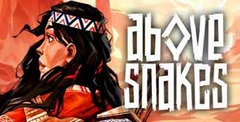 System requirements:
PC compatible
Operating systems: Windows 10/Windows 8/Windows 7/2000/Vista/WinXP
Similar Games
Viewing games 1 to 8