Air Power: Battle in The Skies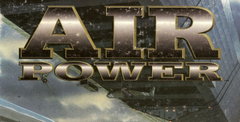 Click the "Install Game" button to initiate the free file download and get compact download launcher. Locate the executable file in your local folder and begin the launcher to install your desired game.
a game by
Rowan
Platform:
PC
User Rating:

9.0

/

10

-

2

votes
Rate this game:
See also:
Flying Games
Oh No, Not Another Flight Sim! I hear you moan, and from the Rowan bods, tool They certainly seem to get about a bit on the old flight sim front, don't they? What with Overlord and Dawn Patrol under their belts, and the forthcoming Navy Strike (which they're developing for MicroProse); the hush-hush sequel to Dawn Patrol (which they're currently putting together for Empire); and now the rather splendid, but distinctly odd looking Airpower, they've certainly been keeping themselves busy, and building themselves a bit of a rep as flight sim aficionados in the process.
So is it a case of "we've built a decent flight engine and we're gonna flog it to as many publishers as we can'', or is Rowan being thoroughly British about it ail. doing the decent thing and making them all very, very different?
Dawn Air Patrol Power
Well, even though Airpower is very Dawn Pcitrol-esque, it most definitely represents a step forward in terms of dynamics and gameplay. Yes, it may use an "enhanced" Dawn Patrol flight engine (similar to that used in the forthcoming networkable version of Dawn Patrol) and it may also look distinctly "samey" as far as the style of the graphics goes, but that's really where any similarity ends.
Not only is the plot a million miles away from any other air combat sim you're likely to come across (see boxout) and the planes like nothing else you've ever seen before (because Rowan has made them all up), but the structure of the game has been totally re-jigged and cunningly includes a healthy dollop of strategy. So it's less of an "interactive book" (as Dawn Patrol was) and more of a "thinking man's" shoot 'em up which isn't a million miles away from, let's say. Magic Carpet.
That's not to say it doesn't look like a Rowan product. The easy-to-use menu system is still there, the control is as instinctive and intuitive as it was in Dawn Patrol, and there's an SVGA mode if you happen to be the proud owner of a spanking new Pentium (which, the producer promises, will be compatible with every graphics card currently around or imminent) and want to impress your friends. If you're not one of the lucky few, though, Rowan has also built in the option to manually crank down the detail (clouds, buildings, landscape etc.) to speed things up, while you can also select an option so that things switch off automatically whenever you indulge in some heavy-duty combat (the screen shrinks as well). This means that the processor has less of a hard time throwing a dozen different planes around the screen, resulting in a better refresh rate, and leaving you to concentrate on the job in hand flicker-free. As soon as things settle down (i.e. you have been shot down and are spiralling to the ground in an impressive hall of flames, or you've managed to avert the threat of enemy craft from the immediate proximity), it all switches back to the original detail setting for super fluid animation throughout. So now you can have your cake and eat it (even if you do own a 386DX).
So what else is new?
Well, for starters there are ten new and highly original aircraft (five bombers and five fighters), which despite never actually being built and Sporting some rather intriguing colour schemes, are based what might have been developed - taking into account the period and level of technology - had the backroom boys discovered the delights of marijuana and LSD. That's not to say they aren't realistic, though. Each of the aircraft flies and handles just as it would do if it had actually made it into production, and while certain planes are more suitable for certain missions than others (the fighters being more manoeuvrable and equipped with guns and rockets, whereas the bombers tire less agile, but have more clout in combat), they all look and fly brilliantly.
Each faction houses two different types of aircraft (and as there are four factions, players will get to fly up to eight different planes, depending on whom they choose to represent). Although each aircraft looks quite different from another, all of them sport highly colourful regional markings and insignia, so you can tell at a glance just who's a friend or foe.
What no "heir" ports?
There are also three different types of airships (aircraft carriers, bombers and escort carriers) from which the player must control his or her operations, and as each one also acts as a mobile airport (there are no runways, just hooks that you have to to snag your plane on to in order to "land"), it's essential that you protect them at all costs.
Missions will vary from simple escort missions to bombing runs and head-to-head challenges. While the overall aim of the game is to subdue the surrounding environs (through negotiation or force), gain as much support as possible, and then attempt to secure the throne, there will also be the option to fly 12 One-off missions instead of embarki ng on a lengthy campaign.
When you add constant radio chatter (which is pulled off the cd so as not to interfere with the rest of the sound effects), improved ACM and AI, a 12 minute animated intro sequence, the possibility of contoured ground and even four-way network play (currently on the producer's wish list), you can rest safe in the knowledge that Airpowcr will look and play like no other air combat sim on the market when it's released in September. In the meantime, full marks to Rowan for originality.
Download Air Power: Battle in The Skies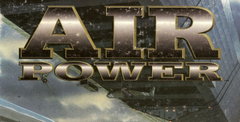 System requirements:
PC compatible
Operating systems: Windows 10/Windows 8/Windows 7/2000/Vista/WinXP
See Also
Viewing games 1 to 7