Almighty: Kill Your Gods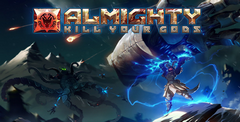 Click the "Install Game" button to initiate the free file download and get compact download launcher. Locate the executable file in your local folder and begin the launcher to install your desired game.
I have to start by saying that Almighty: Kill Your Gods has one of the most badass trailers I have seen for a video game in a very long time. It is like an epic 1980s fantasy-based music video that I used to love when I was a kid. This is an action RPG and one that I feel needs to be getting more attention than it is getting. As of writing, the game is in early access, but it is showing a ton of potential.
Slay The False Gods
The premise of the game is pretty awesome. There are these old gods that have taken over the land and they are destroying it and just taking what they want all the while enslaving the people. As the name, Almighty: Kill Your Gods implies, you are going to try and put a stop to this and use what makes them powerful against them. The idea of playing as a being that is powerful, but needs to grow to "almighty" status is something I think is really cool. I mean, you are literally trying to get powerful enough to kill gods!
Heavy Metal
In the intro, I talked about how the trailer reminded me of an old school heavy metal music video and I stand by that. I love and I mean love the style of this game. I am a real sucker for anything that has a fantasy vibe to it. The world that has been created here and the monsters and old gods that we need to destroy remind me of the kind of things that I would see on an Iron Maiden record cover.
The creature design in this Almighty: Kill Your Gods is fantastic. You have a lot of low-level monsters to kill that serve as the kind of cannon fodder for the game. You also have the gods themselves which are these huge creatures and the design of these things is amazing, the imagination at play here is truly awesome stuff. I also need to mention that the soundtrack for the game kicks some serious ass too!
Go It Alone Or With Friends
This is an action RPG. You get to create your character and as you progress through the game and become stronger. You get access to new items that you come across and earn and it is here where you can put your own stamp on your character and have them be a class that suits your playstyle. I am more of a hack and slash, fast-paced kind of player so that is the way I approached Almighty: Kill Your Gods. However, you can also be a tank, a bit of a mixture, a ranged attacker, and so on.
You can try and go it alone, but you can also tackle the game with some friends too and I am sure when I talk a buddy into getting this game as well, we will have a lot of fun tearing these false gods a new one if you know what I am saying! The combat is brutal, bloody, satisfying, and the kind of thing that has you shouting hell year and pumping your fist the whole time you play the game. There is also this building aspect to the game, where you rebuild the land after the false gods have destroyed it which is a nice addition to the gameplay.
8
If you are a fan of action RPGs, Almighty: Kill Your Gods is a game that you have to give a try. The character creation/customization I feel is just the right level where it is not too complex and not too basic. The premise of the game is just awesome and the gameplay is something that I had a lot of fun with. I cannot wait to be able to play this online with a friend of mine as I am sure it will be an absolute riot!
Pros:
The whole idea of the game is cool
Some of the creature designs are truly spectacular
The gameplay is fast-paced and a lot of fun
You also get to rebuild the land which is cool
Cons:
Character customization may not be deep enough for some people
It can be hard to sometimes tell what is going on in a fight
Download Almighty: Kill Your Gods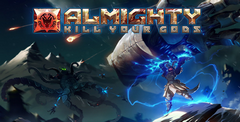 System requirements:
PC compatible
Operating systems: Windows 10/Windows 8/Windows 7/2000/Vista/WinXP
See Also
Viewing games 1 to 7