Baseball Special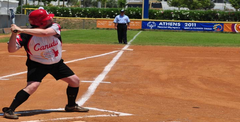 Click the "Install Game" button to initiate the free file download and get compact download launcher. Locate the executable file in your local folder and begin the launcher to install your desired game.
Overview
The pennant races are now in full swing, the trading deadline has passed, and the summer contendersin the world of PC baseball are all vying for your money as if your wallet was a reliable relief pitcher.We've taken the four top games out for a side-by-side run down of what's to like and what's to cringe at in each package, so that you can pick the best fit for your tastes. We've also added in some last-minute info on a new baseball game designed especially for the younger set.
The contenders: Triple Play '98 from EA Sports, Front Page Sports Baseball Pro '98 from Sierra, Grand Slam by Virgin Interactive, and Tony LaRussa Baseball 4 from Maxis. Plus, a quick preview of Dinomight Baseball from Microforum (you know, for kids). We'll take you through the batting and pitching dynamics, the graphics, the realism, and some miscellaneous praise and slams for each. First up: realism.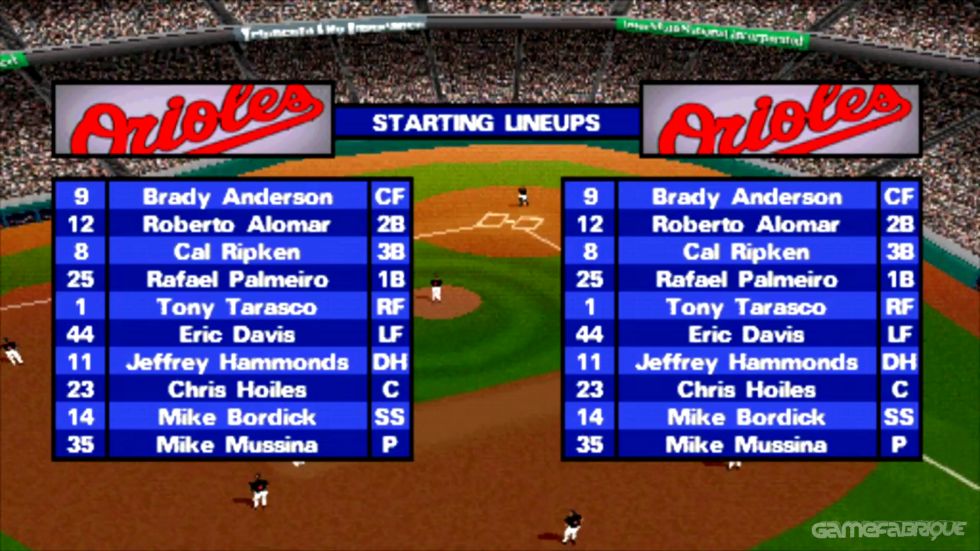 Realism
Is this thing going to make you drop your Cracker Jacks onto the cement underneath the bleachers when your DH goes yard with two out in the 8th, or will it just trip into the gap between editions of SportsCenter?
Triple Play '98
True to form, the team at EA Sports delivers an MTV-worthy performance in terms of hip-hop, in-your-face flying camera angles, pulse-pounding music, and a slick, glitzy all-around package. Like it or not, EA has managed a remarkable level of realism in this game. The players do what players do. I hit a pop fly to shallow center against the Yankees, and Bernie Williams charged it and dove to make the catch. Wade Boggs popped up to the infield and Joey Cora and Alex Rodriguez both converged on the ball, ran into each other and fell to the ground—with Rodriguez still managing to snag the ball. So there's action in Triple Play that very realistically draws from real-life baseball. Triple Play also pushes the envelope on play-by-play in a video game. There is a team of announcers calling every pitch of the game, commenting on plays and telling the kind of long drawn-out stories that only baseball announcers can.
Ironically, the two elements that most contribute to TP '98's realism are also the two that most detract from the fun of Triple Play '98. The two guys in the booth talk and talk, and finally just get annoying once they've said "You know, that's the kind of play that can really swing the momentum in a ballgame" for the fifth time. After a routine ground out to second. With one team up by eleven. Plus, hearing them all the time, you experience the game as though you were watching it on television rather than as a player on the field. As for the action on the field, it's certainly realistic, but real baseball is not an Extreme Sport. It's a combination of grace, intelligence and extreme physical feats. Triple Play '98 leaves out the intelligence and the grace.
FPS Baseball Pro '98
Front Page Sports Baseball, from its earliest incarnations to its present form, has always been a Jekyll and Hyde package, at once stocked with an embarassing wealth of statistics and options, yet tied to relatively limited game play and head-to-head considerations. You can, for instance, re-draft the entire roster of major league baseball, follow rookies from AA ball to the hall of fame (Wade Boggs makes it in in 2006, by the way), and determine that the wind for this evening's ballgame is blowing in from the south-southwest at 4 mph. However, you can't take a little something off a cut fastball, or decide at the last second to lay down a bunt—those options are selected before the pitch each time. Go figure. Plus, there is no modem play option for multiplayer; only LAN-based play or two players on the same machine. On the plus side, there is both realistic play and arcade mode play which offer, as you might expect, very different degrees of realism in order to please the spectrum of baseball fans.
Grand Slam
The missing ingredient that stands out the most in Grand Slam is the non-existent MLB license. The game is licensed by the Players Association, but without the official logos and team names of MLB, it is immediately fighting an uphill battle to impress. The physics of the game are like many other arcade-feel baseball games. Not so much attention is given to accurate ball trajectories as to mammoth home runs and special animation effects. In the realism category, Grand Slam is thrown out at the plate by a good ten feet. The whole point of baseball is not hitting a 600-foot home run, but in scoring the winning run on a close play at the plate in a bottom of the ninth suicide squeeze.
Tony LaRussa 4
If you consider realism to be your favorite players wearing their actual uniforms and standing at the plate inthe stance you've come to recognize, then Tony LaRussa 4 will disappoint. These players look generic. But I found that certain tendencies of the real players were in evidence in the game—Ken Griffey, Jr., for example, who in real life likes to lift low-and-away fastballs into the centerfield bleachers, did the same thing here the first time I pitched him that way. More generally, as well, Tony LaRussa 4 gives you a good sense of a real baseball game: a shot to the corner results in a double; a pitch in on the hands results in a pop-up; hit a guy with a pitch and you may see him hop around in pain, losing his helmet and bat in the process; and hitters will swing at bad pitches, even when the computer is controlling them. Not surprisingly, the subtleties of baseball are present in Tony LaRussa 4.
Dinomight Baseball
If you can picture Albert Belle as a glowering stegosaurus, or Greg Maddux as a brontosaurus with a wry smile, then you've got a good idea of the well-nigh hilarious design of Dinomight Baseball. Add in the occasional tar pit in the outfield, and a pterodactyl that swoops in now and then to pick off a slider before it gets to the plate, and you get the idea. There is no realism here, and that's exactly the point. Kids will eat this one up, as it mixes a great blend of the real dynamics of baseball (quite nicely modeled—on par with any of the 4 more "serious" contenders) with a brightly colored bunch of prehistoric ballplayers. A definite must-see if you have kids who are even remotely interested in baseball. It's not quite on the market yet, but the demo we got was slick and a lot of fun.
Graphics
Are we talking garish cereal box versions of Smoltz and Bonds, or the real mean-eyed, 98-mph-fastball-throwing, third-deck-home-run-hitting genuine article here? If you can't tell, it's because somebody didn't think it mattered enough.
Triple Play '98
No expense was spared here; in fact, perhaps too much was spent here. The graphics are flat-out amazing, right down to the individual stances of each batter, the build and speed of each player, and the beautifully rendered stadiums, accurate down to the lights on the scoreboard and the pinwheels along the facade high above Comiskey Field. Sure, the batters all look a little like a sergeant from Quake, but aside from that, this game is amazing to look at, especially when Tim Salmon goes up over the wall to rob Bernie Williams of a sure home run. I say that too much was spent on the graphics, though, because every other aspect of Triple Play '98 comes up short in comparison. It's a case of beauty over brains big time.
FPS Baseball Pro '98
After a round of Triple Play '98, FPS '98 looks a bit tepid by comparison ... but the more you play, the more you start to get out of the in-your-face mode and start to really enjoy the sense of environment and realistic physics that are so accurately represented in the Front Page Sports presentation of baseball. I say presentation of baseball, because the designers at Sierra obviously have great respect for the game, and thus present it like a fine bottle of wine to be savored. Of the games we reviewed, FPS '98 gives by far the most authentic feeling of watching and participating in a game of major league baseball.
Grand Slam
The graphics in Grand Slam are vague, blocky, and definitely do not add to the game's feel. The crowd and other surroundings remind me ofone of those multicolored afghan blankets your grandma gave you when you were 12—hard to look at, even distracting. The players themselves look somewhat better (they're not polygons, which I detest in a baseball game), but this disparity in graphic detail/quality makes the players look like they're painted onto a surrealist backdrop and make that fabled "suspension of disbelief" almost impossible to obtain.
Tony LaRussa 4
Graphics in Tony LaRussa 4 are a mixed bag. Stadium graphics are really quite poor: the stands are flat, the fans mere colored splotches. You're left to recognize your team's stadium by the color of the outfield wall and little else. On the other hand, the movement of pitcher and batter are nothing short of superb. Maxis has done a wonderful job of motion capture so that the pitcher can be seen rocking into his windup, the batter steps into the batter's box and grinds his toe into the dirt to establish position. Again, the subtleties are there. Fielding graphics are not as sharp as pitching and hitting. It seems that where players must range across large areas of the screen, they aren't quite as fluid. All in all, the graphics in this game, though simple, capture the complexity and range of movement you would see at a baseball game.
Dinomight Baseball
The graphics here are sharp; in fact, they outdo most, if not all, of the mainstream baseball titles in terms of little nuances and nice touches—the catcher actually throws down the signs after you've picked a pitch, and the umpires have great animations when calling a baserunner out or indicating a strike. And the batters and pitchers each have a clearly distinct look and mannerism—something that is sure to keep the kids' attention.
Batting and Pitching
This is, after all, the heart of the game ... a big league slugger might look great holding that box of Wheaties during the offseason, but a nice 31 oz. piece of white ash with a wad of tar soaked into it and a hanging curveball are what this game boils down to in the heat of a pennant race.
Triple Play '98
If you like batting over pitching, offense over defense, then Triple Play '98 is the game for you. It is hard to pick up the pitcher's release point, as in most video baseball games. But it doesn't really matter. I stopped trying to judge where the ball was going and simply developed a timing method wherein I'd wait a second or so after the pitcher released the ball, swing and hope for the best. And to tell the truth, I did pretty well with that approach. In the last game I played: six home runs and twice through the order before the defense managed to get three outs on me. It's a hitter's game.
The truth is, I wish it wasn't. Real-life baseball is not so much a hitter's game. That's why guys can hit .300 (that is, be successful only 30% of the times they approach the plate) and still be considered great hitters. I would like to have seen EA Sports try harder to balance this game so that pitcher and batter were more evenly matched. Let me cut to the quick here: pitching control in Triple Play '98 is terrible. Virtually nonexistent. By way of an example, consider this: I pitted the Seattle Mariners against the New York Yankees. Cy Young Award winner and strike-out king Randy Johnson against the crafty, ever-shifting David Cone. The result? Mariners 8, Yankees 7. After one inning.
FPS Baseball Pro '98
At the other extreme to Triple Play '98's lack of control is Front Page Sports '98's overkill in terms of precision batter/pitcher control. As in, you cannot nudge your slider a little inside, nor can you drop the bottom out of your changeup at the last moment. Also, as a hitter, you have to pre-commit to the location of your swing. This alone ended up being the deciding factor for us in choosing Tony LaRussa 4 over FPS '98. It's a shame that FPS '98 didn't leave more up to the player in this respect, because in terms of the physics of batting and pitching it's an absolute gem, and definitely a joy to watch and listen to as each pitch is delivered. But I can do that with a good seat at the ballpark. I want to be on the mound or in the batter's box in a video game.
Grand Slam
The only interesting elements in GS are the batting/pitching meters. You might be familiar with a similar interface used in games like Maxis' SimGolf (to gauge your golf swing in that case). Basically, you click the joystick or gamepad button to start your windup, then when the meter just hits the red (indicating your optimum power without losing control), you release. I liked this method at first, but tired of it after many pitches—seemed like a lot of work for the effect. The other problem here is that once you select the type of pitch and its location, you cannot steer it in real-time when it is thrown. That option is a must in head-to-head play.
Tony LaRussa 4
This is where Tony LaRussa 4 really shines. When you pitch you are shown a green box that represents the strike zone and a crosshair that you can move up, down, left and right to locate each pitch. Before you complain that such pinpoint control gives unfair advantage to the pitcher, consider that although you can tell the pitcher where he should place his throw, he often misses. And he misses with greater regularity as the game wears on and his arm tires. Also a nice bonus.
From a batter's perspective, Tony LaRussa 4 is equally as pleasing. The excellent motion capture in the pitcher's movements makes judging the release point easier than in Triple Play '98 and it's possible to watch the ball in to the plate. Tony LaRussa doesn't offer the same amount of control that Triple Play '98 does in moving your hitter around in the batter's box, but you don't really need it. Ultimately, hitting well in Tony LaRussa 4 requires patience and skill, waiting for the right pitch and then timing the swing correctly. The control, realism and exhilaration of batting in Tony LaRussa 4 is the closest approximation I have seen in this new crop of games to real baseball ... and to the venerable Hardball 5, a game I have long considered the standard among video baseball games.
Dinomight Baseball
Again, the big boys don't have anything on Dinomight in terms of a genuine look and feel to both batting and pitching. Sure, there are the occasional silly interruptions now and then, as mentioned earlier, but these actually add to the game as far as I'm concerned. What's cool is that there are noticable differences between pitches and whether your runner is hitting for contact or power, etc.—kids will learn a good deal about real-life baseball from Dinomight too, including a lot of great info from the included encyclopedia of baseball terms, and will not feel like they are playing a game that has been in any way dumbed down for them—the designers here clearly respected both the game of baseball and the intelligence of their target audience and still managed to make a game where dinosaurs play baseball.
Etceteras
Forget to stock up on relief pitchers, some good folks in the front office, and a reliable coaching staff, and you'll be lucky to be managing the Podunk Mudpuppies a year from now—here's what might have gotten overlooked in the rush to field a team, as well as the hidden gems in the farm system.
Triple Play '98
I can't talk about Triple Play '98 without noting that Triple Play '97 was actually a better game. EA continually pushes the barriers of graphics technology, and in Triple Play '98 it seems that perhaps some of the emphasis on gameplay was siphoned off in favor of an all-out effort to have the most amazing-looking baseball title. Result: it's more fun to watch than play, and the abysmal multiplayer connection success rate is simply inexcusable.
FPS Baseball Pro '98
It's hard to quantify things like "fun" against more mundane things like graphical sophistication, but when all is said and done, it's the fun that really makes a game worth playing. We all agreed that despite some of its obvious shortcomings, FPS Baseball '98 offered a great deal of fun, as well as the authentic feel of being at—and in—a baseball game. There is a sort of respectful presentation of the sport here, a sense of the size and atmosphere of a baseball stadium, and an extremely well-designed series of camera views. Also notably missing is the witless banter of obviously canned announcers or any kind of obnoxious music. That's more the province of basketball, not baseball.
Grand Slam
I think you'll find that with all the other baseball games released this summer, Grand Slam just can't compete. It fails to impress in almost every major category of comparison. For my money, take either of the other three contenders; Grand Slam is just not a serious competitor in this year's field.
Tony LaRussa 4
Back in May, we saw an alpha version of Tony LaRussa 4. To be blunt, it was lame. Well, remember the '93 Mariners vs. the '95 Mariners? It was like that with Tony LaRussa 4, because it came back with a vengeance to wow us, even in the face of its better-financed opponents. It just has a great feel to the batter/pitcher duel, and it's a great deal of fun. There isn't a real knock against it, in fact, with the exception of its failing our head-to-head modem test (but then, so did the other contenders). What's great about Tony LaRussa 4 is that is takes some stats and fine control, some slick motion capture and fancy camera work, and some good, old-fashioned pitcher-vs.-batter, bottom-of-the-ninth, sweat-it-out intensity, and mixes them in just the right combination to satisfy the various baseball nodes in your brain. It's not the most graphically sophisticated, statistically rich, or gameplay authentic title of the bunch, just the most fun.
Dinomight Baseball
This is a truly inspired kids' title, and the first decent sports title we've seen that is targeted exclusively at kids. It is smart, well-designed, funny, and fun to play. I don't say this often in a review, but I'll say it here: if you've got a kid who's a baseball fan, buy him or her this game as soon as it comes out—there should be more games like this that bridge the gap between "grownup" games and kids' titles that aim lower than they might in terms of giving kids credit for ingenuity and gaming smarts. Just try throwing a fastball by your 9-year-old's triceratops shortstop.
Pennant Winners
Well, somebody's got to win, even when everybody fields a decent team ... this ain't soccer, after all, it's the great American answer to cricket and all those other weird sports that aren't sophisticated enough to have an infield fly rule and grown men dancing around in oversized chicken and moose suits to entertain the fans.
So, on the senior circuit, it went down to the wire, but in the end Tony LaRussa 4 surprises Sierra's Front Page Sports Baseball Pro '98 to win the division by a half-game, with Triple Play '98 looking pretty, but fading to third. Front Page Sports '98 nearly pulled it out with its sophistication and authentic feeling of being there at the ballpark, but in the end Tony LaRussa was just more fun on a consistent basis. Dinomight Baseball easily walks away with the pennant in the kids' category. In fact, Dinomight offers a real run for the money, even when stacked up against all the stats, flying camera angles, and other nonsense that the all-too-serious major leaguers offer here. Then again, if you want a pure baseball game that works great for head-to-head play and doesn't screw around with all the hoopla and overkill, good ol' Hardball 5 still gets as much playing time around our offices as any of the newcomers. Hardball 6, unfortunately delayed until beyond the end of the season, should be a gem with the extra time they're putting in.
Download Baseball Special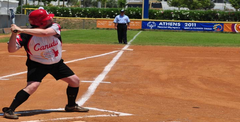 System requirements:
PC compatible
Operating systems: Windows 10/Windows 8/Windows 7/2000/Vista/WinXP
Similar Games
Viewing games 1 to 8