Battlefield 2: Euro Force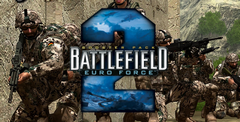 Download Battlefield 2: Euro Force and join the fight for European supremacy! Choose your side, gear up, and engage in epic multiplayer battles. Experience the thrill of modern warfare and prove your skills on the battlefield. Enlist now and play!
Ouch. If this is EA's new regime, then playing Battlefield2 online is about to get quite confusing, and even more irritating for people not willing to hand over credit card details for four new vehicles, three new maps, seven new weapons and a fictional EU army. (Pedants: an EU Rapid Reaction Force does actually exist, but definitely not in the 'je suis la baguette' context in which Euro Force depicts them.)
The maps are great, the vehicles include the Challenger 2 tank and the Eurofighter Typhoon, the classy Steyr AUG is strangely absent, and of course, the citizens of the fine country of Europe are portrayed in the usual 'zee Madonna viz zee boobies' fashion.
It's fundamentally flawed though - as it's just content, servers currently aren't flagged as running it, causing segmentation and frustration for the have-nots (which will only increase as more packs are released), and sticking a price tag on it is simply ludicrous. You can download content of similar or even better quality for free off the Internet. Sorry guys, but we don't appreciate the thought.
Download Battlefield 2: Euro Force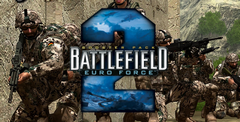 System requirements:
PC compatible
Operating systems: Windows 10/Windows 8/Windows 7/2000/Vista/WinXP
See Also
Viewing games 1 to 9