DC Universe Online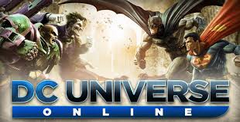 Click the "Install Game" button to initiate the free file download and get compact download launcher. Locate the executable file in your local folder and begin the launcher to install your desired game.
The Bad News, right from the outset, is that you can't be Batman, Superman or any of the other DC heroes. You can't even be subjugated toy boy Robin. Instead, you'll be building your own hero or villain and choosing a city to drop into, with Gotham City and Metropolis the two locations confirmed so far.
Star Voices
That's not to say you won't see and interact with popular characters, and there are plenty of notable faces from DC's extensive history. What's perhaps most interesting is the calibre of voice acting for the biggest names - Kevin Conroy and Mark Hamill will reprise their regular roles as Batman and The Joker, which will please fans ofArkham Asylum, and Adam Baldwin will play Superman. He was Animal Mother in Full Metal Jacket, and the School Principal from Molly and Roni's Dance Party, so we think that means he has broad appeal.
Sony Online plans for a far more rich and tactile world than most MMOs, meaning combat should have a physical effect on the environment as you hoof your chosen nemesis around. The straight combat looks slick enough, but if you want to pick up a taxi and dump it on your enemy's head that's going to be an option as well. The world itself also looks stunning, with comic artist Jim Lee roped in to advise on the game it's hardly surprising. The Joker's hideout in Amusement Mile, in particular, wouldn't look out of place as an environment in Arkham City.
Most importantly, the level of customisation already sounds impressive, with a deep magic system that wouldn't seem out of place in a fantasy RPG in addition to the more standard weapons and superpowers that you'd expect in a hero game. It's going to be fascinating to watch this and The Old Republic go toe-to-toe for MMO players' hearts.
Download DC Universe Online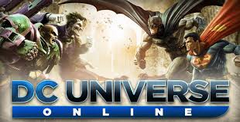 System requirements:
PC compatible
Operating systems: Windows 10/Windows 8/Windows 7/2000/Vista/WinXP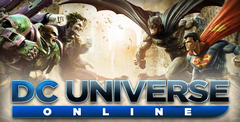 System requirements:
PC compatible
Operating systems: Windows 10/Windows 8/Windows 7/2000/Vista/WinXP
Game Reviews
Remember when it all kicked off in City of Heroes after a swathe of gimps created superheroes that looked a little too much like existing heroes? Marvel Entertainment's legal department came down on them like the Hulk on a bad day, and all half-arsed tributes to existing characters were immediately outlawed. Which made it all the more surprising when Marvel selected City of Heroes developer Cryptic Studios to develop (the now comatose) Marvel Universe Online, which has formed the base for Champions Online.
Whether this was the catalyst for DC Comics to greenlight its own MMO is unconfirmed, but there is definitely a degree of competition between the two companies. DC Universe Online was unveiled at the recent Comic-Con in San Diego, and their booth seemed the obvious place to ask about the whereabouts of the rival game.
The reply? "It's a piece of crap, and has been cancelled." Swiftly revealed to be a joke (the "piece of crap" bit anyway), Marvel Universe Online's nonexistence did give us time to have a proper gander at DCUO, which ironically looks almost exactly like City of Heroes - from the subject matter and colour palette down to its font. However, a closer look revealed an authentic Superman knocking seven bells out of his Bizarro alter ego, something that you aren't able to do elsewhere (apart from that rotten EA console game).
As it turns out, you can't do it here either. If everyone decided to play as Superman or Batman or any. of the other 150 or so DC characters, it would not only cause a massive rip in the fabric of the fiction, but would also be extremely confusing for all concerned.
Instead, you create your superhero (or villain) in the traditional way, choose your superpowers, select a cape, and then help out some of the bigger names in their fight against evil (or good).
Let's Get Physical
In this instance, I was tossed a pad (it's another extremely console-friendly affair) and given control of a lumbering melee character allied with Superman. By the time we were finished battling with the evil Bizarro, he'd been encased in ice from head to foot, set fire to and punched about the face, neck and torso.
With a distinctly physical approach -using physics, no less - there is a definite sensation of actual fighting, as opposed to MMO's mainstay of grinding away in a pale imitation of combat. As well as dropping bespoke superpowers for fun, the environment played a large part, with vehicles tossed around like crockery at a Greek wedding. With the entire DC canon of characters involved - Wonder Woman, The Green Lantern, Flash, Lex Luthor, Brainiac - there's clearly some debate as to which versions to use. For instance, Adam West's Batman is a very different beast to that portrayed by Christian Bale.
Thankfully, legendary artist Jim Lee is overseeing the entire project, assuming the role of creative director. An avid MMO player himself - he claims to be the first person on his Everquest server to get the Paladin epic sword - Lee is definitely taking a hands-on approach, to the extent of giving demos to slavering fans at the Comic-Con booth.
"This is a one-of-a kind type of game, and a lot of love has already gone into it," claimed Lee.
"DCUO is in many ways a reinvention of the traditional MMO; it's a hybrid between a traditional MMO and a button-mashing, action game."
That's a fair description. In the few minutes of my hand-ons dabble I managed to vanquish a number of foes in spectacular fashion without ever knowing what the controls were. If DCUO can give the genre a shot in the arm, it will be an heroic effort.
Playstation 3 Screenshots
See Also
Viewing games 1 to 7