Elevator Action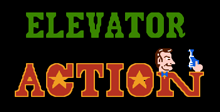 a game by
Taito
Genre:
Arcade Classics
Platforms:
NES

GameBoy

Editor Rating:

7

/

10

, based on

2

reviews
User Rating:

7.0

/

10

-

4

votes
Rate this game:
Published by Nintendo of America Inc. and developed by Taito Corporation, this action and side-scrolling platform video game was released in 1985.
The mission of the main game character Agent 17 (the codename: "Otto") is to protected all top secret documents from a security building, using an increasingly complecated series of elevators. Enemies' spies are all around the 30-floor building and their only mission is to by all means get Agent 17. There are a few possible ways for Agent 17 to kill spies. Such as shooting them with his gun, crushing them with an elevator and so on. The elevators are not the only means of travel as it might be considered from the name of the game. But there are escalators as well, riding you up or down. It maybe useful if you want to keep away from gunfire. If takes Otto too much time to get the documents, the alarm will go off. In this case he will have trouble controlling the elevators, which will require time to react.
Game Reviews
NES veterans will remember this title as one of the first generation of games. Taito has shrunk the soft down Lo' to GameBoy size and will be bringing it out later this year. Your mission is to find the secret papers hidden in one of the rooms and then make it down to the ground floor where your get-away car awaits you. The other spies are after the same papers and they will do anything to stop you. Shoot them before they plug you. Check all the doors, and hitch a ride in the elevators but watch out for the enemy gunfire. Shoot out the lights to darken the screen!
NES/Famicom/Dendy Screenshots