EVE Valkyrie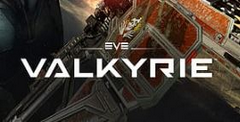 Who hasn't dreamed of flying around in a spaceship, shooting massive cannons, and saving the day with daring stunts in intense space dogfights? Well, EVE Valkyrie takes us one step forward in our quest for space dominance, with the most realistic spaceship flight simulator ever developed for VR platforms.
Don't let the game's innocent single player deceive you: a world of skilled pilots and harsh challenges await you online. Hone your skills, keep your motion sickness in check, and be ready to experience one of the most promising VR experiences to date.
Couch Combat
Games like EVE Valkyrie excel at one thing: delivering the impression that one has left the comfort of their home to join some distant – often perilous – space conquest or such. In this aspect, EVE Valkyrie certainly delivers.
As the name implies, the game is part of the EVE Online universe. This means that players can expect the same kind of tactical combat and impressively detailed spaceships to be part of the whole experience – to a certain degree. While the main "essence" of Online is here, combat has become the sole focus of the experience.
Being a VR title, most players would expect an immersive (and sometimes dizzying) experience. Fortunately, this is one of those rare VR games that must be played seated. It also only supports external controllers, so keep your Xbox One controller handy if you're looking to give this one a shot.
Difference in Skills
There's a ton to learn about the intricacies of flying a spaceship in EVE Valkyrie. Like Microsoft Flight Simulator, this isn't a game where you just pick up a controller and expect to be the best pilot there ever was – it takes some trial and error before you become an ace of space warfare.
Thankfully, though, EVE Valkyrie comes with a pretty well-executed tutorial that teaches players the basics – and then some – of commandeering a spaceship. Once you're done with that, it's time to head into the single-player mode.
The game's campaign is essentially a walk in the park compared to the horrors that await you once you decide to try out the multiplayer mode. One complaint I have with the game is that maybe it is a bit too easy to bear, with the campaign offering very little in the way of a challenge. For a VR game, that's good enough.
Challenge the World
Once you take your spaceship skills online, a whole new world of excruciating challenges opens up to you, making you reconsider if anything that you learned playing through the solo campaign was worth it at all.
The difficulty spike is noticeable, with split-second decisions becoming instrumental in your way to victory. Add to that the usual disorientation that comes with flying a ship in zero-g – and the motion sickness of VR itself – and you got yourself a recipe for disaster.
Keep your sick bag in hand just in case, though be warned: once the game clicks with you, this is one of those multiplayer experiences that are difficult to put down.
9
EVE Valkyrie offers one of the most complex VR experiences to date, as long as you can bear the difficulty spike of going multiplayer.
Pros
Great VR gameplay
Tons of unlockable ships and weapons
Well-crafted tutorial
Cons
Can be disorienting to play
Doesn't support VR motion controls
Download EVE Valkyrie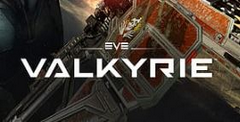 System requirements:
PC compatible
Operating systems: Windows 10/Windows 8/Windows 7/2000/Vista/WinXP
Similar Games
Viewing games 1 to 8