Everlasting Summer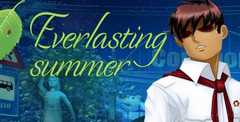 Click the "Install Game" button to initiate the free file download and get compact download launcher. Locate the executable file in your local folder and begin the launcher to install your desired game.
I found the backstory of Everlasting Summer to be very interesting. This is a Russian made game and one that picked up a fair bit of traction when it was first released. A year or two back it was translated to English and has picked up a strong following since then. This is a visual novel erotic game, but it is worth noting if you play the Steam version all of the sexual content has been taken out.
He's Gonna Take You Back To The Past
The premise of the game is one that I thought was really cool and it was actually what made me most excited to jump into Everlasting Summer. The main character that we get to play as is called Semyon and he is a dude who is in his mid-20s and is pretty much average in every regard. He has a real emo thing going on, but I was willing to look past this due to the main "gimmick" of the story.
Semyon is on a bus, but he falls asleep and when he awakens, he is in a strange place, a summer camp and he has been transported back to the 80s and he is now 17 years old again. It is a really cool premise and one I could get right behind. At this summer camp, he meets plenty of young ladies (as you would expect) and he tries to figure out what happened and how he can get back…. Or even if he should try and get back. I know I sure as hell would not have!
Smooth Sailing
This is a visual novel style game so a great deal of work has been put into the presentation of Everlasting Summer. I like the way the game looks, the backgrounds look fantastic and have a very high-quality look to them. As far as the various girls go, they each have their own design and they are exactly what you would expect in a game like this, you have the shy one, the angry one the cat one and so on.
The ladies look great, but their character models have a slightly different look than the backgrounds. It is very hard to explain, but the girls look like they are from a different game than the backgrounds. It is not completely jarring and the two separately look great, but they do not mix perfectly. One thing that is "perfect" is these comic book style panels that they use for a small portion of the story. This is a really cool trick and one I wish they used more in the game.
Where Is The End
As far as the visual novel aspect of the game goes, it is very hard to actually like Semyon he does a great deal of complaining, even when he is getting laid! You will be chatting to many girls with the goal being to get it on with them and also discover why you are here in the first place.
At points in the story, you have different things you can say and do and this will move the story in a certain direction. There are many endings in the game and you have to get them all in order to get the true ending! This is a lot to expect from the player in order to see the proper ending. There is also a card game that is thrown in to mix things up and while it is not amazing, I did like how they adding in a little extra.
7.5
I will say that the premise and overall idea of Everlasting Summer is better than the game as a whole. I like the idea of the story, but I must admit that Semyon is not a very likable character. Being transported back in time is great, the ladies are hot and there are some cool visual tricks to the game. However, the fact you have to beat the game a ton of times to see the true ending feels a bit unfair. If you like time travel stories it is worth checking out, however, if you do not you can probably knock a point off the score.
Pros:
I like the time travel element of the story
It has these cool comic book panel parts in the story
The girls are all cute and likable
I enjoyed the card game that was included
Some of the backgrounds look incredible
Cons:
Semyon is not a good character!
You have to beat the game a ton of times to see the proper ending
Download Everlasting Summer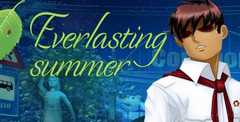 System requirements:
PC compatible
Operating systems: Windows 10/Windows 8/Windows 7/2000/Vista/WinXP
See Also
Viewing games 1 to 8