FIFA World Cup: Germany 2006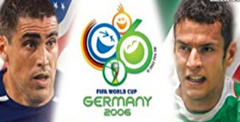 Download FIFA World Cup: Germany 2006 and relive the excitement of the world's most prestigious soccer tournament! Control your favorite national teams, score incredible goals, and lead your country to glory. Ready to make history? Play now!
Is This The most pointless review of the year? The game is already out the chavs have predictably lapped it up in their droves, while the Pro Evolution purists sit back tutting in disapproval. So who's wrong? No-one, really. As a so-called event product', 2006 FIFA World Cup is unsurpassed, essentially providing a living, breathing Panini sticker album. Such is the atmosphere created, it's almost like being there - sat on your arse in front of ITV, that is, with a spookily realistic commentary from Clive Tyldesley, and the witless mutterings of Andy Townsend.
As you'd expect, all the correct stadia, teams and obligatory licenses are in place, enabling you to literally play out the World Cup - including optional qualifiers - from the safety of your PC, once you've gone through the necessary hassle of setting up a PS2 joypad or equivalent. So is it worth the grief? The number at the foot of the page would suggest so, and this does represent a marked improvement on previous FIFA instalments, with enhanced animation and speed, for instance.
Complete Control
In a clear nod to its closest rival, controlwise you're presented with a slightly woolly version of Pro Evo, although in time some subtleties do become apparent. With slide tackles seemingly outlawed, much of the game is spent harrying the man on the ball, with spellbinding football at a premium. There's an over-reliance on the through ball - and consequently a lot of offsides - but with practice, a variety of goals can be scored, although it would be nice if the midfield chipped in occasionally. As for the best players, they're recognisable by having a star over their heads, although they do allegedly possess individual skills.
While it's never going to match PES on the pitch, the authenticity does genuinely make a difference. If you play this enough, by the time the real thing comes around you should have gleaned enough information to be able to bore for England. And for 20 quid, it's probably better value than sticking a St George's cross on the aerial of your white van.
Download FIFA World Cup: Germany 2006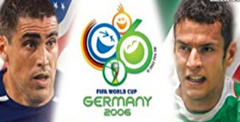 System requirements:
PC compatible
Operating systems: Windows 10/Windows 8/Windows 7/2000/Vista/WinXP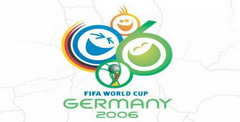 System requirements:
PC compatible
Operating systems: Windows 10/Windows 8/Windows 7/2000/Vista/WinXP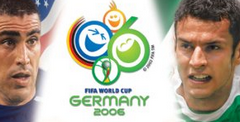 System requirements:
PC compatible
Operating systems: Windows 10/Windows 8/Windows 7/2000/Vista/WinXP
Playstation 2 Screenshots
Similar Games
Viewing games 1 to 10