Gabriel Knight 3: Blood of the Sacred, Blood of the Damned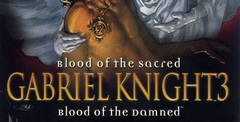 Download Gabriel Knight 3 and immerse yourself in a supernatural mystery as the enigmatic detective! Unravel an ancient conspiracy, solve puzzles, and face otherworldly dangers. Embrace the darkness and play now!
What we thought
"Surely the last nail in the coffin for adventure games as we know them."
What you think
People say:
"You were very wrong to only reward Gabriel Knight 3 with 60 per cent. It's an amazing game. The graphics were described as being laughable, but they are some of the best I've seen in years. This game needs more recognition of how good it is and I advise any action game fan to buy it now."
"I've always been a fan of the point-and-click adventure genre, and after reading your review of Gabriel Knight 31 was upset. Alright, its not a fantastic game, but it is certainly better than some others I've read reviews on and I feel that 60 per cent is a bit harsh. The graphics are decent enough, the story is excellent and the gameplay is enjoyable. Even with a few poor points (namely Gabriel's voice) it's still worthy of 80 per cent in my books. I feel the review failed to consider the dedicated fans when the final percentage was issued."
Comment
We've always been big fans of the Gabriel Knight games, but that didn't stop us from finding this one very lame. And maybe Chris could explain to us why an "action game fan" would want to play an adventure game. Is that some clever puzzle?
Download Gabriel Knight 3: Blood of the Sacred, Blood of the Damned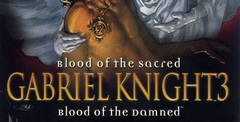 System requirements:
PC compatible
Operating systems: Windows 10/Windows 8/Windows 7/2000/Vista/WinXP
Game Reviews
Adventure games are presently in something of a popularity nadir. Sales are low, titles are few and far between, and quality titles are even rarer.
One non-LucasArts series with a good pedigree to fall back on though is Sierra's Gabriel Knight saga, and this third title, Bipod Of The Sacred, Blood Of The Damned, is hoping to build its reputation further.
Using a brand new 3D engine (rather than licensing someone else's), the game deals with ancient mysteries and secret societies in the French town of Rennes-le-Chateau, putting you, as Knight, in the centre of things. Control-wise you act as a free-roaming camera, guiding Knight's actions around each location, interacting in real-time with the characters as they wander about under their own steam.
Jane Jensen, the author, has a good track record with Gabriel Knight, combining detailed and intelligent storylines with a good degree of game design. For the genre's sake, the hope is that she can do the same here.
See Also
Viewing games 1 to 8