Gabriel Knight 3: Blood of the Sacred, Blood of the Damned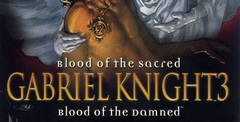 Adventure games are presently in something of a popularity nadir. Sales are low, titles are few and far between, and quality titles are even rarer.
One non-LucasArts series with a good pedigree to fall back on though is Sierra's Gabriel Knight saga, and this third title, Bipod Of The Sacred, Blood Of The Damned, is hoping to build its reputation further.
Using a brand new 3D engine (rather than licensing someone else's), the game deals with ancient mysteries and secret societies in the French town of Rennes-le-Chateau, putting you, as Knight, in the centre of things. Control-wise you act as a free-roaming camera, guiding Knight's actions around each location, interacting in real-time with the characters as they wander about under their own steam.
Jane Jensen, the author, has a good track record with Gabriel Knight, combining detailed and intelligent storylines with a good degree of game design. For the genre's sake, the hope is that she can do the same here.
Download Gabriel Knight 3: Blood of the Sacred, Blood of the Damned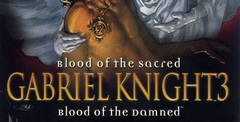 System requirements:
PC compatible
Operating systems: Windows 10/Windows 8/Windows 7/2000/Vista/WinXP
Similar Games
Viewing games 1 to 8