Half-Life 2: Aftermath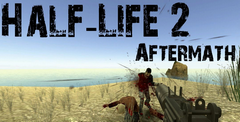 Click the "Install Game" button to initiate the free file download and get compact download launcher. Locate the executable file in your local folder and begin the launcher to install your desired game.
"Rather Than offer you the illusion of free choice, I'll take the liberty of choosing for you," explains the G-man. If and when your time comes round again... Seems though, that the time has come around sooner than everyone thought. Gordon's coming back to reality.
Valve is being remarkably strict on revealing much on Half-Life 2: Aftermath, the Steam-bound expansion due for release in the summer, with Freeman spokesman Doug Lombardi explaining that they're trying to save a good portion of the surprises for when folks play it for the first time". So what do we know? We know that it takes place directly after the close of Half-Life 2, and further to this Lombardi responds to our hammering on Valve's locked doors by explaining that much of Aftermath is set in City 17 and the Citadel", before cryptically muttering however, things have changed quite a bit.
All Change
They sure have. What with the Citadel about to go critical and take out the vast proportion of City 17 with it, much of the episode is said to cover the escape of you, Alyx and the rebellion from the blast radius.
The various beasts previously on the outskirts of the city also seem to have infiltrated the crumbling buildings of the interior, as shown by the presence of the AntLion to the left.
Half-Life 2 took place over three virtual days, and Aftermath will cover a fourth -so it's fair to expect the game to cover a third of the running time of the original qame. As these shots ably show, lovely Alyx will again be at the forefront of affairs, far more than she ever was in the original game.
Lombardi promises a mix of both familiar and new characters - so Dog, Eli and the gang will no doubt make their presence known. In terms of enemies, meanwhile, it seems increasingly likely that the spindly-legged ex-human Stalkers of the Citadel will come in for a gunning - what with the continued action within Breen's stronghold. Other than that, new vehicles? Can't say just yet. New weapons? Sorry". Will the water-tentacles from early HL2 movies make an appearance? "Silence". Can you confirm we'll be controlling Freeman and not another member of the cast? "Confirmed - you are Freeman. So when does it come out? This summer, debuting on Steam. Price to be confirmed." You heard the man...
Beyond Half-Life 2
But wait, there's more. Valve is feeling slightly less furtive when it comes to its other projects due for release this summer. First up is The Lost Coast, a graphics-card-munching feat of art and technology. Separate from advancing the Half-Life story and providing further gameplay experiences in that world, we wanted to create something that gave the artists and engineers a chance to explore the limits of the Source engine with the latest hardware, explains a suddenly loquacious Lombardi.
The Lost Coast level, which will be available free to all Half-Life 2 users, is taken from the Highway 17 area of the game, but its emphasis is tech and art; being custom-created to introduce something called High-Dynamic Range (HDR) lighting to the Source engine. So what does this mean to the gamer?
In the simplest definition, the dynamic range' of a scene is the contrast ratio between its brightest and darkest parts" explains Lombardi, before drowning us in technical details. Essentially, HDR means that features such as blooming (that creates a blurred effect around bright edges, much like an over-exposed camera) and vastly more realistic light effects - whether it's coloured light passing through the stained glass of a monastery, more accurate reflections and refractions and, put simply, some visuals that are jaw-droppingly gorgeous to behold.
And then there's the new version of Day Of Defeat: Source, the inevitable upgrade of the much-vaunted and inordinately popular World War II Half-Life mod. This too, is on the radar for release this summer - and it's looking in just as fine fettle as Counter-Strike: Source when it first nestled in our Steam trays.
Like Counter-Strike, Day Of Defeat is always evolving," explains Lombardi. "Day Of Defeat: Source represents a significant move forward, as everything in the game has been redone to leverage the power of the Source engine technology. So, from the user interface to the sounds (and sound system), to the integrated physics simulation system, it's been completely reconstructed." Obviously, it's Valve's habit to add maps as time goes on, but on its initial release it'll showcase remastered versions of the four most played DOD maps - namely Anzio, Donner, Flash and Avalanche. A few gameplay nips and tucks have been included, namely artillery enchancements and tweaks to the soldier classes, but otherwise it seems to be a spangly, fresh-faced update of a much-loved mod - with high resolution textures and bump-mapping falling out of its ears. It'll be released later this summer on Steam ; with a price tag of $14.99.
And the future? Well there's plenty on the Steam horizon, from both Valve and other developers. We've caught a strong whiff of who, and will bring you solid details in the next few issues. Suffice to say, it's very exciting.
Download Half-Life 2: Aftermath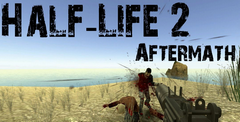 System requirements:
PC compatible
Operating systems: Windows 10/Windows 8/Windows 7/2000/Vista/WinXP
Similar Games
Viewing games 1 to 15