Infinitode 2 - Infinite Tower Defense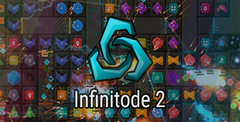 Click the "Install Game" button to initiate the file download and get compact download launcher. Locate the executable file in your local folder and begin the launcher to install your desired game.
While I may have missed part one, Infinitode 2 - Infinite Tower Defense is a game that captured my attention the moment I saw the first trailer. Tower defense games for me tend to be hit or miss, but I think the way that this game is going about things is really cool. With its simplistic visual style and badass chiptunes, it is very easy to see why this is a game that people will end up very addicted to.
Welcome To Work
I was quite surprised that they actually went to the trouble to have a pretty interesting premise in Infinitode 2 - Infinite Tower Defense. While it may not be what I would class as story-driven the idea of the story is that you are working at this new place and you are taking part in an artificial intelligence training program. It may not be much, but at the very least it gives you a reason for what is going on.
The Colors Of The Rainbow
I think that Infinitode 2 - Infinite Tower Defense is a great-looking game. At first, you probably will think this is a very basic-looking game, but this has so much style to it that it looks really cool. The particle effects when the towers are all going off are very cool. Add to this the awesome chiptune soundtrack and this is one of those games that will keep you playing because the soundtrack gets under your skin and makes you feel like you are in a Zen-like state.
Defeating The Invading Force
At first, this seems like your standard tower defense game. You have an invading force that is attacking you and you need to set up your towers so that they will destroy them. You need to think about where you place your towers and there is a ton of depth here. This game is one of the deeper tower defense games that I have played and it is so deep it may be a bit daunting for some people.
There are tons of levels for you to try and get through in this game. You have 6 different stages and there are over 50 levels for you to try and complete. There are even boss battles too at the end of each stage so you certainly have a lot to keep you busy in this game.
Upgrades Are The Wave Of The Future
Infinitode 2 - Infinite Tower Defense is very intense with the upgrades. Each tower can be upgraded to level 10. You can also mine for resources and get new upgrades that will enhance the abilities of your towers. Towers can be paired for extra bonuses too which adds to the strategy of the game. It starts off pretty simply, but the way it kicks up several notches quite quickly will keep you on your toes. While I love this aspect of the game I also think this may be what some people have a hard time with.
8
If you are someone who has played and enjoyed tower defense games before, Infinitode 2 - Infinite Tower Defense is a game that you will enjoy. The game is fun and addictive, but this is one very challenging game. It ramps up the difficulty very quickly and I actually liked that. It has a custom map creator too and some fun online features such as leaderboards that sound very interesting.
Pros:
This game looks fantastic
I liked how deep the gameplay was
Upgrading your towers is awesome
It has this amazing chiptune soundtrack that I loved
Cons:
This game is very challenging
Some people may get frustrated during some levels
Download Infinitode 2 - Infinite Tower Defense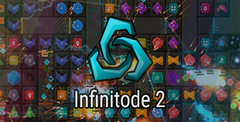 System requirements:
PC compatible
Operating systems: Windows 10/Windows 8/Windows 7/2000/Vista/WinXP
Similar Games
Viewing games 1 to 8