International Superstar Soccer 64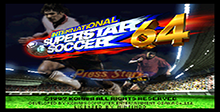 Click the "Install Game" button to initiate the free file download and get compact download launcher. Locate the executable file in your local folder and begin the launcher to install your desired game.
Konami has long been known for great soccer games, especially overseas. Perfect Striker debuted in Japan for the Nintendo 64 shortly before Christmas, and it has earned critical acclaim ever since. Finally, under its new (and tentative) title of International SuperStar Soccer, U.S. gamers will get a chance to try what could very well shape up to be the best soccer game ever.
The most immediately noticeable thing about SuperStar soccer is its silky-smooth, highly detailed 3-D graphics. The player animation is absolutely incredible. Not only does it look good, but it's also very realistic. For example, players look around for the ball, and when they have it they turn their heads, scanning the field for teammates to pass to. The analog control allows you to move the players at varying amounts of speed. As the analog stick is pressed farther in a direction, the player goes from trotting at a leisurely pace to progressing into a full-out run. Additionally, there is a variety of tackling, injury and diving goalie animations in the game, and some of the goal scoring celebrations are incredibly funny.
Although this title is fiendishly fun as an action game (especially with four players at once), hardcore soccer fans will undoubtedly be satisfied. There are plenty of coaching options that give the game considerable depth. The ability to choose several different strategies such as "offsides trap" and "counter attack" on the fly is welcome, and if you pause the action, you can individually pick which zone of the field you want to place each player in. Players also have stamina and attitude meters. For instance, when a certain person is on the receiving end of hard fouls too often, they get mad, and it can dramatically affect their performance.
Unlike many sports games, the artificial intelligence is excellent and can be changed to provide several levels of challenge. The Al levels are split between the team and goalie, allowing you to change each one independently.
There is a very good chance that when this market, but it could also be the best next-gen soccer game, period. It could very well be that the only bad thing about this game is the wait
MANUFACTURER - Konami
THEME - Sport
NUMBER OF PLAYERS - 1 - 4
Download International Superstar Soccer 64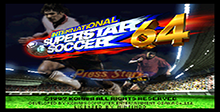 System requirements:
PC compatible
Operating systems: Windows 10/Windows 8/Windows 7/2000/Vista/WinXP
Game Reviews
Fantastic football game now available at a budget (ish) price. The second best soccer sim that money can buy - only its sequel is better!
An almost flawless game which could only have been bettered with the addition of real teams. Kills all known FIFAs dead.
Konami's been in the PlayStation sports game for a while now, releasing a steady string of solid but mostly unexceptional titles. But its first N64 outing, International SuperStar Soccer, leaps straight to the top, rocketing past EA Sports' FIFA Soccer with addictive gamcplay, excellent features, and eye-catching graphics.
Goal! Goal! Goal!
SuperStar digs in its cleats with a netful of shaip features. Tire exhaustive list of national teams is manned by fantasy players who kick off in Exhibition, International Cup, World League, Scenario, Penalty Kick Shootout, and Training modes. As for moves, players are armed to the teeth with one-two passes, lobs, slide tackles, shoulder charges, feints, headers, and much more. Other standouts include player creation, changing strategy on the fly, and thorough options for adjusting formations, zones, marking, and player positioning. Beginners will appreciate the detailed onscreen help text, handy field "radar," and the useful Training mode, which combined make mastering SuperStar a breeze.
With such detailed features, SuperStar lets you do just about everything a soccer fan would expect in a round of "football," and the tight, responsive controls back you up all the way. Spirited gameplay puts on the finishing touches, delivering an arcade-ish experience that, while not as realistic as FIFA, ranks much higher on the fun scale.
Field of Dreams
Visually, SuperStar blasts one past the goalie with impressively realistic, graceful players. Classic moves like the heel lift and feint really bring the action to life, while the smooth camera movements and close perspectives keep you in the game much better than FIFA does.
SuperStar trips up in the sound department, though. The cheesy bargain-basement muzak will instantly set your teeth on edge, while the announcer, though generally competent, stutters too often. The onfield sounds and crowd chants, however, work just fine.
World Cup Contender
SuperStar is not without its flaws--real-life players, a slick FIFA-like presentation, and smokin' sounds would've been the perfect finishing touches. But the game's sheer playability and unending features far outweigh those considerations. Even if you don't get a kick out of most soccer games, SuperStar's got more than enough game to reel you in, and will go a long way toward quenching the thirst of sports-deprived N64 gamers.
ProTips:
If you have two forwards in front of the net, use a one-two pass, which frees up the hall carrier by drawing coverage to the other man.
If you're boxed out of the area in front of the net, send your ball carrier to the corner, lob the hall toward the net, and go for a header.
The best scoring chances come from booting in rebounds. If you don't have a wide-open shot, drill one hard at the goalie and immediately move another man in tight to chase the bounce.
The longer you hold down the Shoot button, the higher the shot goes, so start pressing in advance if you want to go top shelf.
Nintendo 64/N64 Screenshots
See Also
Viewing games 1 to 4