International Superstar Soccer 64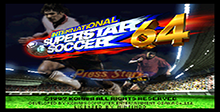 Konami has long been known for great soccer games, especially overseas. Perfect Striker debuted in Japan for the Nintendo 64 shortly before Christmas, and it has earned critical acclaim ever since. Finally, under its new (and tentative) title of International SuperStar Soccer, U.S. gamers will get a chance to try what could very well shape up to be the best soccer game ever.
The most immediately noticeable thing about SuperStar soccer is its silky-smooth, highly detailed 3-D graphics. The player animation is absolutely incredible. Not only does it look good, but it's also very realistic. For example, players look around for the ball, and when they have it they turn their heads, scanning the field for teammates to pass to. The analog control allows you to move the players at varying amounts of speed. As the analog stick is pressed farther in a direction, the player goes from trotting at a leisurely pace to progressing into a full-out run. Additionally, there is a variety of tackling, injury and diving goalie animations in the game, and some of the goal scoring celebrations are incredibly funny.
Although this title is fiendishly fun as an action game (especially with four players at once], hardcore soccer fans will undoubtedly be satisfied. There are plenty of coaching options that give the game considerable depth. The ability to choose several different strategies such as "offsides trap" and "counter attack" on the fly is welcome, and if you pause the action, you can individually pick which zone of the field you want to place each player in. Players also have stamina and attitude meters. For instance, when a certain person is on the receiving end of hard fouls too often, they get mad, and it can dramatically affect their performance.
Unlike many sports games, the artificial intelligence is excellent and can be changed to provide several levels of challenge. The Al levels are split between the team and goalie, allowing you to change each one independently.
There is a very good chance that when this market, but it could also be the best next-gen soccer game, period. It could very well be that the only bad thing about this game is the wait
MANUFACTURER - Konami
THEME - Sport
NUMBER OF PLAYERS - 1 - 4
Download International Superstar Soccer 64
Game Reviews
Fantastic football game now available at a budget (ish) price. The second best soccer sim that money can buy - only its sequel is better!
An almost flawless game which could only have been bettered with the addition of real teams. Kills all known FIFAs dead.
Nintendo 64/N64 Screenshots
Similar Games
Viewing games 1 to 4