Jeep Jamboree: Off Road Adventure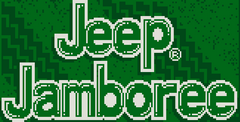 Jeep Jamboree by Virgin hits the Game Boy driving scene with above average, rough-'n'-ready racing. You duke it out with 20 pro drivers in an all-out battle for on- and off-road supremacy. A Game-Linked friend can rev up the two-player engine in a versus mode, too.
The driver's seat perspective provides a sharp look at the first-person action. Your jeep has built-in Turbo Speed equipment, but you can't customize or "soup up" the vehicle. Also missing is a rear view mirror and weaponry a la RoadBlasters.
Jeep Jamboree sticks to the driving basics. Your jeep handes well, but controls are affected by road conditions, such as gravel and water. Gas it on a wet spot, and you'll skid off the road and crash! Wrecks sideline you for a few timer ticks.
Rely on quick nitro and brake moves to qualify you in the top ten cut of each race. The 22 bumpy courses are chock full of hazards. Despite a difficulty selection option, Jamboree makes road life challenging with no continues.
Jamboree's full-screen, 3-D cockpit graphics are GB good, and the hills can cause motion sickness! The easy-listening music and sound effects, however, are middle-of-the-road. Don't expect Indy 500 action, but Jeep's decent driving game play will satisfy the handheld roadster crowd. Yes, there's only one Jeep Jamboree.
ProTips:
Prepare to avoid a parked jeep when you see a road barrier.
Hug the inside lane when the road begins to turn.
Race each course once or twice in Practice mode to learn the curves.
Download Jeep Jamboree: Off Road Adventure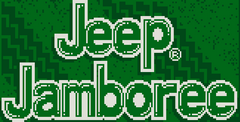 System requirements:
PC compatible
Operating systems: Windows 10/Windows 8/Windows 7/2000/Vista/WinXP