Jeopardy Sports Edition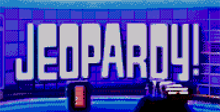 a game by
Park Place Productions, and Gametek
Genres:
Sports, Simulation
Platforms:
Genesis SNES

GameBoy

Editor Rating:

8

/

10

, based on

4

reviews
Rate this game:
See also:
Jeopardy Games
Manufacturer: Gametek
Machine: Genesis, SNES and Game Gear
Jeopardy! is probably the finest game show on commercial TV. One of the reasons for this is the diversity of questions asked. If ! you'd like to play Jeopardy and only have to answer sports questions, this is for you.
Download Jeopardy Sports Edition
Game Reviews
Manufacturer: Gametek
# of players: 1 to 3
Difficulty: Moderate
Theme: Simulation
Listen up, sports fans! Here's your chance to prove that armchair athletes have the most fun. If you're a sports trivia buff - or you just love the challenge of a good contest - then this edition of Jeopardy! is just for you. Delve into past and current trivia in baseball, basketball, football, and hockey or explore categories like Bowl Games, Boxing, Coaches, College Standouts, Equipment, Golf Greats, and Olympic Events. The Sports Edition of Jeopardy! is a whole new ball game! With over 3,500 questions in sports-related categories, Jeopardy! Sports Edition will challenge your brain cells and leave you cheering. The new edition of Jeopardy! contains a variety of sports contestants, photography of Jeopardy's set, and Alex Trebek's digitized voice. It's a truly authentic Jeopardy experience. Take the Jeopardy! challenge. Good luck!
Manufacturer: GameTek / Game Gear
A more or less a faithful conversion of the big brother Genesis version. The Two-player Option is a plus, and there are plenty of categories with questions to rack your brains over. Even the Daily Double rounds are here.
Manufacturer: GameTek
Machine: Genesis
Another good game show adaptation by GameTek (like the earlier Family Feud). However, unless you are a big sports fan, this game probably won't appeal to you because that is what all the questions are about
Sega Genesis/Mega Drive Screenshots
SNES/Super Nintendo/Super Famicom Screenshots
Other games by
Park Place Productions