King Arthur & The Knights of Justice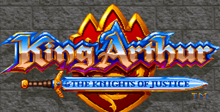 Click the "Install Game" button to initiate the free file download and get compact download launcher. Locate the executable file in your local folder and begin the launcher to install your desired game.
King Arthur has been kidnapped by the evil Sorceress Morgana. She has him and the Knights of the Round Table imprisoned in a cave of glass. The kingdom has fallen into turmoil and Morgana now controls everything except Camelot. Merlin desperately needs help to rescue the king and the knights. He searches for some would-be heroes and finds them in the future: a man called Arthur King and 11 of his friends. Merlin brings them to Camelot, taxing his powers heavily. With her magic, the Lady of the Table turns these men into Knights of Justice. Now it is up to you to make these knights win back the kingdom.
FIRST IMPRESSION
At first glance, I was thinking that this one could be a winner. I sat down and played it for an hour. After that, it couldn't hold my interest. I guess with a name like King Arthur, I expected a little more role playing, but I found that part lacking.
BEST FEATURE
Some of the graphics in this game are pretty cool, especially the cinemas. Having 12 different characters to play is the best feature.
WHAT'S MISSING
A really secure story line. The plot seems strange and very hard to swallow. I'm not sure how it goes along with the cartoon though, for I have not seen it. Plus, most of the role playing just isn't what I expected.
WILL YOU LIKE IT?
I would imagine if you are a fan of the cartoon series maybe, but I don't think the hardcore RPG fans will get too excited. This game is difficult, so that might be worth it to some. Unfortunately, I think the younger kids will find it too hard and give up.
MANUFACTURER - Manley & Assoc.
DIFFICULTY - Hard
THEME - Action
NUMBER OF PLAYERS - 1
Download King Arthur & The Knights of Justice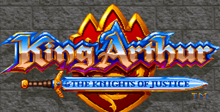 System requirements:
PC compatible
Operating systems: Windows 10/Windows 8/Windows 7/2000/Vista/WinXP
Pentium II (or equivalent) 266MHz (500MHz recommended), RAM: 64MB (128MB recommended), DirectX v8.0a or later must be installed
Game Reviews
People say:
7.0
King Arthur is an okay adventure. The story is only average, but the quest is long and certainly convoluted. Whenever you go after an item, there are dozens of miniquests you must accomplish in the meantime. The graphics are not on par with other games in the genre, although the sounds are really cool. The clanging of the swords will put you in the middle of the action. This cart has a sort of Gauntlet feel to it, but King Arthur is not for everyone.
6.0
With games like Final Fantasy III and Chrono Trigger on the market, it is definitely getting tough to match their quality. King Arthur can hold its own in some respects, particularly in the story, which is slow at the beginning of the game but gets more intense as the hours roll by. The graphics lack vibrant color, but the music was alright in my book. If Chrono Trigger and FF3 seem too complicated, King Arthur might not be a bad starting point for you.
4.5
I was completely taken by surprise with this title because it really didn't live up to the standards of one of the top video game developers. King Arthur tries to be Secret of Mana, but fails to emulate what made SOM such a success. The graphics are poorly done and look washed out. The sound, although good, was dull and uninspired. Even though this was based on a successful animated series, the adventure of the game was not at all interesting.
5.0
This may have been a bad time to review this one because it stands in the wake of Chrono Trigger. This is an okay RPG, but the graphics and overall look are a bit weak. Things look too washed out and don't have enough detail. This tries to mimic Secret of Mana but it doesn't succeed. Apparently the story was based on an animated series, but the game just wasn't all that fun. Still, it's an average game for those who just can't get enough RPG games.
King Arthur & the Knights of Justice is a top-down action game. Players control Arthur King and can recruit two additional party members from the knights. Each knight has his own statistics in various areas including: Defense, Life Force, Speed and Strength. King Arthur and the knights of Camelot have been encased inside glass by Morgana Le Faye.
SNES/Super Nintendo/Super Famicom Screenshots