The Magical Quest: Starring Mickey Mouse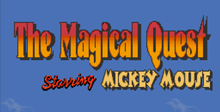 Click the "Install Game" button to initiate the free file download and get compact download launcher. Locate the executable file in your local folder and begin the launcher to install your desired game.
(Sung to the tune of the Mickey Mouse Club Theme Song:)
Who makes games of quality that sweep the in-dus-try?
C-A-P-C-O-M and Disney, natural-ly!
Prick up your ears, Mouseketeers, The Magical Quest Starring Mickey Mouse is ready to work its magic on your SNES. The story begins with Pluto, Mickey, Goofy, and Donald playing catch at a cliff- side park. A little less than coordinated, Goofy overthrows the ball, and Pluto chases it right off the cliff! He falls into a land of magic and mystery. As his master, Mickey Mouse, you must search this enchanted land for your faithful dog Pluto.
Making Walt Proud
The Magical Quest does for video game graphics what Walt Disney did for animated films. The pix are some of the finest we've ever seen, utilizing the seemingly limitless SNES color palette to create vibrant foreground characters and subtly elegant backgrounds that make other games look like Mickey's ancient black and white debut cartoon, Steamboat Willie. The animation is smooth and playful, showing detailed expressions on the faces of Mickey and the bad guys. Because of this attention to detail, you really get a feel for the personalities of the characters.
The Wonder of Disney's World
The animated Disney classics have always been a big hit with kids. But, let's face it, adults love 'em too. This broad appeal also applies to Magical Quest. At its easiest Difficulty level, inexperienced gamers can explore the vast levels. With the Difficulty set to Hard, even the most seasoned gamer will find completing levels a challenge.
Spare Change
In this action/adventure game, Mickey's a mouse under control. He can perform the usual Mario-type moves like running, jumping, and ducking. His more unique moves include an action button that grabs objects and spins them to take out an enemy with a twist. The most unusual option in this game is Mickey's ability to change his costume. As you progress through the game, you'll acquire a Wizard's robes, a Fireman's uniform, and a Mountaineer's gear. Each outfit imbues Mickey with special powers, which are the key to mastering levels and defeating level bosses.
ProTips:
On Level 1-1, after you meet the kind wizard, go outside and jump from the windowsill onto the Gold Magical Block. Then, continue jumping from block to block until you're on the roof. There you can uncover a hidden doorway to a heavenly bonus room.
When obstacles in your path are too hot to handle, don your Fireman's uniform and use your fire hose to create a safe path by moving blocks around.
Choose a Path
A game does not survive on beauty alone; it must have depth to keep gamers interested. If it's depth you want, The Magical Quest game is a bottomless pit! By far, the coolest part of the game is its seemingly unlimited area of exploration. The five stages, with at least three levels in each stage, make this instant classic a quest of epic proportions.
However, if you wish to quickly speed through each level and receive a time bonus, you can. But, for the more adventurous, there's the opportunity to uncover secret passages to bonus rooms and General Stores, where you can purchase special items.
To defeat the first boss, stand in the middle of the screen and wait for him to swoop down. Just before he reaches the lowest point in his circular path, jump in place and you'll bonk him on the head.
To defeat the bird boss at the end of Level 3, you've gotta be ready to change faster than a runway model. First, wear your Mountaineer's costume and use your grappling hook to hang on to one of the two floating knobs. While you're hanging out, use the L or R button to highlight the Wizard's costume. As soon as the bird makes his flying pass, swing down to the nest and press A to change into the Wizard's costume. Then, use L or R to highlight the Mountaineer's costume, and after you've zapped the bird with magic, press A to change and quickly grapple one of the knobs. Repeat this process until the goose is cooked.
Squeaky Sounds
This mouse game has a lot going for it, but one area that could stand some improvement is the sound. Perhaps it was a memory trade-off for the cool graphics, but the repetitive soundtrack and predictable sound effects are a little cheesy. They aren't so goofy that you'll want to turn the sound off, but they just aren't up to par with the rest of the game's attributes.
To make the magic flying carpet unroll, use your Wizard's costume and zap the rug.
Why? Because We Like it
With the help of Disney, Capcorn has created an irresistible game. The graphics and animation are outstanding. There's enough playability and depth to keep gamers of all skill levels entertained. After defeating the final boss in this game, there's only one thing to say, "I'm going to Disneyland!"
Download The Magical Quest: Starring Mickey Mouse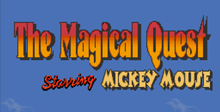 System requirements:
PC compatible
Operating systems: Windows 10/Windows 8/Windows 7/2000/Vista/WinXP
Pentium II (or equivalent) 266MHz (500MHz recommended), RAM: 64MB (128MB recommended), DirectX v8.0a or later must be installed
Game Reviews
While the name may have changed, the game is still as great as ever. While playing a game of catch with Mickey, Pluto mysteriously disappears into the clutches of the nasty Emperor Pete. Now Mickey must brave the hazards of the Dark Forest, Pete's Peak and Snowy Valley. Seven stages of non-violent fun for kids and adults!
Walt Disney's classic animated hero, Mickey Mouse, is back again in another animated adventure! This time, however, our hero goes 16-Bit on the Super NES! Mickey must rescue Pluto from the clutches of Emperor Pete! Through six graphically intense levels of play, Mickey takes command of four separate alter egos that are each equipped with their own special powers including a magician, fireman, rock climber: as well as "Vintage Mickey" (sporting the big red shorts). This game also introduces new play techniques ranging from throwing attacks that put a spin on the normal grab and toss play mechanics as well as collecting other items!
People say:
9
The latest in the line of Mickey games succeeds at introducing a new type of play mechanic that I found extremely addictive while displaying some of the best and most detailed graphics I've ever seen. This game plays great, looks great and has a long and changing quest. Just goes to show that there is life after SF2.
9
By far the most impressive Super NES cart that I've played this month! The graphics are phenomenal and the music is first rate. The best thing about this version of Mickey is the awesome game play and variety of techniques. My favorite is the suit that transforms Mickey into a pseudo Bionic Commando. Great bosses!
9
The Mickey Mouse video games just seems to be getting better and better. Besides having perhaps the best graphics and most fluid animation ever seen in a cart, Mickey is also an unbelievably fun game to play, no matter how old or experienced a game player you arc. Great tunes and lots of levels to get through.
9
If you ve enjoyed Mickey's previous adventures, you'll love Magic Quest! There are so many hidden little secrets strewn in every level, you'll play over and over just to find each hidden room! The graphics are incredibly smooth, and its only weakness lies in sound effects. The animations are absolutely jammin'!
Oh boy! The last thing Mickey remembers is playing ball in the park with Goofy and Pluto. Wham, he got bonked on the noggin! Next thing he knows, a mysterious gent in a flowing robe tells him that Pluto's been dog-napped by Emperor Pete.
Make Beautiful Magic Together
In this tail-twitching adventure starring Disney's favorite star, you've got to guide Mickey through seven different areas, (each with two to three sub-stages), as he searches for his missing canine companion. Whether Mickey's searching the Tree-tops, a Dark Forest, or a Cavern, the game's vertically- and horizontally-scrolling, alternating two-player action features oh-so-gorgeous Disney graphics. Mickey's not just another pretty face, though. Magical Quest's graphics are backed up by a tough game with a Marioesque style of hop 'n' bop play. The plot's magical twist is Mickey's ability to swap personas and powers by changing costume. As he battles through the different areas, he earns three different costumes: a Fireman suit, a Magician suit, and Mountain Climber garb.
When he dons any of these different outfits (which he does by popping behind a little curtain), he has moves and abilities that help him through a specific area. For example, when Mickey slips on the Magician suit and his magical Turban, he can take aim and fire a blast of magic at passing foes. In his fire suit, Mickey wields a fire hose that douses fiery foes with a ferocious blast of water. And wait'll you see Mickey rappel up a mountainside!
SNES/Super Nintendo/Super Famicom Screenshots