Medal of Honor: European Assault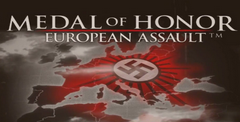 Click the "Install Game" button to initiate the file download and get compact download launcher. Locate the executable file in your local folder and begin the launcher to install your desired game.
People say:
7
Games like Resident Evil: Survivor and Mortal Kombat Mythologies are proof: You shouldn't F around with a proven formula. The Medal of Honor series is at that awkward age that sometimes spawns flagrant retooling, so I'm glad that European Assault retains all the best MOH values, even if the combat tweaks take the gameplay back a goose step or two. The latest in the series covers another cross-section of European WWII as you replay historically accurate battles through one soldier's eyes. Assault's punchy, surround-encoded audio, brilliant re-creation of historic locales, and gritty one-player story steal the show (don't buy it for the offline multiplayer modes). You can lead your squad all over the map; secondary objectives take you off the beaten path to explore tunnels, buildings, and enemy camps full of nutty Nazis, who keep a hail of bullets whizzing by throughout. But couple the almost arcadey action with Assault's emphasis on taking cover in every single firefight, and what you've got feels like a supertough version of Time Crisis (minus the light gun). Yes, I get that it's realistic to not want to get shot, but peeking from behind a crate and firing off four rounds from your imprecise rifle before one connects just doesn't stay fun over Assault's 10 or so hours. I'd often snap waiting for that sweet adrenaline boost (see sidebar) and charge into a tank vol-ley...which is why I should never be drafted.
7
European Assault tries to give you an authentic war experience and even offers quick History Channel-ish lessons--but I don't spend my weekends reenacting this crap, so I found myself skipping right to the action. I enjoyed watching the fireworks as my pyromaniac character exploded another radio tower/tank/U-boat/door, but between history class and explosions, Assault didn't keep my blood pumping. Ironically, the new "hero" feature (bullet time plus invincibility) has you fill up your adrenaline meter by picking off Nazis (who all think they're shorter than they really are--the tops of their heads always stick out from behind crates), but in reality, you wish it was as exciting as the meter keeps telling you.
6
How many WWII shooters have we had now? I lost count a few hundred thousand ago. Assault's optional objectives add freedom and replay value to the typically scripted action, but where's the compelling story (Jon dug it; I didn't), which used to be a driving force behind this series? What's worse, your squadmates' primary purpose is to be cannon fodder (maybe if they did a better job of actually following your squad commands they'd live longer), the crazed difficulty level ramps up without warning, and when you approach enemy A.I. soldiers they often bust out with a silly-looking herky-jerky dance. The multiplayer mode has plenty of options--but no online play. Assault is one of the better MOH games of late, but reeks of missed opportunities.
Holding Out for a Hero...Mode
If you're getting tired of crouching behind junk and clawing your way through Assault's every stage, don't give up entirely. Stay alive and killing for a while and you'll build up enough adrenaline to go on an invincible spaz-out rampage. It only lasts about 15 seconds, but it can seriously turn the tide of battle if used on a fat nest of Nazis. Plus it'll impress all your limey squadmates.
Download Medal of Honor: European Assault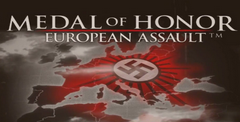 System requirements:
PC compatible
Operating systems: Windows 10/Windows 8/Windows 7/2000/Vista/WinXP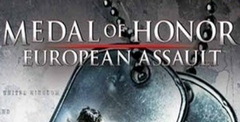 System requirements:
PC compatible
Operating systems: Windows 10/Windows 8/Windows 7/2000/Vista/WinXP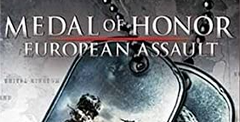 System requirements:
PC compatible
Operating systems: Windows 10/Windows 8/Windows 7/2000/Vista/WinXP
Playstation 2 Screenshots
Similar Games
Viewing games 1 to 11