MX vs. ATV: Supercross
Click the "Install Game" button to initiate the file download and get compact download launcher. Locate the executable file in your local folder and begin the launcher to install your desired game.
The high-octane action and thrills of offroad motocross racing are here in all of its muddy glory thanks to MX vs. ATV Supercross. Developed by Rainbow Studios, this entry in the popular dirtbike racing franchise features a ton of content to be enjoyed, even though genre veterans might begin to see some repetition in the series.
Not every racing game has to reinvent the wheel, and while it could be said that MX vs. ATV: Supercross plays it safe in some regards, it still delivers most of the thrills that players are looking for.
A History of Dirt
If the name Rainbow Studios sounds familiar to you, congratulations: you definitely know your motocross games well. The studio rose to popularity with 1999's Motocross Madness and has been releasing this type of racing game ever since. It's safe to say that they know what they're doing when it comes to offroad racing and MX vs. ATV Supercross offers perfect evidence of that.
First things first, this title is clearly not a AAA title: released at half the price than its more polished counterparts, we can expect Supercross to be a more modest game than its direct competitors.
As the name implies, players can race supercross circuits in either a motocross bike or an ATV.
Mud and Tracks
For such a small game, there's an impressive amount of content to be found in MX vs. ATV Supercross. With 17 tracks and 5 career mode series, there's enough material here to keep you entertained for a while.
Additionally, the game features a healthy amount of motocross companies to customize your rides. Over 80 companies are included in the game, along with 40 riders to keep things interesting.
Feel the Intensity
Of course, an integral part of a racing game – especially in one that focuses on stunts like this one – is the physics engine. Rainbow Studios did an excellent job of updating the preexisting handling mechanics found in previous MX vs. ATV titles and adapting them for better controls and feedback.
Handling feels better than ever, and each vehicle has clear pros and cons that fit different gameplay styles. There's a clear weight assigned to the ATVs, whereas the motocross bikes feel fast and nimble. The stunts are also easy to pull off, including new right-stick controls for jumping and aiming.
The tricks help keeping things dynamic in most races, adding an extra spice to the somewhat repetitive circuits.
Muddy Visuals
Let's face it: motocross games have lots of dirt, and that's not something fun to look at. Take for example Excitebike 64: that game avoided dullness by featuring some outlandish tracks that go beyond the usual motocross circuits.
Here, however, realism demands that tracks remain anchored in reality, leaving players with little variety in the game's venues. It also doesn't help that the overall visual quality seems to have taken a drop since the last entry, perhaps related to the reduced budget.
These facts make the game look boring and somewhat uninspired. However, the addictive gameplay and fast racing action make up for it, even if it's just a little bit.
7
MX vs. ATV Supercross doesn't take many risks with its visuals and gameplay; luckily, it doesn't really need to. The solid fun of the previous entries is all here, left intact for new and returning players to enjoy. The drab visuals and uninspired track design can leave something to be desired, however.
Pros:
Great controls
Tons of customization available
Good sense of speed
Cons:
Drab visuals
Subpar animations
Download MX vs. ATV: Supercross
System requirements:
PC compatible
Operating systems: Windows 10/Windows 8/Windows 7/2000/Vista/WinXP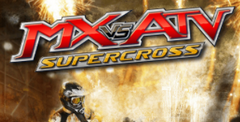 System requirements:
PC compatible
Operating systems: Windows 10/Windows 8/Windows 7/2000/Vista/WinXP
Game Reviews
Today we are taking a look at MX vs ATV Supercross which right off the bat I can tell you is a better game than Alive which came before it. This is the fifth game in the MX vs ATV series and it would be the first one to be released without THQ. Like the other games in this series, if you like dirt bikes and ATVs you will probably have a fun time with this.
Going For The Points
I really enjoyed the career mode that was on offer in MX vs ATV Supercross. It features a bunch of different championships that you need to win and you do this by earning points. There is a perfect mixture of ATV and motocross races and the career mode is pretty deep and addictive. It may lack the "flash" that some other racing games offer in their career mode, but I enjoyed my time here.
Big Stadium Action
The first thing that you will notice about MX vs ATV Supercross is the graphics. I think that this is a fantastic-looking game and while it is set in stadiums, the stadiums look amazing. They did such a great job of making these stadiums feel huge. There are a few different stadiums to race in and 17 tracks to race on. As great as they look, due to the nature of the sport the whole game does have a very similar look to it all. Still, even with that being said, this is a game that is very easy on the eyes.
Get Ready For Action, Action, Action!
The sound design here is great. I love how loud the vehicles are and the sloshing and noises of the tracks as you race on them is great too. As the game is set in stadiums you get this really cool stadium effect that is hard to describe, but it adds to the authenticity of the game which is something I loved. The licensed soundtrack is decent enough, they only use a few bands, but at least there is a decent number of tracks to stop the soundtrack from getting old quickly.
On The Ground Or In The Air!
The gameplay on offer in MX vs ATV Supercross is a lot of fun. This game walks that fine line of being a sim and not being too realistic very well. The way the ATVs and the bikes handle does take some getting used to. This is especially true when you are in the air which you will be often as the tracks are full of jumps and bumps. The controls when you are in the air feel a tad on the stiff side at first, especially in comparison to the previous game, but once you get the hang of it you will be slipping, sliding, and jumping with the best of them.
8
I will be honest with you guys and tell you that if you have zero interest in ATVs or motocross, MX vs ATV Supercross is probably not going to hold your attention for long. If you do like those things and have enjoyed previous games in the series, I am sure you will have fun with this. For me, this was a massive step in the right direction after the disappointment that was MX vs ATV Alive!
Pros:
I loved racing in these huge stadiums
Once you get the hang of the controls, it feels great
I really enjoyed the Career Mode
The sound design in this game is great
Cons:
The handling does take a while to get the hang of
Outside of career mode, there is not a great deal of content
Playstation 3 Screenshots
Similar Games
Viewing games 1 to 8