NASCAR: Dirt to Daytona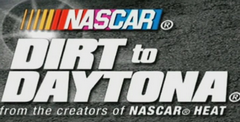 Download NASCAR Dirt to Daytona and race your way through the ranks in this thrilling racing game. Start on dirt tracks and work your way up to the high-speed world of NASCAR racing. Fine-tune your car and pit strategies to secure victory. Can you become a NASCAR champion? Play now!
Rev up yer engines ladies and gentlemen, Infogrames takes to the track once more, in the form of Nascar: Dirt to Daytona. Among other things, this years version (previously known as NASCAR Heat) includes four different racing series; including the granddaddy of them all, the Winston Cup. With 31 amazingly detailed tracks, numerous game modes, and a brand new damage model, Nascar:DTD quells the 'Thunder'? and takes the checkered flag.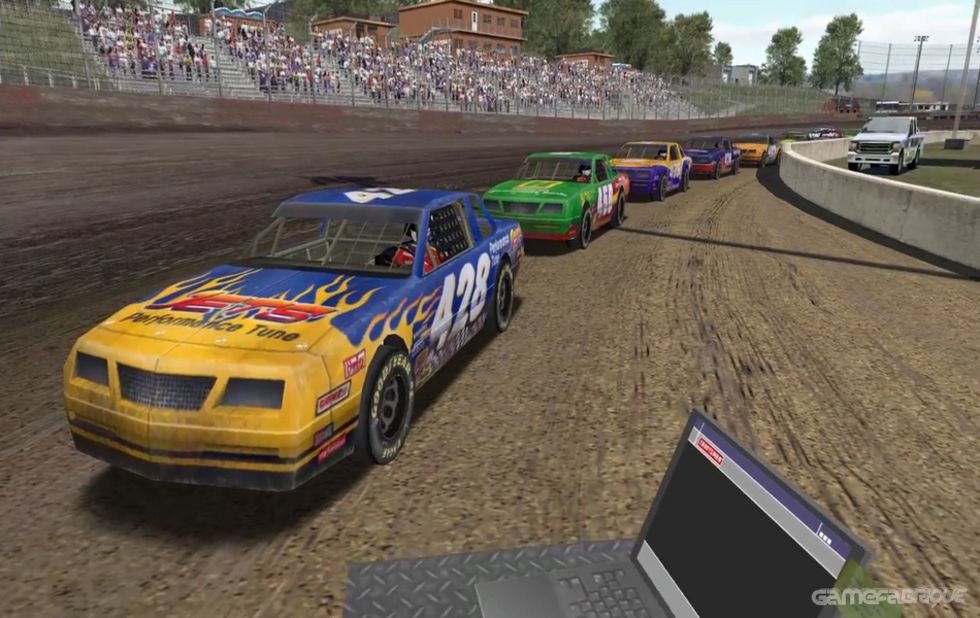 Included in the game are a bevy of racing modes that'll keep even the most jaded racing fans busy for weeks. You can compete in Single Race, Championship, or split-screen Multiplayer action with up to four of your friends. You can also compete in the excellent Beat the Heat Mode, where you'll be challenged to 34 different scenarios. Pass each scenario and advance to the next by earning either a bronze, silver, or gold trophy. For one-on-one racing thrills, there's nothing better than Race the Pro. Here, you'll go head to head against racings' best drivers.
The game features one of the best control schemes to date. You can customize the control configuration, but no matter which one you choose, your car will handle like a dream. That's not to say winning is easy. The CPU competition is primed to bump fenders and beat you to the finish line each and every race. Much like the real thing, each race allows you to practice, qualify, and visit the garage where you can fine tune and adjust your car with over 100 different parts. And if you're competing in the Career Mode, you'll be able to monitor your progress with the most comprehensive set of statistics I've seen yet.
The graphics in the game are outstanding. The car models and racing environments are colorful and detailed. The new damage model features a host of special effects including dented fenders, smoking engines and tires, and other car parts that'll fly off your car and litter the track. Even 20-car pileups thatll test your weaving skills are now possible. There are four main camera angles for driving, including an excellent in-car camera that features a fast and fluid frame rate. Furthermore, instant replays are a sight to behold. No highlight reels in this puppy, my friends. Watch each lap of your race over and over again from a myriad of different camera angles. Heck, its more fun than the race itself! Aural effects are also extremely well done. From the boom 'n' bang of violent collisions, to the voice of your spotter directing you through traffic, the sounds immerse you into the game and provide a rich racing experience.
With the inclusion of dirt-track racing, the Nascar Craftsman Truck series, and the Featherlite Modified Series, it's hard to believe Infogrames somehow fit all this onto one disk. But that they have and I am a happy camper. So whether you're a casual racing gamer or a diehard Nascar fanatic, if you own the Cube, speed down to your local retailer and buys this game now! You won't be sorry.
Download NASCAR: Dirt to Daytona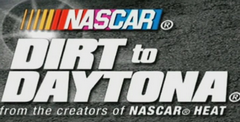 System requirements:
PC compatible
Operating systems: Windows 10/Windows 8/Windows 7/2000/Vista/WinXP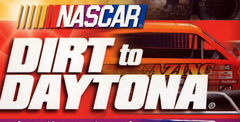 System requirements:
PC compatible
Operating systems: Windows 10/Windows 8/Windows 7/2000/Vista/WinXP
Game Reviews
With the huge popularity or NASCAR, it's not surprising to see developers putting their best foot forward and creating quality games. What is surprising is the transformation from Infogrames' last NASCAR game. After the successful launch of NASCAR Heat 2002, one would expect improvements and minor modifications, but instead they pretty much scrapped the Heat series and created a more complete NASCAR experience. NASCAR: From Dirt to Daytona will require you to start with humble beginnings on NASCAR's dirt racing. As you gain sponsors and cash you'll progress until finally reaching the big league. Getting there however, is no easy task as most of the fun comes from being taken through almost every aspect of NASCAR racing.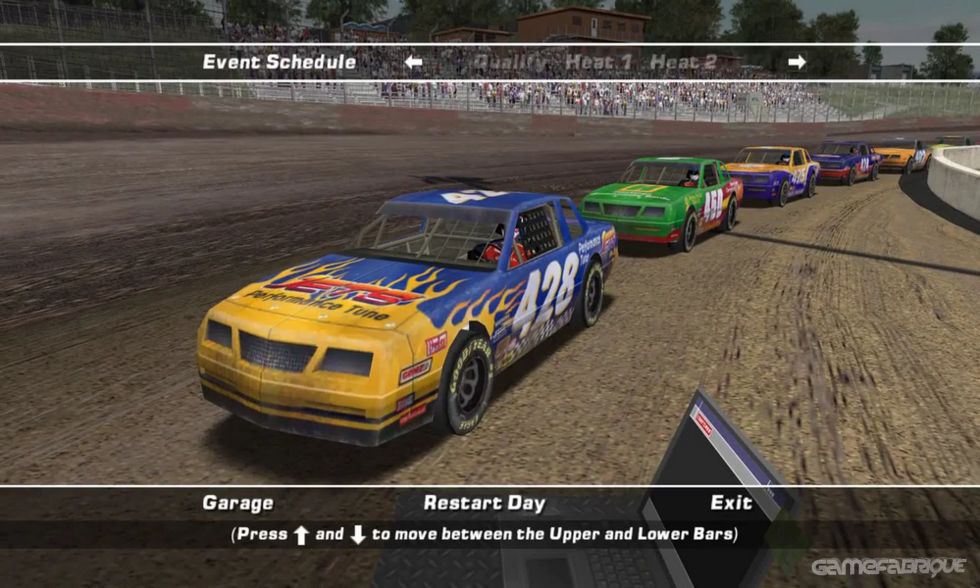 NASCAR: From Dirt to Daytona represents racing from the driver's perspective as you start out in the rookie leagues with a car that leaves much to be desired. As you progress, you'll not only be racing to win the cash and standing points, but the sponsors you pick along the way will also require certain goals to be met.
Continuing with the complete experience, the actual racing is focused more on simulation then the arcade style. With greater emphasis placed on strategy, you'll be paying attention to the car as much as the road with concerns about pit stops, tire wear, draft, and general car status. Other issues like bumping side walls and other cars may not cause much concern at first but the car will start taking visible damage, effecting how the car runs. Major accidents may cause more serious damage but with sponsors requiring certain goals, you may find yourself limping around the track trying not to get smeared again.
Besides the gameplay, another area that was executed well was the physics engine. Watching 20 car pileups has never been more fun, especially when you start them. Cars whip around, become airborne, and bounce off walls almost exactly like real NASCAR style cars. Not only does this make the game more real, but it also makes the game more fun to watch.
NASCAR: From Dirt to Daytona creates an experience NASCAR fans won't want to miss. With respectable graphics and audio, the simulation approach to the entire NASCAR experience is well executed and when added to multiple other gameplay modes, will appeal to a broad audience.
Playstation 2 Screenshots
See Also
Viewing games 1 to 6