Nascar Racing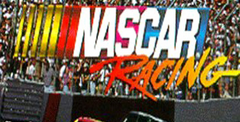 NASCAR Racing comes equipped with a trankload of features to create a realistic racing simulation. However, this game will appeal more to diehard racing aficionados than to the casual gamer cruising for speed and action.
Siena put a lot of horsepower into authentic touches such as the abilities to race governed by real-life physics, to communicate with your pit crew, and to thoroughly fine-tune your car by setting everything from individual tire pressure to gear ratios. The gameplay focuses on strategy and endurance as much as actual driving, for you must tackle at least 32 laps in each race. The graphics, animation, controls, and sound effects are adequate, but NASCAR doesn't surpass top racers like Andretti Racing.
NASCAR fans will eat this game up, but casual drivers will be satisfied to just rent it for a couple laps.
ProTips:
Your tires are key. Constantly monitor tire temperature and pressure to gauge when you need a pit stop.
Always try to pass opponents and navigate turns on the inside of the track to avoid being jammed into the walls.
Download Nascar Racing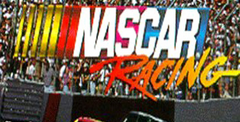 System requirements:
PC compatible
Operating systems: Windows 10/Windows 8/Windows 7/2000/Vista/WinXP
Game Reviews
It isn't often that game developers pay as much attention to detail as the developers of NASCAR Racing having. A respected title for the PC, this game is now making the jump to the PlayStation. With updated tracks and drivers, NASCAR is expected to enjoy the same success it experienced on the PC.
Presently in the finishing stretch at Sierra On-Line's award-winning development division, Papyrus Design Group, NASCAR Racing will employ actual drivers and teams from the 1996 circuit, as well as 16 true-to-life tracks. Now some racing games claim to be realistic, but when Sierra says "true-to-life," they mean just that--16 tracks, modeled from real video footage, which feature such excruciating details as the actual sponsors' billboards and trackside scenery. The banks are all precise, the braking spots in the proper location, everything is as close to real life as any simulation could hope to be.
But the tracks aren't all the designers focused on. Each car is fully optimizable, with the opportunity to change every element that might make a difference to your racing performance. Everything can be monitored during the race, so that you'll know what you need to change at the next pit stop.
This level of detail might make the first-time player a bit squeamish, especially if he doesn't know all that much about the finer details of NASCAR racing. It is for just such a player that Sierra is incorporating an Arcade Mode which will automate those features that players uneducated in the ins and outs of NASCAR might find confusing or tedious. This should make the game more accessible for a wider audience, although the racing will still be more challenging than the average racer. The developers are also including two "fantasy tracks," challenging courses with high banks and sharp turns, guaranteed to rattle even the most seasoned drivers. In addition, three of the 16 NASCAR tracks can be run at night, bringing the total number of different racing experiences up to 21.
Fans of the PC version will attest to the fact that this is one serious simulation. The level of detail that the developers have incorporated into this title is not intended for the passive observer or one-time player. But with its fully comprehensive approach, this game is certain to be an instant favorite among fans of the NASCAR racing circuit everywhere.
A quick NASCAR F.Y.I.
For those of you unfamiliar with NASCAR racing, here are some interesting tidbits about what's being called the fastest-growing sport in the country. The National Association for Stock Car Automobile Racing consists of 12 different racing divisions that hold over 2,000 racing events each year. Stock car racing, like most competitive sports, has strict rules regarding the type of equipment used and the level and type of vehicle enhancements allowed, so NASCAR also has a "competition department" that is constantly reviewing and perfecting both the rules of the sport and the technology and equipment that makes it all happen.
MANUFACTURER - Sierra
THEME - Racing
NUMBER OF PLAYERS - 1