Quattro Adventure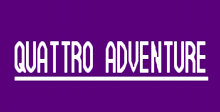 Click the "Install Game" button to initiate the file download and get compact download launcher. Locate the executable file in your local folder and begin the launcher to install your desired game.
Is smaller bad? Camerica doesn't think so. Take a ' look at Quattro Adventure, four games in one.
Steal from the Rich, Give to the Poor
Super Robin Hood could easily stand as a action/adventure game on its own. This tough game's got sharp, sideview graphics, and sound that's the best among the Quattro crew.
Robin must rescue Maid Marian from the Sheriff of Nottingham. But first he must find Keys to castle doors and 48 pieces of treasure (six different types -- Chests, Crowns, Shields, Diamonds, Goblets, and Rubies), which are hidden in eight levels of the Nottingham Castle.
Armed only with his trusty bow and arrow, Robin fights a challenging, ongoing battle with the Sheriff's patrolling bowmen, spear-holding dwarves, and a nasty zoo of castle beasties. Deadly traps and tricky jumps require some gold medal caliber, thumb athletics.
ProTips:
You can sling arrows off-screen to stick enemies.
To take out Boss 3, run to the top of the gargoyle's head. There you can hit him, but he won't be able to touch you.
Robin is no dumb thief. He has to run, jump, duck, climb, and shoot his way out of trouble. He can also pull a slick crouch-slide, and the faster he runs, the higher he jumps.
Super Robin Hood dishes out the best action in Quattro's band of games. This game's not easy to beat, but you'll have a merry time trying.
Egg on Your Face
Treasure Island Dizzy is a cutesy little, sideview adventure, starring the U.K.'s most popular egg-headed computer character. Dizzy must escape a tropical island by solving a game full of puzzles and avoiding egg-eating creatures.
You may find money HIGH up in the trees. Keep flipping.
The name of this game is "Explore and Memorize". You find an eggs-cellent collection of items that help you overcome obstacles. Since you can only carry three items at a time, you must decide what to carry and remember where you left the castoffs. Some objects don't have obvious value (such as a rock), but they prove to be useful.
In some areas it's a good idea to jump straight up before you step. You might see an overhead danger.
Traps and natural hazards have you walking on eggshells aplenty, but overall this game is the least challenging of the Quattro crew. It's a brain teaser that's fun.
Get Out of this World
Linus Spacehead is an addicting game that encourages you to rise to new heights -- hopefully off planet Earth. You help stranded space dude, Linus, find parts for his radio. Help him rise from the bottom of the ocean to the upper atmosphere, so he can send an E.T. S.O.S. home.
The variety of challenging, jump-and- dodge action is the main attraction here. The game's full of stupefying obstacles and bothersome beasts that try to keep Linus down. For example, the first level scrolls vertically as you try to hitch a ride on fragile bubbles floating up from the ocean floor past toothy fish to the surface. On the other hand, the second level scrolls horizontally as you scurry across the terrain, leaping over bouncing coconuts and other obstacles along the way. Five more thumb-straining levels await you as you try to gain altitude.
Just because the bubbles are big, doesn't mean they'll last longer.
Don't try to get all the Linoleum Bars in Level One, or you'll run out of oxygen.
Linus Spacehead will keep you busy. It tosses a ton of tough hazards and tricky jumps your way. The graphics look good, despite some clashy background colors. Head out into space with Linus.
G'Day, Mate
Ready to venture to the Outback and rustle up some boomerangs? The Boomerang Kid pushes your jumping skills, and patience, to the max. Your sideview boomerang collecting covers three worlds (the Outback, the Castles, and the Caves), which consist of 10 areas each. Each area is basically a single-screen puzzle. You have to figure out the best route to hop over to the boomerangs. This ain't easy.
The Kid has extremely fragile feet and little tolerance for even medium distance drops. One touch by Outback creatures, such as kangaroos, koalas, and snakes, knocks you out. Moreover, the game provides only three lives and no continues. To top it off, each area has a time limit. You'll get to know the early levels well.
You need both Switches to complete this level. Beware of the Suit of Armour.
Boomerang Kid's not a bad little puzzler, but its smallish graphics are a might hard on the eyes. You'll likely replay the other games in the Quattro collection before you return to Boomerang.
Multi-Madness?
The majority of the Quattro Adventure games could easily stand by themselves. Super Robin Hood is the star. Linus Spacehead and Treasure Island Dizzy are good games in their own right. Without the other three, Boomerang Kid would belong down under.
However, as a group, the Quattro Adventure games work well and represent a good video game deal. The only apparent drawbacks to cramming all these games into a single game is that there's little room for meg-hogging features, such as game savers and glitzy graphics.
Download Quattro Adventure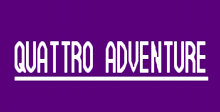 System requirements:
PC compatible
Operating systems: Windows 10/Windows 8/Windows 7/2000/Vista/WinXP
P-200, 32 MB RAM
Game Reviews
This platform action and adventure video game was released for Nintendo Entertainment System in 1993. It features a collection of 4 games:
Boomerang Kid. The Boomerang Kid has lost his boomerang collection and must get back all of the items spread all over the outback;
Super Robin Hood. To rescue Maid Marian, who is being held imprisoned in the Sheriff of Nottingham's castle, Robin Hood has to fight his way throughout Nottingham Castle trying to stay away from a large amount of traps.
Treasure Island Dizzy. Dizzy wanted to have a nice vacation on his boat, but the storm thrown him off the course and he found himself on an island. So now he has to explore the island and make out how to get back home.
Linus Spacehead. An alien, whose name is Linus, from the planet Linoleum, after a crash was forced to land on Earth. He has broken his radio and can't use it to ask for help and get back home. He needs now to pick up all of the radio parts scattered all over the strange planet. There are dangerous creatures and aliens to make the task more difficult.
NES/Famicom/Dendy Screenshots
Similar Games
Viewing games 1 to 8