Impossamole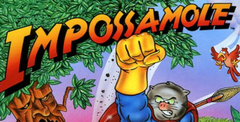 Click the "Install Game" button to initiate the free file download and get compact download launcher. Locate the executable file in your local folder and begin the launcher to install your desired game.
His name's Monty: rodentus investigate (a secret agent of sorts), world traveler, and all around good guy, or in this case, Mole.
While he was vacationing, Monty was whisked up into an alien spaceship, transformed into a super hero, and told he must free their planet from the evil Vlarg by retrieving the stolen Scrolls of Eternal Life. Before Monty could protest.ZAP! He was in a strange alien world with a strange journey staring him in the face, and an even stranger name-Impossamole.
A Mole in Your Face
If patience is not your greatest virtue you're in luck, because this mole-on-the-move action adventure allows you to visit four of the five Zones-Orient, the Amazon Jungle, Ice Land, the Bermuda Triangle-in any order your heart desires. The final, secret level, where Monty butts heads with the Vlarg-miester, can't be reached until the others are conquered. There isn't a single continue to be found. Passwords are given at the end of each Zone and a multitude of mini-moles (1-Ups) appear throughout the game, mostly in very precarious spots.
Recycling Enemies
A variety of monsters, including Monster Mice, Sneaky Snakes, Abominable Snowmen, and more, come with each of the Zones; Monty gets in their faces via his big power-kicking feet. After a few good kicks enemies are flattened into blocks, which Monty can then pick up and throw.
There's more to this mole than his feet, too. Monty can easily find and pick up Bubble Guns and Hammer guns. You needn't stretch your imagination to figure out the Bubble Gun. You pull the trigger and it blows bubbles. Better yet, once an enemy's been trapped inside a bubble for a few seconds and it pops-voila-they're transformed into point-valued goodies, which fall back to the ground.
Rodent Beauty Contest
The overall big picture of Impos-samole is pretty darn good-not the greatest Turbo-graphics to hit the shelves. Nonetheless, Monty is cute and he goes into a great leg-twitching animated sequence when he's knocked out cold.
Mole-control would be a total breeze if it weren't for one, small thing. When there are sharp objects, such as bamboo spikes, or a very deep underground pit separating Monty from a scroll, you must hit the controller very precisely in order to make the jump without Monty either becoming shish-kebab or hitting his head on the ceiling of the cave, it's a bit ridiculous.
In the Nick of Time
The bad news is that it's no secret that TurboGrafx-16 owners are hungry for titles. The good news is at last a good title, Impossamole, has arrived. In Impos-samole, NEC connects a cutesy wholesome animal hero with good graphics, excellent sound, manageable challenge, and non-thumb-threatening gameplay. You wont regret "digging" into Impossamole.
ProTips:
Keep your eyes on what's above you, especially in the Orient and in Ice Land. If it's an icicle or a large jagged rock that extends down just a tad further then the others, you can bet it's going to fall on Monty.
Even if Monty throws boxes from a distance, they still wipe out offscreen enemies.
To shorten the distance (see screen) between Monty and the floating trolleys in Ice Land have him take one step past the rope's platform.
Download Impossamole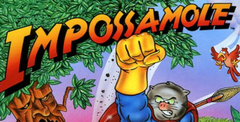 System requirements:
PC compatible
Operating systems: Windows 10/Windows 8/Windows 7/2000/Vista/WinXP
See Also
Viewing games 1 to 9