Rush Hour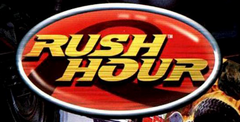 Click the "Install Game" button to initiate the free file download and get compact download launcher. Locate the executable file in your local folder and begin the launcher to install your desired game.
a game by
Psygnosis
Genre:
Racing
Platforms:

Playstation,

PSX

Editor Rating:

7

/

10

, based on

4

reviews
User Rating:

8.5

/

10

-

4

votes
Rate this game:
See also:
Download Racing Games
Psygnosis has proved themselves as one of the leading PlayStation development houses in the world. With hits like WipeOut XL, Lomax and Destruction Derby 2, Psygnosis has given PS owners some of the best games for the system. That tradition continues with Rush Hour, a top-down racing game that is the first Psygnosis title to feature a Split Screen for two-player racing. Gearing up for release in the first quarter of '97 Rush Hour features eight racing options (single race, championship and time trials), two categories of vehicles (16 cars in total) and different degrees of performance. Step on the gas for a rip-roarin' race through mountain roads, logging yards and more. Rush Hour is a nonstop thrill ride!
Download Rush Hour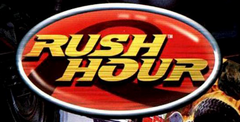 System requirements:
PC compatible
Operating systems: Windows 10/Windows 8/Windows 7/2000/Vista/WinXP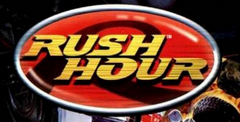 System requirements:
PC compatible
Operating systems: Windows 10/Windows 8/Windows 7/2000/Vista/WinXP
Game Reviews
Psygnosis has always been one of the most active makers of great-looking racing games for the PlayStation, and it appears that they don't have any plans of letting up now that Rush Hour is nearing completion.
Rush Hour is a racing game that utilizes the same three-fourth perspective that made classic games such as R.C. Pro-Am and Rock 'N Roll Racing so popular. At this point, it doesn't look like Rush Hour will be nearly as wild. There are no weapons or other gadgets that will help you win the race, or make others lose it.
What Rush Hour does have is some outstanding 3-D racing environments. The tracks are very complex, with multiple layers of roads criss-crossing over each other. On the Coastal track, the road may wind along a mountain, while on a city, the track crazily sprawls in many directions in an unorganized fashion. It's not unlike many of our city's horrible highway sprawls. The track's graphics are very impressive, and it's clear that from what we've seen in Rush Hour thus far (and other Psygnosis racing games), they will be one of the strong points in this racer.
Rush Hour offers 16 different vehicles to race with, and they are divided into two groups: Performance Cars and Off-Road Vehicles. There are eight of each kind. The Off-Road vehicles consist of choices like a Hummer or a Semi Truck while the performance vehicles let you rip loose with nimble Ferrari or Porsche-like cars. The divisions are designed to keep you from racing mismatches, which inevitably would make the game boring. Although it would be interesting to pit that sleek sports car up against a slow, trudging Hummer just once, it's not going to make for very competitive racing.
There are three single-player modes of play available: A Single Race to quickly let you jump into the game, a Time Trial which allows you to race against the clock and a Championship Mode which takes you through all of the circuits while saving wins. There is also a two-player. Split-screen Mode that should keep the gameplay fresh for a while.
Psygnosis' new racer looks great, but whether or not the gameplay matches will determine if gamers rush to buy it.
MANUFACTURER - Psygnosis
THEME - Racing
NUMBER OF PLAYERS - 1 or 2
Rush Hour sputters out as both a racing game and a driving sim for the PlayStation. The features aren't bad--choose from 16 different sports cars or 4x4 vehicles, while racing solo or against a friend in a pack of eight cars on eight realistically laid-out tracks which range from urban to snowbound settings. Enter an eight-round progressive tournament or just race the clock. Numerous game options are available to help customize Rush Hour for racers of all skill levels.
Unfortunately, awkward graphics and gameplay quickly make Rush Hour frustrating and monotonous. You're limited to a very distant, third-person overhead view--it's like operating a tiny remote-control matchbox car with jerky response.
With so many better racing games available, you should blow right past this clunker.
Hug inside turns tightly to shave seconds off your time.
Overview
Psygnosis is trying to jump into the fast lane with a traditional, top-down view racer. Step up to 15 vehicles from either the high performance or heavy metal class. What about tracks? How do 8 tracks, ranging from a Yukon Pass to a downtown street race, grab you? Did I forget to mention a 2-player split screen and three different modes of gameplay including Time Trials, Single Race and finally the Championship? If this sounds interesting, that is because it is, sort of.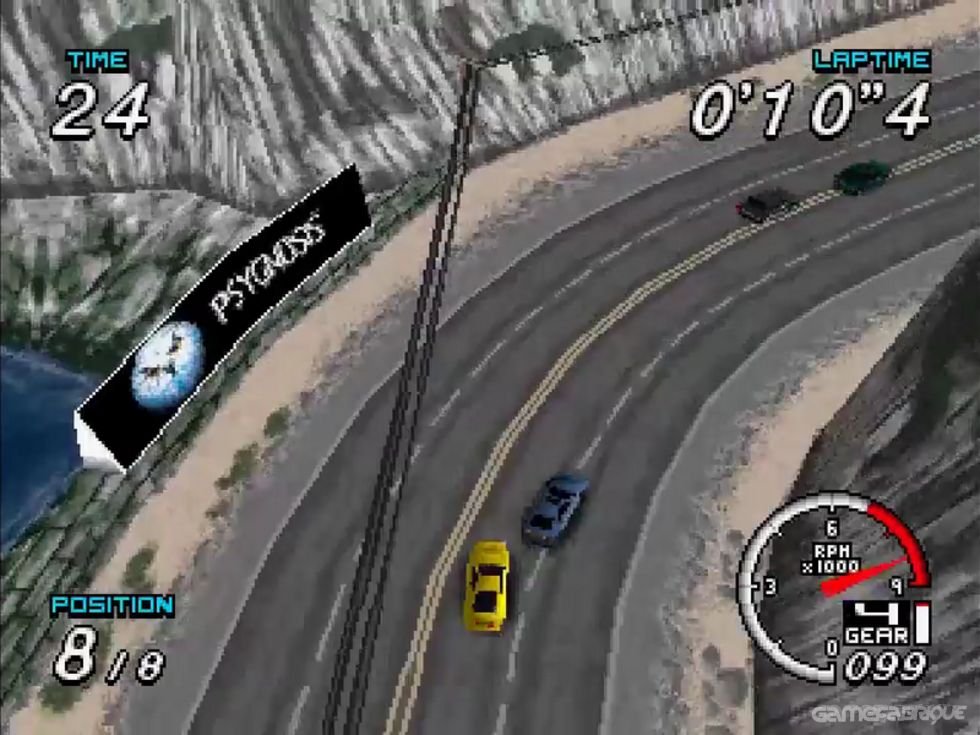 Gameplay
Rush Hour is an old school racing game. What that means is that you view the race from afar. You have no camera view that feels like you are behind the wheel or even like you are right above the car. The closest view you have makes your car look the size of a tiny Micro-Racer. If being a Micro-Racer is still too close for your liking, you can zoom out even farther to make your vehicle a Micro-Micro-Racer. This is quite different from most of the games on the market today that are striving to give the gamer the feeling of actually driving the vehicle. Personally, I prefer a view that is somewhere in between far away and in the driver's seat. I like to be able to see my car, but also see the track ahead. Unfortunately, this is not an option in Rush Hour.
What is available in Rush Hour, however, is cars. There are a decent selection of cars available from the get go with even more that can be unlocked. The cars are broken up into two classes. The first class of car is high performance. This is exactly as it sounds. These are your speedsters. Now, none of the manufacturers of the cars are given but the do look suspiciously close to cars available. The first is the Europa Tourer. This looks a lot like a BMW or Mercedes type vehicle. Next is the Yellow Thunder, or should I say, Toyota Supra. Third is the Ferrari, I mean, Red Flash. The final car is called the Silver Bullet but I think Porsche refers to it as a 911. There are also four hidden cars that range from the likes of a Lamborghini to a Stock Car.
The second class of vehicle is called heavy metal. The first of these is called the Ranger but looks suspiciously like a Toyota Land Cruiser. Next is the Dune Buggy which looks like, well, like a Dune Buggy. Third is the Jeepster and, if you think real hard, resembles a Jeep. Finally, you have the Dallas Pick-up. The hidden vehicles range from a Hummer type vehicle to a Monster Truck.
The best part of Rush Hour is the tracks. The tracks are all very imaginative and well done. The Yukon Pass track has you ripping through snow covered roads and maneuvering a train. The Downtown has you fighting it out over overpasses and a city scene. Mixed in, you will find sandy road tracks, dirt tracks and even the Golden Gate Bridge. The coolest thing is the feeling of depth that you get from some of the tracks. For example, you go over an overpass and later, go under the same overpass, temporarily losing sight of your vehicle. The feeling of actually losing your car for a second is quite a rush.
Like in most racing games, each vehicle handles differently. Obviously, the high performance vehicles are geared more for speed and handling and the heavy metal vehicles focus more on strength and exploring. Most of the tracks contain multiple routes that can be considered short cuts, if you make the right choice. The steering and controls of the game are almost too responsive and if you get the slightest bump from other vehicles, you will be sent into a fish-tailing frenzy.
Graphics
The graphics in Rush Hour are a mixed bag. The cars are so far away that they are not detailed at all but the racing environments are very well done. Like I mentioned above, the feeling of depth is incredible. The surrounding landscapes of the tracks are beautiful but, unfortunately, this is a racing game not a sight seeing game. I know that the designers were going for the feel of distance from the vehicles during the race but I think that it hurts the game overall. It would have been nice to have a closer view of the cars and the track if you were to choose that view. Unfortunately, they decided not to include it.
Bottom Line
Rush Hour is an average game that really does not kick the excitement past second gear. It is pretty fun for awhile but I think that the long term playability is lacking. This is definitely not a game where you will find yourself saying "did you see that?" or "wow, that was awesome." You will race a while and probably get a bit bored just because the intensity level just isn't achieved due to your zoomed-away vantage point. I will say the other racers are fairly intelligent and try and keep you from passing them, but this is just not enough. Rush Hour is a game that is stuck in gridlock with a ton of racing games and only inches forward a little bit at a time instead of breaking free.
See Also
Viewing games 1 to 9