Samba De Amigo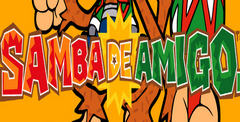 Click the "Install Game" button to initiate the file download and get compact download launcher. Locate the executable file in your local folder and begin the launcher to install your desired game.
a game by
Sonic
Platform:

Dreamcast

Editor Rating:

8

/

10

, based on

2

reviews,

4

reviews are shown
User Rating:

8.0

/

10

-

4

votes
Rate this game:
See also:
Dancing Games
Overview
Grab your maracas and get ready for fun -- the Sonic Team has stuck again with Samba De Amigo. A dance fiesta where everything is moving and bouncing (including you), Samba De Amigo challenges you to keep the beat of the songs using a special set of maracas controllers. Stay with the beat and you will move onto the next stage, miss too many times and you aren't a dancing fool, you're dancing history.
Gameplay
Although popular in Japan, dancing games have never really caught on in the US -- you find some in arcades, but they haven't made it big on the home console, until now. The only previous experience I've had with the genre has been during my last few visits to the Seattle Gameworks where several arcade dance games are available. I must admit that I was skeptical of Samba De Amigo -- I've never seen the point of dancing games, but after playing for a few minutes I began to enjoy myself. However, this isn't a game you're going to want to play alone -- this is a party game and full enjoyment requires making a fool of yourself with your friends. The key to Samba De Amigo is the special maracas controller (available for a suggested retail price of $79.95) that consists of two bright red maracas and a floor sensor that detects where they are at all times. As you play the game blue and red balls on screen tell you exactly where and when to shake the maracas.
If you keep on the directed beat your score rises appropriately. You can play with a standard Dreamcast pad, but the game just isn't the same. In addition to shaking the maracas as directed, the game will occasionally ask you to strike a pose from time to time by showing you a stick figure on-screen. If you can match the pose within the time limit you'll earn extra points. In the standard game mode you get two songs to play and if you're really good you'll be rewarded with a special third song.
In addition to the default game mode there is a single player challenge mode where you must match the on-screen directions, performing successively better on each song to beat a preset score. Mastering the challenge mode will make you the dance king at your next party. Add to that the multiplayer party modes and you've got the makings of a good time for you and all your friends.
Graphics & Audio
The music in Samba De Amigo consists mostly of classic samba tunes, but adds several recent songs including "Living La Vida Loca," "Tubthumping," and the ever-annoying "Macarena," all arranged to provide maximum dancing fun. Excellent sound quality is required for this style of game and Sega provides it in spades. The bright, colorful animations blend with the music perfectly. Amigo, the monkey who is the main character in the game, is particularly fun to watch. If you are keeping to the beat correctly while you play, the animations get livelier and livelier, but if you don't you may leave Amigo crying at the end of the song -- and who wants to make a monkey cry?
Bottom Line
The main downside to Samba De Amigo is the cost -- getting the game and the required controllers will run over $100 and that's just for a single player. If you want to try the two player modes you're looking at close to $200. But despite the cost this is a game that you're sure to enjoy with a group of friends. I found myself liking it despite my preconceptions and played a lot more than I thought I would. So grab your maracas and start shaking.
Download Samba De Amigo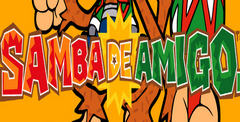 System requirements:
PC compatible
Operating systems: Windows 10/Windows 8/Windows 7/2000/Vista/WinXP
Game Reviews
What's the deal?
OK-get this. There's this posse led by a sombrero-wearin' monkey who like to go around shaking their maracas to the music-anytime, anywhere. Could be the middle of the street, on a stage indoors or out. Armed with this game and its special maraca controllers (no firm details yet on what these will cost in the U.S.), you can join their army. Shake your maracas in high, middle or low positions according to the on-screen instructions.
Sega is leaping headfirst here into a genre that's mega-popular in Japan but has yet to take over America.
The Japanese version featured a wide variety of music, including the Reel Big Fish version of A-ha's "Take On Me," and Bellini's samba music hit "Samba de Janeiro." A music lineup for the U.S. version hasn't been finalized yet. This'll definitely be one of those games to get your non-gameplaying friends hooked on. So why is it a must-get game? Got friends who aren't into video games but love music? Get them together and in front of this game and you've got yourself an instant party.
Sonic Team takes the music game where it's never gone before with Samba de Amigo. Like most games in the genre, the concept is simple: Shake the maracas at the high, middle or low position when blue spheres fall into the circled template positions (in time with the music). Also like most music games, it may seem easy, but on the harder difficulties, it becomes near-impossible.
There are several modes of play: Arcade, Original, Challenge and Party. Challenge is perhaps the most difficult: You have to complete a certain task--finish a song perfectly, get above a certain grade or other challenges. Believe us, they get hard really quickly. Party Mode has mini-games like the ones described at the top of the page as well as "Love Love" and "Versus." in the Japanese version you can connect to the Internet and download files which unlock new music, which include tunes from Sonic R, Afterburner, NiGHTS and Rent A Hero No. 1.
The soundtrack features a wide selection of samba tunes--from the "Macarena" to "Soul Bossa Nova"--licensed from the original artists. Sega's still deciding what music will be in the U.S. version, but you can bet there'll be some more popular tunes by the time it crosses the Pacific. Also of concern to many is the expense of the maraca controllers--two sets of them plus the game cost you almost $200 in Japan. Sega is trying to find a way to get the game and one set of the maraca controllers packaged together for a decent price tag. Let's hope so!
People say:
9
I love this game. Games like Samba and Konami's Dance Dance Revolution are bringing Japan's most popular genre--peripheral-based music games--to the U S. And It's about damn time! A few factors will decide how fun this game's going to be for you. One: Do you tap your feet, nod your head, or like to dance to good music? Two: Are you willing to buy at least one pair of maraca controllers (at $80 a pop)? And Three: Do you have a group of friends who are not ashamed to make fools of themselves at the expense of having a good time? If the answer to all three is yes, then what are you waiting for--run to the store and buy this game. Your non-gamer friends will get into if you demonstrate it for them. A Challenge mode helps you hone your maraca-shakin' abilities and unlocks a few extra songs (such as Reel Big Fish's ska version of the A-ha classic "Take On Me"). The hardest Challenge levels are nearly impossible for all but the most skilled. You can download unlock saves for more songs from classic Sega games through the game's Internet option. A handful of mini-games and a "Love" mode (both under the Party option) round out the game. The only major drawback to Samba is the amount of cords to deal with when you've got two maraca setups-it requires a fairly open space to play in. A great game that'll get you a little exercise, is innovative, and more impor-tantly--fun.
9
Yes, It's expensive. And yes, you look like a complete idiot when playing, but man, is it fun. And tiring. My arms are on freaking fire, but I'm smiling, and that's all that counts. Samba de Amigo is a blast, and Sega deserves a lot of credit for not only bringing it out, but including the maracas as well. And even though there's tons of songs already packed in, it's cool how you can unlock and download new tunes, including keen Sega themes like those from Burning Rangers and Afterburner (very, very cool). I just wish the Samba package didn't cost so much, it makes me wonder how many potential maraca maniacs might be passing it by thanks to the high price tag.
9
This game is so much fun! Although the maraca controller is a little expensive, I think it's well worth the price. Just find a friend willing to cover the cost of a second set and you've got a party game that can't be beat. Ail the music in Samba is excellent stuff that you'll be humming along with (I particularly like "Take On Me," nice blast from the past). Sega even went the extra mile and added a few new modes to the Dreamcast version of this arcade port. The "love" game is pretty neat, where it measures how compatible you are by the shake of the maraca. But it kinda worries me that CJ keeps talking about becoming "Love Amigos." Buy Samba de Amigo.