Viewing games 1 to 13 (of 13 games)

See also:
Crusader of Centy

Crusader of Centy is a great action RPG and any one that loves RPG's is strongly urged to give this game a try.
The Continent of Rune has slumbered in peace for 50 generations. A horde of invaders swarm across the border, while a dragon that has slept for centuries stirs in its tomb. Only the King's youngest swordsman and his war party can defy the Dark Dragon's evil power and crush the mighty army! Control up to 10 different characters at once. Increase their skills and attributes through strategy, combat and exploration. Search through 8 brilliant scenarios. Sub-quests and imaginative sequences make every game a new adventure!

Vanish the fiendish forces of Dark Sol and restore peace to the enchanted Kingdom of Thornwood. Search for the powerful Arms of Light and fight the savage creatures that roam the darkness of the Labyrinth. Use your warrior's skills and cunning to pass the test of the Ancients and become a shining knight.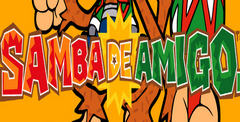 OK-get this. There's this posse led by a sombrero-wearin' monkey who like to go around shaking their maracas to the music-anytime, anywhere.