Shanghai 2 - Dragon's Eye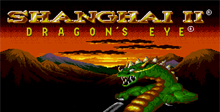 Shanghai 2 looks to be this year's mind-bender cart. Stored within this cartridge are a myriad of brain-teasing games based on the Oriental game mahjongg.
All of the included games are very fun to play! Even gamers who are not partial to these types of games will instantly become hooked on Shanghai 2's ability to befuddle your senses. If you're in the mood to give your brain a workout, you have got to try Activision's Shanghai 2!
Download Shanghai 2 - Dragon's Eye
Game Reviews
Mediagenic is bringing the classic puzzle game to the Super NES. You must remove all the tiles by using strategy and cognitive thinking skills. New features let you change the tiles to your liking.
Sega Genesis/Mega Drive Screenshots
SNES/Super Nintendo/Super Famicom Screenshots