Sherlock Holmes - Consulting Detective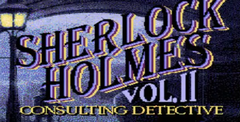 a game by
ICOM Simulations
Platforms:

PC Engine,

Editor Rating:

6.5

/

10

, based on

3

reviews
User Rating:

6.0

/

10

-

1

vote
Rate this game:
Help super snooper Sherlock Holmes solve three puzzling cases for the Duo: "The Case of the Two Lions," "The Case of the Murdered Munitions Magnate," and "The Case of the Pilfered Paintings." Using live-action video with excellent voice duplication, try and solve the mysteries with your faithful colleague Dr. Watson! If you get tired of a case you are working on, don't fret - there is a save-game option that will allow you to continue it later! Using a variety of items for collecting information, piece together your case one bit at a time, until you think you have enough evidence to take to a judge for a trial! This includes listening to all the rumors and other conversations people may be having
Download Sherlock Holmes - Consulting Detective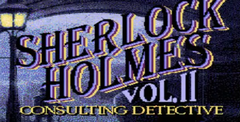 PC Engine Download
System requirements:
PC compatible
Operating systems: Windows 10/Windows 8/Windows 7/2000/Vista/WinXP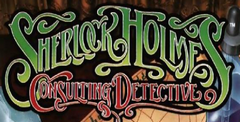 TurboDuo Download
System requirements:
PC compatible
Operating systems: Windows 10/Windows 8/Windows 7/2000/Vista/WinXP
Game Reviews
There was a chill in the air as the rain poured down outside my window, a perfect night for a good mystery. And what better location for an evening of sleuthing than the streets of London? Tagging along with Sherlock Holmes no less! With notebook paper, pen and cookies at hand, I was ready for action.
Those of you looking for the kind of action that only an itchy trigger finger can provide, read no further. Sherlock Holmes: Consulting Detective is a game for thinkers, patient ones at that. If you're a mystery lover who sometimes likes to skip to the end to find your culprit, you might find this game irritating at times. To solve the mysteries you must play through to the very end--no giving up! You'll start the game out with a pep talk from Sherlock Holmes. In a digitized scene of footage of a live actor, Holmes comes to life on the screen, imparting his advice to you before you set off on your first case. There are three mysteries to solve: the mummy's curse, the mystified murderess and the tin soldier. Each mystery begins with a digitized scene featuring Holmes and Watson discussing the case. After you've been briefed, you're on your own.
Your resources are a notebook containing the names of the Baker Street Regulars (a varied group of observant informants), a directory of London, a newspaper, Holmes' own files, the Baker Street Irregulars (youths who will seek out clues for you) and a carriage to take you from clue to clue. Everything is explained in the documentation. There is no annoying sound track to distract you as you solve your case; thankfully, the only sounds you'll hear after the opening sequence music are voices of characters as clues are uncovered.
The game interface is simple to use and straightforward, but sometimes frustrating. Going back and forth from place to place can be tiring, especially since the little buttons on the directory are not so easy to hit without a mouse. There are a lot of red herrings to be found (too many I thought), but nestled amongst them are clues that you must investigate.
Should any of you cocky investigators think you have enough information to solve the case at too early a stage in the game, the judge will tell you so and send you back to gather more clues. Sigh. Here's where the patience comes in. Unthinking detective that I was, I never saved my game after the first four hours of playing, and the next day I had to go back and re-gather all my clues before the judge would let me solve the mystery. Holmes would never have neglected such a detail.
In fact, detail is one of the main features that recommends this game. When you uncover a due, a digitized scene with costumed actors in sumptuous, period settings appears. Not so appealing is being told that some brilliant deduction you've made is "a complete waste of time" as you stare at an etching of a closed door. Still, even though some of your investigations may not yield digitized scenes or important information, you might learn a little about London.
At times I found myself investigating almost everyone in the directory. By doing this I racked up my points. The goal in Sherlock Holmes is to solve the game in as few points as possible. Reading the newspaper and interviewing the Regulars in your notebook will not give you points, but traveling from place to place in the directory, opening Holmes' files and getting the help of the Irregulars will. Unlike most video games, you will not have a constant reminder of your score, but will find out how you did in the end. It seems that the journey is more important than the destination. In this aspect, the game definitely resembles a computer game more than your typical video game fare, and it will probably appeal more to the adult gamer than the average youngster (although mystery-loving teens can handle it).
After playing my first game, my score was ludicrously high, but I suppose the idea is that the player will want to go back and try and re-solvethe mystery using less points. If that doesn't appeal to you, then you should perhaps pass on the game when you're done. Then again, you might want to call a friend over to help you solve the mysteries.
Despite its flaws, I found Sherlock Holmes to be an enjoyable game, although you might have to wait for Holmes'final explanation of the case to understand what happened, even after you've solved it! (And frankly, without giving anything away, I thought some of the characters' motives for murder were a little silly.) If you love cracking cases and you've got time and patience, check this one out.
ICOM has taken the world's most popular detective and created 3 interactive murder mysteries around him. For the first time in video game history, thanks to the huge memory in a CD, we will be able to play a game that will contain real video footage! Throw in perfect speech with synchronized lip movement and it will be difficult to believe that this is a video game!
Other Games by ICOM Simulations