Star Wars: Galaxies - An Empire Divided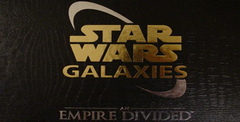 The ultimate power in the online universe is almost ready to be unleashed. Once Star Wars Galaxies becomes fully operational you will be blown away, much like the unfortunate residents of Alderaan. Beta-testing for LucasArts' first foray into online gaming is well underway, and though many have died to bring us this information, our spies are more than a little impressed. Most who have come into direct contact with the game are, being American, keen to stress the awesome" nature of the graphics, but the really exciting news is that the game apparently manages to be accessible to online role-playing newbies without ever patronising the hardcore.
But we should back up a bit just in case a few of you are yet to become excited about this game, clearly the best reason yet to give up your dayjob and start a new life in the virtual realm. Set after the destruction of the first Death Star, Galaxies will initially offer eight different species to play as (from Rodianan to Wookiee), with at least eight planets on which to begin your Star Wars career, this number is to grow into the teens in the months following launch. Initial planets will include Tatooine and Endor, plus a couple of worlds new to most fans (but not Alderaan, clearly). If you wish you can elect to be a droid engineer, a doctor, a musician or even a chef. However, only the most dedicated (and lucky) can ever hope to become a Jedi Knight. As to owning Speeders, Droids, pets and houses, setting up businesses or fighting for the Empire, the answer is yes. The only thing you won't be able to do is assassinate the Star Wars cast or bullseye womp rats in yourT-16, although you may if you're in the right place at the wrong time, find yourself holding the door open for Darth Vader, just don't expect him to thank you for it.
Download Star Wars: Galaxies - An Empire Divided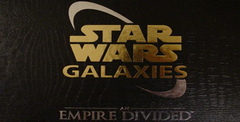 System requirements:
PC compatible
Operating systems: Windows 10/Windows 8/Windows 7/2000/Vista/WinXP
Similar Games
Viewing games 1 to 8