The Lord of the Rings Online: Shadows of Angmar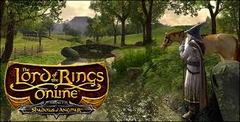 Click the "Install Game" button to initiate the free file download and get compact download launcher. Locate the executable file in your local folder and begin the launcher to install your desired game.
At A Stretch, you can think of MMO subscriptions as the dome at the end of The Crystal Maze, filled with tenners. There's Codemasters, NCSoft, EA/Mythic all hopping around, stuffing tenners in their pockets and slapping each other. Pull back to reveal Blizzard, underneath the dome, reclining in a chaise longue while a massive Henry vacuum cleaner drags millions of tenners over its half-naked body. To mix a metaphor, Shadows OfAngmar is Turbine's trebuchet, set to rain rocks on the money dome. If Tolkien can't tip the Warcraft cash cow and, urn, turn off its Hoover, then no-one can.
The Lord Of The Rings Online has been in beta for a while now, and Turbine recently opened their doors to us magazine types, so news of early gameplay has finally begun to emerge. And, no surprises, the game will feel comfortable to World of Warcraft players, with a similar HUD and mission structure. Players who find it hard to turn down a mission will find plenty around, and quests don't all necessarily revolve around death and/or delivery. The game takes place over the entire trilogy, so the early tasks have no mention of the War of the Ring and may be as whimsical as a game of hobbit hide-and-seek.
Spelling It Out
The Lore-master is the principal magicusing class in LOTRO, but in a world where magic is a rare currency, this was always going to be tricky to pull off. Lore-masters are part-priest, part-shaman, raising party morale (the equivalent of hit points) and calling on nature. The Minstrel is another quasi-magical class, boosting morale with a song (a la "Bravely bold Sir Robin...").
The translation of common spell effects into Middle-earth must have been difficult, but it's been handled in a convincing and enjoyable way. For example, burglars (rogues in WOW-speak) can confuse and stun sentient enemies with their riddle skill. It's not magic, you see - you just ask your foe a tricky puzzle.
Any reservations? There's no serious option to be the bad guys, although you can join Sauron's masses in the PvP Monster mode to provide benefits for your main character. And the fantasy world might seem a little vanilla - this is, after all, where it all began, and the ideas have been considerably embellished since 1954. That said, Jackson's films surprised everyone with the near-universal sense of recognition, and the game brings a similar - yet different - feeling of comfort. And in time, perhaps, with this LOTR outing, we may yet live to see the hobbits' homes razed to the ground at the series' close...
Download The Lord of the Rings Online: Shadows of Angmar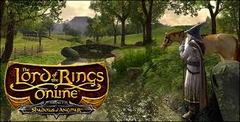 System requirements:
PC compatible
Operating systems: Windows 10/Windows 8/Windows 7/2000/Vista/WinXP
Game Reviews
They're Fair Spitting them out over in Massachusetts. Turbine, having just catapulted the online version of Dungeons & Dragons over the parapet, are just readying themselves for the release of Shadows Of Angmar, the first MMO to tackle Tolkien's Middle-earth.
You certainly can't call Turbine cowards, as both worlds come pregnant with expectations. Get it wrong, and you're upsetting the kind of people who'll set aside two weeks to bitch about you on the Net. Obviously, there's an upside too. Even if you're not sure how playing a hobbit might be a thrilling experience, there must be a million people gagging for the chance to chuck rocks at a Ringwraith. Well, there's 100,000 people registered on the forums, anyway.
You'll play LOTRO as one of the main races - human, elf, dwarf or hobbit (not orcs or Gandalfs), and there are seven classes, most of which are token Tolkienisations of common names. Rangers emerge as hunters, warriors as champions and so on. As proper magic in Middle-earth is rare and powerful, Turbine have side-stepped mages and created the Loremaster. "There's no question we had to have a magic-using class," explains executive producer Jeffrey Steefel. "People expect that. But at same time, no-one's going to be a wizard. There are only five of those in Middle-earth." So Loremasters act like clerics, with access to magic-esque items.
Does this mean there's any tension between .the game and the books? Steefel says not. "Tolkien Enterprises have been really good with finding that balance, where the world feels pure Middle-earth, but it's still fun to play."
Road To Mordor
The game is set towards the end of the third age (the time of the books), but you won't be tracing Frodo's footsteps. You play missions related to the fellowship's journey to Mordor, and you certainly run into all the characters. Just don't expect to be recruiting vast armies of the undead, or skateboarding down an elephant's spine.
At release, you can only play the good guys, so like Stormreach there's no PvP combat, with your focus on missions in impromptu fellowships. Solo missions will be technically possible, in the same way that dry-humping a porcupine is possible. Much better to find a few people who play the same way you do and work together. An obvious issue is the fact that the books have an ending; the ring gets burned, and - as Peter Jackson understands it - everyone says goodbye and jumps on the bed for 30 minutes. So what's in store for The Lord Of The Rings Online at that stage?
"There's a lot of possibilities," says Steefel. "We could reach forward into the fourth age and make our own interpretations of what Tolkien wrote. It'll most likely become a stable, persistent world. It'll take three, four, five years to get to that stage, though. They certainly know their Rings, and even in Turbine's first game, Asheron's Call, groups were called fellowships. You get the feeling this is a game they really wanted to make.
So I've Played on the beta, I've chatted with the developers a few times, I've seen the films and I've had my junior-school English teacher read bits of The Hobbit out with a raspy voice and exaggerated hand gestures. But I still don't know what Angmar is, and I'm still not sure why it's got shadows. "That's where the Witch King rises from, the guy who leads the Nazgul," explains Codemasters' Ed Blincoe while comedically slapping his forehead. "That's where he started from - he was doing Sauron's work from Angmar for quite a long time."
Okay, so that's me corrected - though it's perhaps not a huge lapse of Tolkien knowledge on my part, since Angmar is never delved into in any detail in either book or film. Turbine, then, have had the opportunity to use their own imaginations as well as slavishly converting words to worlds from the original texts - seeing as this is an MMO licensed from the books rather than Peter Jackson's efforts. Staying true to print Tolkien-ana and avoiding the influence of the movies must be pretty tough though surely?
"It isn't that difficult, in fact it's easier," Blincoe tells me. "The movies are very linear, whereas the books themselves are fairly open - certainly more open to interpretation." True, but even the most hardened of monster-spotters will have it in mind that the Turbine Cave Troll looks more than a little bit like the celluloid one.
More, More, More!
The initial release of LOTRO covers spots like Bree, The Shire, Barrow Downs, Angmar and Rivendell. Turbine are promising that new content will be pumped in every 6-12 weeks, with expansion packs covering the likes of Gondor, Rohan and Mordor surfacing every nine months or so.
One thing that really sets LOTRO apart from its Warhammer and Warcraft rivals though, is its PvP - or apparent lack thereof. "If you're a hero of Middle-earth, then you shouldn't really be fighting another hero of Middle-earth," explains Blincoe. "Plus, orcs really don't have a social life, and they wouldn't go about questing either. So we had to think of a different way of doing it."
Enter Monster Play - the feature that lets you play as the opposition without having an elf pal-up with a Uruk-hai to kill a field of coneys. Essentially, you'll be able to sit in the bad boots of Sauron's minions parallel to your own character - you won't be able to level-up, but there will be quests to do and 'monster points' to earn, which then can be spent on main character - or indeed on playing as bigger varieties of monster.
But when the time comes, which race and class should we be? Dwarf, elf, hob or human? Captain, burglar, champion, lore-master, minstrel, hunter or guardian?
"We've now come to a point where every character is fun to play," ruminates Blincoe. "I'm working my way through as a Man Burglar at the moment, which sounds rather rude, but when it goes live I'll be playing as a Dwarf Guardian as I just love the way he roars." Roaring dwarves and man burglars eh? Can't wait.
When Beardy Medieval historian JRR Tolkien conceived of Middle-earth, way back in 1917, we doubt he ever imagined his reworking of ancient British and Nordic myths would have any audience beyond kids and academics. Here it is though, having established an entire genre of writing and maintaining itself as one of the biggest mythos franchises in the world 90 years later. We don't think old JRR conceived that one day people would be taking glee in using the giant spiders of his myth to massacre villages of hobbits, running pies from one side of the shire to the other, or taunting an Al Gandalf about his terrible taste in dresses. That said, with his elitism, happiness at the murders of millions of press-ganged orcs and retrograde romanticism, we doubt he would have approved of much nowadays.
Let's be clear from the start: Lord Of the Rings Online is an amazing achievement. It's managed to cram lots of Middle-earth into the MMO standard framework. Plus, while there are substantial areas missing, the game is planned to progress further through the plot, unlocking new areas as the Fellowship progress through them.
Fair To Middlin'
If you've seen the movies or read the books, this is set in Eriador (comprising the Shire, Bree, Rivendell and other areas). The action takes place just after Frodo and the hobbits have left the Shire, when the Black Riders have first been seen in Middle-earth. If you've not partaken of Tolkien's mythos, then you've only got about 100 hours of reading ahead of you.
You take the part of a normal member of your race, somehow enlisted in the troubles of the times; with the dwarves, it appears you're an out-and-out warrior; with the hobbits, you just happened to want the post to run on time. You gradually pursue and solve problems in your home town, before leaving to make your name in the world and pursue plots parallel to those of the books in the Witch-King's realm of Angmar.
Initially, you're given a tutorial quest; what it is, depends on your race. Dwarves get to wander around Thorin's kingdom, humans and hobbits get to play around in Archet (near Bree), and elves appear in Rivendell. Some of these areas are implied to be in the past though whether that's the recent past (Bree) or years before (such as the dwarf area) isn't always consistent.
In these main storyline encounters, you often meet the heroes of the books; Gandalf and the late Thorin pop up in the dwarf prelude, Strider and Elrond are floating around, and the rest of the Fellowship are out there in the wilds, somewhere. Notably, they, like the scenery, don't relate to the films; so Strider looks tall, dark and handsome, without being Viggo Mortensen and Elrond looks nothing like those Agent Smith fellas from The Matrix. This is very much its own world.
Looking Good
Before our hobbit Warslow popnod into the world though, we explored Shire. We found all the towns in the books, from Needle Hole Waymeet to Little Delving and with the layouts pretty much a imagined. Everything from Bag to the Green Dragon Inn to Ted Sandyman's mill is entered and rendered beautifully. We were loathe to leave the Shire at all, so endearingly parochial were concerns; chickens not laying, a bad batch of pies and so on. It also looks amazing, increasingly so on higher-end machines. Bree and Rivendell are also beautifully constructed, and the towns give an overall feeling of being well-populated with realistic communities, whether that's because there's a kid who's trying to balance on a wall or some workmen working on the thatching on the pub while the locals stand around and bitch.
What's more, although they don't always match the locations created for the films, the layouts are consistent with Tolkien's description and draw on the 70 years of art that the books have inspired. What we're trying to say is, it's great.
Class War
The classes deviate thankfully from the Blizzard formula and, though the races are familiar, Tolkien surely has a prior claim here to men living alongside elves, hobbits and dwarrow (nicely, the dwarf is the only race that doesn't offer you a choice of gender.) The familiar classes are Burglar (rogue), Champion (barbarian), Guardian (tank) and Hunter. The unigue ones are the human-only Captain (like a City Of Villain's mastermind, the captain is a group leader who has an NPC that follows him around); the Lore-Master (who replaces the mages of many games, Tolkien's world only having five wizards and no normal magic users); and the Minstrel, who's a good allrounder and healer, while also being able to play all the instruments in the world.
It's a sign of how much love has gone into this game that every class can learn to play a couple of instruments, and that the instruments are all playable on three different octaves using the number pad. Yes, you can actually jam in this game, though it's a pity the minstrels don't have to have any actual musical skill...
Stand Up And Fight
Despite our unreserved praise so far, it's the combat that reveals how much the mechanics that underlie the world owe to its predecessors. You get into combat with an enemy (all the familiar shortcut keys match those of other MMOs, such as tab to target), and then you line up attacks. If you kill an enemy, you get to loot their body. If they kill you, you can respawn nearby (though occasionally, you'll respawn miles away, irritatingly). You can also team up with other people in 'Fellowships' to do particularly hard missions and instances.
Here, Turbine have borrowed from Everquest, introducing Fellowship combos which do extra damage against elite or harder enemies. Certain moves of certain classes trigger these, so players have to plan their moves as a team properly for harder bosses. We're not saying the combat isn't fun - it's as fun as anything 14/OIV has to offer - but it's not original and it's endowed with the same inflexibility of action as its predecessors. That said, it's familiar and easy to learn if you're new to MMOs.
As usual, you get experience from killing enemies and quest completion, but there are also alternate methods of recognition. First, there are deeds (see Mr Deed Goes To Town', opposite). Deeds unlock traits which allow you to customise your character at the local bard's shop. Then you can get titles, again from deeds or quest completion, that you can put after your name.
Alternatively, there's the whole usual crafting set-up, which follows WOW's system of levelling by harvesting and making items, though the various professions are only available in larger bundles, limiting you to certain crafting set-ups. Turbine have stated that the best items in the game will cofne equally from drops, crafting, and quest and PvP rewards - even at the starting levels it was easy to make kit that matched the rewards or drops. There's plenty of variation in the kit then. There's not quite so much variation in initially creating your character, and most character's creations, especially male hobbits, look very similar.
Monster Mania
When your character reaches level ten, you become eligible for Monster Play. Here, you find a fell-scrying pool in one of the main towns such as Bree, and select a monster type from five options. The types are both races and class, so orcs/uruks are archers, tanks and warriors, wargs are sneaky rogue types and spiders are some sort of frail anti-player class.
You start, get this, at level 50, so you're already a hideously over-powered creature. However, you need to do Monster quests to unlock better stats, more skins and new skiHs so you have a chance against the goodies that've had to play their characters up to that level.
The style is completely different up here. You're threatened, cajoled and treated like dirt by the quest-givers. There's none of WOW's wussy noble orcs here - these are monsters, and they glory in it. When you get mission descriptions from the respected Arch-Tyrant of a fortress which read "Like elves. Ears tasty. Get!", or talk about treading your corpse into the road to victory, you know they probably haven't been through the usual sort of leadership training.
In the high-end areas of the game's end, like the Ettenmoors, PvP is enabled, but only with Monster Players against everyone else. These are the same players but with different skins, so we're intrigued how this is going to work. At the time of writing, the Ettenmoors is empty except for the forces of Angmar, preparing for the assault of the first level-40 players.
There's a series of castles spread over the enormous open map, defended by hordes of level 50 NPCS - it'll take several groups of Fellowships to get into these places and then the end-bosses have literally 50 times the morale (health) of anyone else, as well as being rather hard to actually hurt.
Suffice to say, there's a lot more in LOTRO than we've had the space to cover. What we can confidently say though is this: it's the first challenger to World of Warcraft for some time, and credit is to both Turbine and the long-dead JRR.
Developer's Commentary
NO REST: "We're thinking of this like a TV series instead of a movie. We just launched the pilot and thanks to the reviews, we've been picked up for an entire season. Now, our job is to deliver on that, because people are paying a subscription and this is really more of an ongoing entertainment experience that people are expecting to grow and evolve. They want significant, high-quality, fresh content that's frequently added. That's something we've done as a company in the past. Asheron's Call has been out for over seven years, and the latest count was 88 updates in that time. This game is far bigger and far more complex, but we announced the Shores Of Evendirii expansion just six weeks after the launch of LOTRO"
NEXT CHAPTER: "You're looking at a whole new region in the game. There's six-million square metres, which increases the size of the game (in terms of land mass) by 10%. There's nine new monsters, and some of them have completely different Al and functionality in the game, and behave differently to any other monsters in it. There are many new instances, and not just little ones - we're talking the massive instances that people are beginning to expect from the game. We've got over 120 new quests and a whole bunch of new content for people in the level 27-40 range, which is where we believe a lot of people are getting to now."
SWEET MUSIC: "People really love the music system, so we've expanded it. Some of it is just making it better, so you can do octaves more easily, sustain notes, play chords, things like that. We also added bass and drums, and we added the ability for you to do a piano roll. There's also a text music notation that's standard called ABC, and because it's been around so long there are a lot of third-party programs out there that are free to translate midi-files or music notation files into these text files, and our game supports them. So you can write music, put it in these text files, put it into a directory and then you can actually play it in the game. It's very cool."
I MONSTER: "Monster Play is going to be more and more about giving monsters their own kind of advancement paths. Even right now, you're collecting destiny points that you can spend on buffs for your monster. On your character, when you click on the tab that says 'War', it displays all your monsters - we'll be adding the ability to examine that on another player. This way, your monsters are more a part of your overall character, and you can see who's pretty accomplished at the Monster Play and PVP.''
PUTTING THE FAN INTO FANTASY: "I'm sitting next to my original copies of Lord of the Rings, which dates me a little bit. They're from 1965, which is when they were released back in the US. I read them as a kid and I came back to them again later in life. I also played Dungeons & Dragons as a kid, but grew out of that quite quickly. But the more I've learned about Tolkien, the more fascinated I am with it, and so I read more. There's people on my team that know everything you can imagine knowing about Tolkien and his literature. I've got someone on my team who actually reads and writes the runes..."
HUMOUR: "There's a lot of humour in Tolkien, but it's a bit dry and more sophisticated. I think it's also kind of buried beneath the drama, chaos, evil and everything else that's going on. I thought they did a really good job of putting that across in the movies; the whole way that Sam, Merry and Pippin were played for comic relief. That relationship really is in the books. Hobbits in particular are sources of humour, because they're provincial people generally speaking, and very opinionated.
"We're not talking about it at this stage, but one of the things that's going to happen with this new update are some live events, and there's going to be some really funny stuff in that, too. Minstrels playing Rolling Stones and Pink Floyd with the in-game music system. I've heard it's amazing."
THE JACKASS FACTOR: "In some respects, letting the player make his own fun is what these games are about, and we're going to be focusing on that increasingly. The first thing you want to make sure you deliver is the environment - that it's a great place to be in - and in our case, it needs to be a place that feels like you're really in Tolkien's world. We feel like we did that. Also, we needed to present a game that's structured and fun: something that really gives you guidance through your experience, so we don't just drop you somewhere and say, 'Have fun'' The next big thing is to give you tools and ways to make your own fun - everything from the music system to the live events we're doing. A lot of people don't know that there's already a version of tag that you can play."
IT'S NICE, BUT IS IT TOLKIEN?: "We understand that Middle-earth is the fantasy destination, and it's got to be right Tolkien Enterprises have been great though: they know we're making a game, and there has to be a magicusing class. People really want magic, and they want it to be fun. People want things that flash and explode, and lasers that fly through the air, and clearly nobody did that in Middle-earth. But as long as you wrap it up right, and you make it clear he's doing these things through learning and wisdom and is understanding how to summon the natural energies in Middle-earth, then everyone's fine with it. They've come to really trust us, and that helps a lot Especially with Angmar, which isn't described much in the books, and doesn't exist as a viable entity in the third age."
ART FOR ART'S SAKE: "We had to be careful not to copy the movies, because our licences were for the book. Plus, we wanted to make sure that our focus was on the source material itself. Instead of worrying about 'let's be like this' or 'not like this', the only thing that matters is, was it described in the book, and if so, how was it described? Gandalf is described as a guy in a great pointy hat with a long white beard, so our Gandalf is going to look a lot like the movie Gandalf. We do whatever makes sense - sometimes it's like the movies and sometimes it isn't.''
BOW TO WOW: "I ran the studio at Sony for a while, and until WOW came out, the prevalent conversation was always that there'd be a couple of million people willing to play these games, but it was a narrow, niche market. Now, we're exactly where we want to be: if you ask people who are the leaders in the MMO base, WOW and LOTRO are the two games they're going to mention. We're the only other people in there as far as we're concerned, and that's great - because we offer a lot of other things that WOW doesn't One of those things is going to be the way in which we run the service in terms of live updates and live events. What's happening ongoing in the live experience is as important as the actual product that's shipped."
Similar Games
Viewing games 1 to 9