Strategic Mind: Fight for Freedom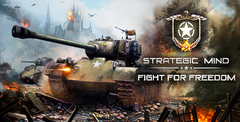 Click the "Install Game" button to initiate the free file download and get compact download launcher. Locate the executable file in your local folder and begin the launcher to install your desired game.
Strategic Mind: Fight for Freedom is the latest real-time tactics game to throw its hat in the ring. I am a huge history buff so no matter how many games like this are set in World War II, I am always excited to give them a try. I think what they are doing with this is really cool and they are actually on the verge of making a strategy game that appeals both to the hardcore and casual audience.
The Fighting British
There are two campaigns that you can play through in Strategic Mind: Fight for Freedom. The first one I want to talk about is the British campaign. You get to lead the British army as Sir Harrold Alexander and you get to take part in some of the most iconic battles of World War II ranging from the epic Dunkirk evacuation to the heated battles in northern Africa. Any history buff is going to get a real kick out of this that is for sure.
USA, USA, USA There is also an American campaign too that sees you playing as General Dwight Eisenhower. This also features action-packed battles from the war as you really turn the screws on the third Reich as you march to Berlin to secure victory. Both campaigns tell the story with a lot of respect and no matter how familiar you are with the battles of World War II, you will find it very interesting and get truly invested in the war.
The War After The War!
There is also a kind of third campaign in Strategic Mind: Fight for Freedom that is perhaps the most exciting of them all. After World War II, there is an alternate history story where you need to lead the USA army against the Soviet Union as you try to free the people from oppression and bring democracy to the land. This to me is very, very cool and something I cannot wait to really sink my teeth into.
The Grittiness Of War
This is an excellent-looking game. It has a "hexagonal" style of battlefield, but this is one of the best-looking strategy games based on World War II that I have seen in a very long time. Even though you are viewing the action from above, the tanks, areas, soldiers, and so on are very detailed. Speaking of detailed, I love the weather effects in this game, no matter if it is the rain in the jungle or the wind in the desert making it hard to see, this game has some truly excellent weather effects.
The Heart Of The War
While the story is great and the game looks awesome, it is the gameplay that I think is going to set Strategic Mind: Fight for Freedom apart from all of the rest. This is a very deep game. It has many different missions for you to take part in, 10 different classes to make use of on the battlefield, historical figures that serve as "heroes" who have special abilities and there is a good and realistic upgrade/progression system in the game too.
You can try and take things slow and be more methodical, or you can just go in with all your guns blazing and try to take the enemy down that way! The fact, the game gives you a lot of choice in how you tackle missions is really cool. The thing is while the gameplay is deep, I do not think it has this big barrier of entry like many other strategy games tend to do.
8
If you enjoy strategy games and have an interest in history, Strategic Mind: Fight for Freedom is probably going to be one of your games of the year. This is a stacked package and it features one of the best WWII stories I have seen in a tactics based game. I know you have played these missions and battles in other games before, but they look so much fun here. Plus, you have that very interesting sounding alternate history story to play through as well.
Pros:
The game is trying to be historically accurate
This game looks great!
I think the whole alternate history mode against the USSR is a very clever idea
You are free to tackle missions any way you want
Cons:
There may be a bit of trial and error with some missions
This is a single-player only game
Download Strategic Mind: Fight for Freedom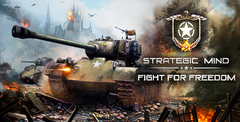 System requirements:
PC compatible
Operating systems: Windows 10/Windows 8/Windows 7/2000/Vista/WinXP
Similar Games
Viewing games 1 to 8