Tecmo Super Bowl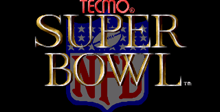 Click the "Install Game" button to initiate the free file download and get compact download launcher. Locate the executable file in your local folder and begin the launcher to install your desired game.
Five years agoTecmo Bowl was one of the first football games for the NES. Their latest gridiron effort is Tecmo Super Bowl for the SNES and Genesis. Sad to say, the two new games look and play about the same as the eight- bit original, with only a few added features. However, while Tecmo Super Bowl isn't in the same league as the John Madden or the Joe Montana football games, it's still fun to play.
Bowled Over
The differences between the Genesis and the SNES games are so minor, the two games can be considered as one. The best feature in both Super Bowls is the Regular Season option, where you pick any of the 28 NFL teams and lead them to the playoffs. If you're good enough, you'll reach the Super Bowl. That's no easy task, however, because each team has strengths and weaknesses, as reflected in the many statistics. Regular Season is a stats-freak's dream. Not only does the computer record team statistics, it ranks the league's top performers in everything from rushing yards to quarterback sacks.
There's good realism in the numbers. Since Tecmo Super Bowl is licensed by the NFL Players' Association, you'll get the actual NFL team logos. Each team has 32 players and stats based upon the 1992-93 season. There's even realism when your players CAN'T put up the numbers, because injuries are a part of Tecmo Super Bowl. Don't be surprised if your star player goes down and doesn't return for the next game.
However, Tecmo gets a five- yard penalty for some important statistical flaws. For instance, the Dallas Cowboys were the Super Bowl champs in '93, but the computer had them finish no better than second in the NFC East each of the three times we played a full season with other teams. What's more, Joe Montana isn't on the Chiefs in this game, though Tecmo says their rosters were updated four months after he jumped to the AFC. And, in a game against the Vikings in Minnesota, it was snowing. The Vikings play indoors in the Metrodome, guys.
ProTips: Don't control a defensive lineman. Since you can't change players on defense during a play, you might not be able to make tackles. Your best tackier is a defensive back. (Genesis shown here.)
Go Bowling
The graphics for Super Bowl are merely average. The players are small, cartoony, and not very detailed. It's also difficult to tell which player you're controlling, because the triangle that appears above the player sometimes blends into the field. Poor depth representation makes it hard to tell when you're going to step out of bounds The sound, unfortunately, is no better -- some voices are too young and the music is panicky.
Have your QB step up in the pocket, and he'll have a better chance of completing a pass. Unless you're using Denver's John Elway, the less time the ball is in the air the more likely it is you'll make a completion. (Genesis shown here.)
In contrast, the controls for Super Bowl are strong and responsive. Not perfect, though. You're not able to switch defensive players once a play starts. Also, unlike the Madden and Montana games, which enable you to choose different formations, Tecmo limits your control options. You have just one defense, a 3-4 alignment, and you can't play a zone or blitz. On offense you get to pick from 40 or so plays, but you can't call an audible at the line of scrimmage.
Not-Quite-Super Bowl
The stats make the game. If you can get past the graphics, sound, and some of the game play flaws, Tecmo's Super Bowls seem super indeed.
Download Tecmo Super Bowl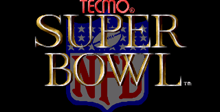 System requirements:
PC compatible
Operating systems: Windows 10/Windows 8/Windows 7/2000/Vista/WinXP
Game modes: Single game mode
Player controls:
Up, Down, Left, Right - Arrow keys
Start - Enter (Pause, Menu select, Skip intro, Inventory)
"A" Gamepad button - Ctrl (usually Jump or Change weapon)
"B" button - Space (Jump, Fire, Menu select)
"C" button - Left Shift (Item select)
Use the F12 key to toggle mouse capture / release when using the mouse as a controller.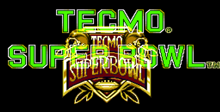 System requirements:
PC compatible
Operating systems: Windows 10/Windows 8/Windows 7/2000/Vista/WinXP
Pentium II (or equivalent) 266MHz (500MHz recommended), RAM: 64MB (128MB recommended), DirectX v8.0a or later must be installed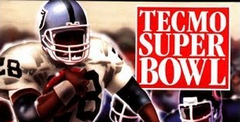 System requirements:
PC compatible
Operating systems: Windows 10/Windows 8/Windows 7/2000/Vista/WinXP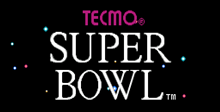 System requirements:
PC compatible
Operating systems: Windows 10/Windows 8/Windows 7/2000/Vista/WinXP
P-200, 32 MB RAM
Game Reviews
Finally... finally... Tecmo put together another NES pigskin game -- Tecmo Super Bowl! And this game kicks!
The Gang's All Here
Tecmo pulled out all the stops for this game - they've licensed both the NFL Player's Association AND Team NFL. So not only do you get all 28 NFL teams plus the NFC and the AFC All-Star teams, you get the real players as well, but there are a few glaring omissions - such as Jim Kelly of the Bills and Randall Cunningham of the Eagles, who require special licensing agreements.
The Playing's the Thing
While Tecmo Super Bowl retains the same simple game-play that makes Tecmo Bowl fun for all ages, the action here has definitely picked up. Tecmo has doubled the number of offensive and defensive formations - from 4 to 8 - plus, you can now design your own playbook! You can still make diving tackles, but now you can jump to block a pass a kick.
A key difference - and you'll notice it right away - is the computer's play on defense. Unlike Tecmo Bowl an open receiver isn't always open anymore. In Tecmo Super Bowl, the computer defenders f low to the ball as it's in the air, sometimes tipping it away at the last minute. A drawback, which was also in the original, is that you can't switch players on defense after the ball is snapped.
Graphically, Tecmo Super Bowl gives a little and gets a little. TSB players are slightly smaller than those in Tecmo Bowl, and sometimes this detracts from the game-play. But the animation sequences after touchdowns, during field goal attempts, and during halftime are a step up. Check out the special "Mighty Bomb Jack" show during half time at the Super Bowl!
Protips:
Extra point kicks are almost automatic. At the snap, hit A immediately - don't worry about the direction arrow!
Blockers hold much more than in the original game. Tap A rapidly to break their grip.
Watch your players' "condition" rating closely. If you overuse a player, you'll lower his condition and he isn't nearly as effective.
Check the Stats!
Not only does TSB keep stats for the game in progress, it keeps seasonal stats as well - for ALL the teams, not just yours. You can even check how your guys are doing in key statistical categories such as: Points Scored, Rushing Yardage, Receiving, QB Sacks, etc.
Overtime
Tecmo Super Bowl's got it all! The play is as fast paced as the original, and the battery and stat-keeping is a perfect addition. Tecmo Super Bowl, despite a few weaknesses, is as good as football gets for the NES.
Tccmo's long-running football series was a mainstay of 8-bit and 16-bit systems. Unfortunately, its first entry into the 32-bit arena, Tecmo Super Bowl, does nothing to capitalize on the new technology of the PlayStation.
An opening video montage and an average soundtrack suggest that this is a next-gen game, but don't be fooled. The actual gameplay, graphics, and control look and play like a mediocre 16-bit football game at best. Awkward animation, poorly rendered characters, obscure play diagrams, a clumsy control interface, and lackluster sound effects all make Tecmo Super Bowl less than "super"--more like a Tampa Bay/Jets matchup.
With marquee players such as Madden NFL '97 and NCAA GameBreaker on the PlayStation field, don't bother with this subrookie effort.
ProTips:
The upfield, behind-the-quarterback view Is more useful than the horizontal sideline view in surveying defensive formations.
On kickoff returns, don't run too close behind the wedge--give it time to create openings for the ball carrier.
Manufacturer: Tecmo
# of players: 1 or 2
Difficulty: Moderate
Available: October 1993
Theme: Sports
The inevitable has happened. You knew sooner or later Tecmo was going to make a 16-Bit version of their enormously successful football game from the NES. Voila! Behold - Tecmo Super Bowl! This upgraded game is everything the old one was and more. You get more cinemas per play, more plays to choose from, more players on the playing field, and more options like weather conditions. Other new features include an updated roster, a new touchback feature, and a play that will let you dive over the top of the linemen for a touchdown! The graphics have definitely improved even though the onscreen players are the same size. The logos of all the NFL teams have been used. There are also many digitized voices that describe the plays or fouls.
Tecmo Bowl Sequel Coming To Nintendo
Tecmo Super Bowl is the NES sequel to Tecmo's popular Tecmo Bowl football game. This time, you have even more playing options and game controls as you compete to win the National Football League's world championship.
In Tecmo Super Bowl, all 28 NFL teams play a regulation 16-week, 224-game season. And just as in the NFL, the teams which make it to the Super Bowl are determined by wild card and division winners going head-to-head in the playoffs.
You can compete against either another human player or a computer opponent, choosing from eight offensive plays and three defensive options. You can kick field goals, call time outs, and control the length of the game. Each team has its own style, and the ballplayers tire as the game progresses. Penalties and injuries can cost you valuable yardage and men.
On offense, Tecmo Super Bowl lets you toss pitch-outs, hand off the ball, and fake handoffs - all with realistic fumble percentages. Defensive strategies include blocking passes and kicks, sacking the quarterback, and booting on- side kicks.
Tecmo is also translating the original Tecmo Bowl for the Game Boy. That game should be available by this fall.
People say:
8
I loved Tecmo Bowl for NES, and this cart retains all that I enjoyed in the first one and has enhanced the idea. I wish with the upgrade to a 16-Bit machine, the players could have been a bit larger. The plays are easy to get off and the control is top-notch. You get the sense of being there with your team. Armchair athletes must play this one. One of the better football carts to come to the system in a while.
7
Tecmo is developing quite a reputation for their sports games and this one is pretty good - even though I traditionally dislike many sports games. There are lots of cool plays and you can develop a nice strategy against your opponent. Playing against another person equals maximum fun. If you're looking for another sports game to add to your library, you can't go wrong with Tecmo Super Bowl.
6
I like sports games a lot, even though I basically stink at them. But, this one just didn't do it for me. The various Tecmo cinemas that pop up during a play are a nice touch and the digitized voices are very cool, yet the graphics are just slightly better than 8-Bit and there aren't enough plays to make it very strategic. Another flaw is it sometimes takes the entire defense to bring down a ball carrier. It's not for me.
7
Tecmo always delivers good sports products and this game is no exception. The plays come off rather well and its control is good for a sports game. Visually, the players need to be a bit larger and more graphic detail could have helped out. Still, this upgrade for the 8-Bit version plays well and is sure to give football fans something to keep them busy during the upcoming football season.
For a video football game, Tecmo Super Bowl gives the competition a good run for its money. It has plenty of teams and options to choose from, with realistic cinemas to give players a break from the action. Good sound effects.
Tecmo has done it again, this time in 16-Bit. This game is as awesome by today's standards as the NES version was in its day. Much has been added to the game, including some really cool cinema displays that are spread throughout the match. Plus, all 28 official NFL teams are yours to choose from. Cool features like an updated roster, touchback, and being able to dive for a touchdown make this game a lot of fun to play! Tecmo Super Bowl is definitely one of the best football games around and don't forget to check out the intense half-time show. Very cool!!
Manufacturer: Tecmo
Machine: Super NES
Theme: Sports
Difficulty: Easy
Number of Players: 1 or 2
Available: December '91
The super bowl!
Do you remember last season when you won the Tecmo Bowl? Now it's the start of a new season and, thanks to the wizards at Tecmo, the game is even better!
Play against the real teams and real players in a gridiron contest so intense it rivals anything the Nintendo has seen before! With digitized voices and the familiar play control of the first Bowl, the interaction in Super Tecmo Bowl will make you feel right at home!
Super Tecmo Bowl is filled with a wide assortment of all new music during play scenes, new passing and running plays, and new stats that range from an injured list to mid-game scores to play by play updates!
Take this proven package and throw in truly spectacular animated cinema displays and action that moves faster than a lot of arcade titles and you get a sequel that's even better than the original!
After choosing your teams you get a complete list of your offensive and defensive players. Play coach and put together the best team possible. Pick your starting line up taking into consideration each player's stats and how well he will play against the other team in the respective positions!
Play the NFL season all the way through to the Super Bowl in this follow up to Tecmo Bowl. All 28 teams are here with stats and data.
Tecmo's back in the ball game, the football game that is, with a sequel to its hard hittin' success, Tecmo Bowl. It's called Tecmo Super Bowl, and it's practically bursting with play options guaranteed to satisfy the most discriminating football game fan. A few of the hot ticket options are the Play Back and the Dive Play, selections which enable you to change the play pattern of the other teams as well as dive for passes and precious first down yardage. Heck, this game's so realistic, your team members even get tired as each game progresses! There are 16 weeks in the Tecmo Super Bowl Season, and the winning teams from each division, along with a wild card team, play against each other to decide who goes on to the ultimate football competition, the Super Bowl. It goes without saying, but we'll say it anyway, Tecmo Super Bowl is a sure fire hit you won't want to miss.
Sega Genesis/Mega Drive Screenshots
SNES/Super Nintendo/Super Famicom Screenshots
NES/Famicom/Dendy Screenshots
Similar Games
Viewing games 1 to 5