The Hardy Boys: The Hidden Theft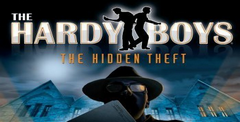 | | |
| --- | --- |
| a game by | XPEC Entertainment Inc. |
| Platform: | PC |
| Rate this game: | |
| See also: | Puzzle Games |
There were once two brothers, Red Arms Boy and Shit Hair Boy, and they loved each other in a vaguely incestuous Top Gun wingman sort of way. One day, Red Arms Boy and Shit Hair Boy were "chilling" in their crib" beneath posters of semi-naked men and boybands, when a fake policeman accused them of something they didn't do, so that he could give them a disc full of porn. Or something.
I don't really know what that was about but Shit Hair Boy ended up leaping out of a window, and then he glued a mobile phone to a parrot and threw it up to Red Arms Boy, who subsequently used the parrot-phone to call his dad and tell him that he loved him. And his dad had a moustache and looked a bit like a blonde Tom Selleck.
Then they went to a mansion. Being telepathic, Red Arms Boy knew when people weren't in the mood to talk, and refused to engage in conversation. Shit Hair Boy was well annoyed about that and vandalised a car with a shard of glass he found at a crime scene.
Seeing that the violated vehicle was leaking some sort of fluid, they decided to gather it for future recreational purposes. For the harvesting, Shit Hair Boy offered up a glass beaker that he had stolen from school, but Red Arms Boy was adamant that they would use an old hubcap he had found earlier. And so they gathered the fluid in a hubcap and carried it through the town as carefully as if it were freshly ejaculated nectar of the gods.
Having been forced to witness this bizarre yet disappointingly dull display of adventure-gaming madness. God died from an all-consuming despair that blackened the skies and darkened the universe. And the Earth turned into a barren land where the last humans farmed children for meat and punched themselves in the nuts for fun. The End.
Download The Hardy Boys: The Hidden Theft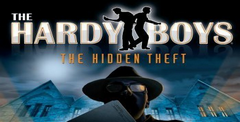 System requirements:
PC compatible
Operating systems: Windows 10/Windows 8/Windows 7/2000/Vista/WinXP
Similar Games
Viewing games 1 to 5