The Sims: House Party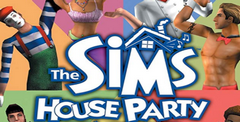 Download The Sims: House Party and throw the ultimate bash for your Sims! Plan unforgettable parties, entertain guests, and expand your home with new items and activities. Make your Sims' social lives more exciting and play now!
The Sims was a massive hit for EA and The Sims: House Party was the second expansion pack for the original game. This one was seen as the one to get as it did actually add in a bit more fun stuff. If you enjoyed what the original game offered, then you are in for a real treat with this expansion.
Let's Have A House Party!
The premise of the game is quite simple. One of the main aspects of all the games in The Sims series is social interaction. Well, this is taking that to a whole new level as The Sims: House Party is all about the ultimate way to have social interaction and that is of course with a party!
Ain't No Party Like A Sims Party Y'all!
The reason that we get into the expansions from The Sims is for the new stuff that they offer. As this one is party themed as you would expect the content is also party themed. This ranges from the party food that you can put out on the table for people to snack on. To the variety of costumes that you can wear if you decide to have a costume party and my favorite part of the expansion, the music aspect.
There are new music tracks in the game, but it is the way you can make an epic DJ stand with a cool nightclub floor that I love. I really enjoy making stuff in The Sims and the way that The Sims: House Party allows me to make a cool nightclub in a house is something I had a great deal of fun with.
Kicking It Sims Style
While I will admit that the later Sims expansions added more overall substance, I still think there is more than enough here. You get a further three neighborhoods as well as some new NPCs that are rather interesting. One of the most fun things about this is that this is the first time we had a "celebrity" in the game. They managed to get Drew Carrey in the game and if your party is cool enough and there is enough buzz about it he will show up.
Watching your Sims and of course, manipulating their lives is a lot of fun, and the way they are all so close together in this expansion really does make it quite interesting to watch.
8
At the time The Sims: House Party was released I thought it was great and I still think that it is a lot of fun now. I will admit that later Sims expansions for the first game and of course the sequels would step up the game in regards to what we expected. However, there is still a great deal of fun to be had here and it is kind of cool that this was the first-ever celebrity cross over in a Sims game.
Pros:
Watching the Sims party is a lot of fun
Three new neighborhoods
I liked creating a party room!
The new music is good
The first celebrity cross over in the series
Cons:
Later expansions would add way more content than this
More costumes would have been nice
Download The Sims: House Party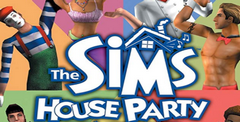 System requirements:
PC compatible
Operating systems: Windows 10/Windows 8/Windows 7/2000/Vista/WinXP
Game Reviews
We doubt any of you hardcore readers have anything but the utmost contempt for the whole Sims phenomenon. After all, no matter how much Maxis try to hide it, it's little more that a virtual Barbie and Ken game, and all these add-ons with their new clothes and new doll-house furniture just emphasise that fact.
On first glance, it would appear that the main contribution of this expansion pack is to give you the option of 'Throwing a Party' when you use the phone, at which point all your neighbours will turn up without a single bottle of wine between them and ready to piss on your new carpet.
Alright, so the whole point is to improve the social aspect of the game, but it's not as if you can feed your guests cocaine and hire a cheap hooker to set up an Annabel Chong challenge upstairs. You'd at least expect to make all your sims friendly enough with each other to start up a mass orgy in the garden. But no. Having a rave here means buying a DJ table and a flashing dance floor, getting a visit from a bloody annoying mime artist and, if you're feeling really risque, setting up a Beastie Boys dance cage (minus the topless vixens).
To be honest, who can be arsed designing houses and making those dumb dolls go to the toilet any more? The fascination wore off long ago. It's a bit cheeky to expect people to pay out $20 when there is so much stuff you can download from fansites and, in this age of mods, the one we really need is an FPS where you can mow down a whole sim household with an AK-47.
See Also
Viewing games 1 to 8