The Walking Dead: Season Three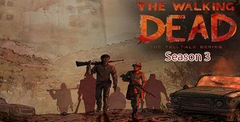 One thing that you have to give Telltale Games credit for with The Walking Dead Season 3 is that they tried to change things up. The first two Walking Dead games were masterpieces from a story point of view. This game tries to move the story into a new direction and not everyone was quite ready for that.
The Story
The Walking Dead Season 3 takes place a few years after the events of the second game. One of the things that is most noteworthy about this game is the new playable character. Some people were not willing to give, Javi a chance, but I actually really like him. Javi is an ex-pro baseball player and he wants to make sure that his family survives.
I really do like the story arc that unfolds with Javi and think that Telltale dealt with it very well. Of course, Clementine is also back, but this is a different Clementine from the previous games. She has been through a lot and she is doing all she can to keep AJ alive who she was left with in the last game. She is kind of like a mom/big sister to him and it is great to see this relationship unfold. I really do like the story in The Walking Dead Season 3. I have to be honest and say that it is not quite up to the first two games. Still, it is exciting, heartbreaking and makes you think so I consider the story another win for Telltale Games.
The Presentation
The Walking Dead Season 3 saw Telltale Games change up the engine and to be honest most players will not really notice at all. The overall presentation is the same as it has always been. The good news about this is that as they use this detailed comic book style, The Walking Dead is a series that will probably never age.
Once again, the sound design is awesome. The way they use music is very clever. It is tense when it needs to be, dramatic and even sad in places too. Then we have the voice acting. I really liked the guy they got for Javi and as you would expect the rest of the cast does a fantastic job too.
The Gameplay
By this point, you should know what to expect from a Telltale Games Walking Dead game. The Walking Dead Season 3 is not really trying to change things too much. You still walk around the different environments talking to different characters. This is what makes up most of your game. Talking to different characters moves along the story and will change how the game progresses. Some of the conversations really do not give you any way to "win" which is part of what makes this series so memorable. There are also some puzzles to figure out and a few more of those action scenes as well.
Final Thoughts On The Walking Dead Season 3
I really do like The Walking Dead Season 3. I feel this is a game that some people were not willing to give the chance as they felt they were trying to ditch Clementine and that was not the case at all. Javi is actually a really interesting and well-written character and I enjoyed playing as him. Playing the Walking Dead Season 3 is essential if you are a fan of the previous two games.
8.5/10
Pros:
Javi is a really cool new character
Older Clementine is very interesting
More of that classic Walking Dead gameplay
Some very memorable moments
It leaves you wanting more
Cons:
The game has not changed much if at all
Some may have a hard time dealing with Clem not being the sole focus
Download The Walking Dead: Season Three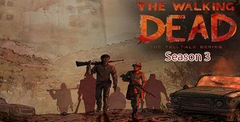 System requirements:
PC compatible
Operating systems: Windows 10/Windows 8/Windows 7/2000/Vista/WinXP
Similar Games
Viewing games 1 to 5